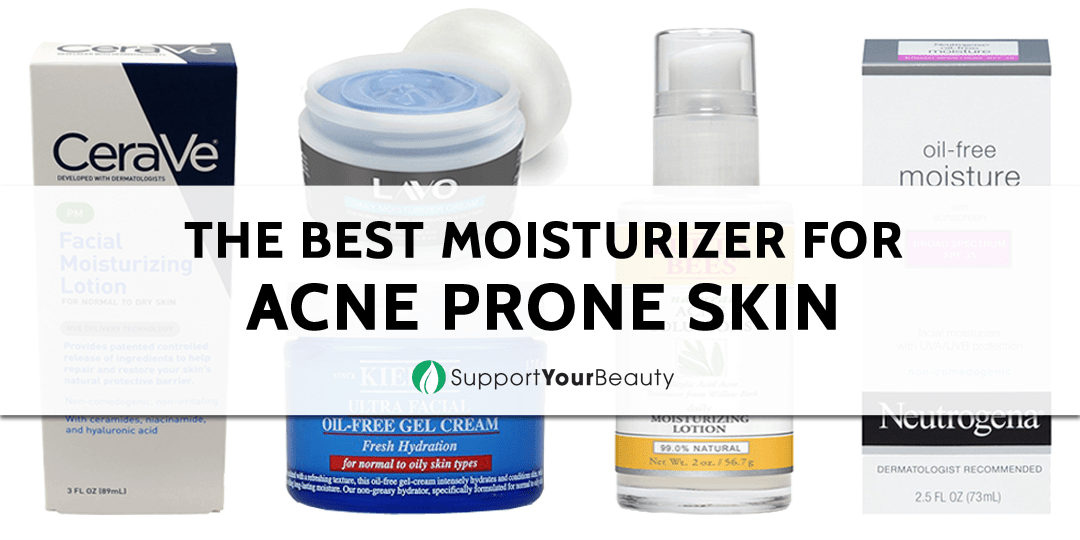 The Best Moisturizer For Acne Prone Skin – 2018 Reviews & Top Picks
Do you feel trapped in the battle with acne? Check out our selection of the best moisturizer for acne prone skin to support your beauty!

​Acne, one of the most common skin problems, can be a pain. We all go through it at some point in life.
In fact, according to American Academy of Dermatology around 80% of all people have an acne breakout at least once in their lives. This problem usually occurs in your teens mainly due to hormonal changes.
The presence of acne can make it difficult for you to find a moisturizer for your skin. Using a product with 'wrong ingredients' can worsen your skin.
We reviewed over 20 moisturizers and zeroed in on top 5 natural moisturizers to help you pick the right moisturizer for your acne skin.
More...
Quick Overview - Our Choices for The Best Moisturizer for Acne Prone Skin
OUR TOP #1 PICK - Our top pick for the best moisturizer for acne prone skin is Lavo Daily Moisturizer Cream, which contains active ingredients that help fight acne-causing bacteria. It calms, hydrates, and soothes skin all at the same time.
OUR TOP #2 PICK - Our second choice, CeraVe Moisturizing Facial Lotion PM, has a ceramide-infused formula that helps keep the skin's natural barrier healthy.
​If you're a fan of natural skin care and ingredients, we have two products that made it on this list.
OUR TOP #3 PICK - Kiehl's Ultra Facial Oil Free Gel Cream is a powerful gel acne moisturizer with natural ingredients such as cucumber fruit extract.
OUR TOP #4 PICK - Another excellent natural moisturizer is Burt's Bees Natural Acne Solutions Daily Moisturizing Lotion. It helps prevent new acne breakouts and calms skin with Lemongrass.
OUR TOP #5 PICK - The last product on our list is Neutrogena Oil-free Moisture SPF 35, which doubles as sun protection. It can be worn on a daily basis and it won't clog pores.
How to Choose a Natural Moisturizer For Acne Prone Skin
There are a number of moisturizers for acne problems. Keep the following points in mind to pick the right moisturizer for your skin:
Ingredients:

We recommend that you pick a moisturizer with less additive / preservatives and more natural ingredients. A moisturizer that contains a lot of chemicals might turn out to be harmful for your skin. This is especially true if you are using other products to cure your acne related problems. Make sure to speak to a dermatologist before you mix and match several skincare product as the ingredients found in them may react, causing problems for your skin.

Serves Multiple Purposes:

Pick a moisturizer that serves more causes than just making your skin moist. Many moisturizers come with SPF and provide sun protection. Some also have ingredients that help skin tighten and glow. Additionally, since you have acne problem, you should look for skincare products that mainly target acne victims. Some ingredients that help reduce acne include tea tree oil and benzoyl peroxide.

Choose with Your Skin Type:

If you have oily skin, go for oil-free moisturizers. You do not want to apply more oil as it's one of the main causes of acne. There are moisturizers available for every skin type, make sure you pick accordingly.
Incredible Benefits of Using Moisturizers For Your Skin
The benefits are clear - you will have a healthy skin without acne.
Acne can easily turn into a 'bad case' if you do not take proper care. Even if it disappears on its own, it might leave acne marks that need outside interference to get done with.
Science has proven that healthy skin makes people more confident, and allows them to succeed in life. Moisturizers keep your skin moist and also protect it against harmful agents.
​In addition to this, using moisturizers can make your skin more 'absorbing' allowing other skincare to work better as well.
How to Effectively Treat Acne With a Drugstore Moisturizer
There is no one specific rule to this. In most cases you will be provided with 'guidelines' on how to apply a specific product.
Some would require you to apply the product overnight for good results, while some would be good even if you apply it during the day as you get out of bed.
However, moisturizers are generally applied after cleansing and can be mixed with other products for better results.
However, it should be mentioned that moisturizers should be applied not just on your face but also your neck. Moisturizers are applied on the hand as well, but there is a different category for body lotions or moisturizers.
Lastly, unlike acne creams, moisturizers are generally not applied only on the affected area but the whole face and neck (in a circular motion).
However, as stated earlier, it's important to follow manufacturer's guidelines as each product is different and works differently.
A few things that matter include:​
How many times to apply the product (once a day or more/less)
How to apply the product (circular motion etc.)
Where to apply the product (affected areas or the whole face and neck)
For how long to apply the product (overnight or a few days)
To wash the face before or after applying or not
​It should be mentioned that most moisturizers are not designed to treat acne. They are mainly designed to make your skin healthy, and fight off acne causing agents.
As a result, they may prevent future breakouts, but you will have to use acne creams to get rid of acne marks. However, some moisturizers do contain added ingredients to solve this problem as well.
We have made written this article keeping your problem (acne) in mind. You will find products that contain anti fighting agents to ensure you get good results.
Product Reviews: Our Top 5 Best Moisturizers for Acne Prone Skin
---
Lavo Daily Moisturizer Cream makes it to the top of the list of the best moisturizers for acne prone skin because it's loaded with natural ingredients that benefit skin in different ways.
Avocado, wheat germ, safflower, and hazelnut oils deeply moisturize skin, while Hyaluronic acid guards against moisture loss.
This moisturizer also has a soothing and healing effect which comes from Aloe Vera, azulene, and allantoin.
It can also help tone and refresh your skin it contains Rosemary, Sage, and Ginseng extracts.
While it's chock-full of nourishing ingredients, the one thing that it doesn't have is UV protection, so you will need to use a separate sunscreen if you'll be using this as a daytime moisturizer.
We're fans of how this moisturizer feels on our face and how it leaves a matte finish. However, it can feel a bit thick of you're used to lighter, gel-like formulas.
If you have mature skin that's still prone to the occasional breakout, then this moisturizer may help with that skin concern.
---
This moisturizer is specifically formulated to be used during the nighttime.
As you sleep, this lightweight lotion goes to work by protecting skin against further damage with its Ceramide-rich formula.
We used this before bedtime and loved how the creamy lotion was quickly absorbed by our skin.
It also works well under makeup, if you're inclined to use it as a daytime moisturizer.
Hyaluronic acid draws moisture to the skin and locks it in to keep it looking smooth and supple, while Niacinamide improves the appearance of uneven skin tone, dullness, and enlarged pores.
The one thing that we didn't like about this moisturizer is that the niacinamide can be irritating to some, so it could cause minor irritation and redness.
Check for sensitivity to the product by applying a small amount on your arm and see if there's any adverse reaction, such as itching or redness.
---
This product from Kiehl's is the best gel moisturizer for acne in our list as it makes the cut for its hydrating properties and fresh feel.
Laced with Cucumber Fruit Extract, this gel-cream refreshes and cools skin upon application, making it a good moisturizer to use during the hot summer months.
Imperata Cylindrica, or Desert Plant Extract, helps skin to store and retain moisture, while Antarcticine combats dryness and protects skin against extremely cold temperatures.
We like how cool this gel moisturizer felt on our skin and how it left a soft matte finish.
However, if you have a small cut or bruise on your face, or if you have chapped skin, it could sting quite a bit because the formula contains alcohol. For that reason, make sure that you don't get any into your eyes.
One thing that we didn't love about this moisturizer is its packaging. Because it comes in a small tub, you have to use your fingers to scoop up the product, and the gel can easily become contaminated with bacteria.
---
This moisturizing lotion from Burt's Bees is made with naturally derived ingredients, so fans of natural products may like this acne-fighting formula.
Goldenseal, Hops, Lemongrass, and Witch Hazel soothes and calms irritated skin, while Willow Bark Extract acts as a natural exfoliant to help unclog pores.
If you're suffering from adult acne, this moisturizer may help you as it controls oil and pimples.
We tested this moisturizer and liked how silky it felt on our face. However, it's recommended that you use it sparingly as too much of the product can make your skin look oily.
We would have also liked it if there was more of the product, as it comes in a tiny bottle and it doesn't last that long.
---
Neutrogena has always been a go-to for no-frills skin care products, and it's Oil-Free Moisture With Sunscreen offers hydration and UV protection without the bells and whistles.
​The lotion's sheer, oil-free formula is alcohol-free, and one of its active ingredients, Avobenzone, helps absorb the full spectrum of UVA rays to guard against premature aging and skin cancer.
Apart from its SPF 35, the oil-free formula hydrates and replenishes and gives the appearance of softer and younger-looking skin.
We applied this lotion before heading outdoors, and we love how light and moisturizing it is. Conventional sunscreens and moisturizers with SPF usually feel a bit heavy and tacky, but this felt very comfortable on our face.
Though it's fragrance-free, we noticed that it has a distinctive scent, so if you're sensitive to smells, this may not work for you.
It can be used under makeup and alone as well. It is recommended that you wait at least five minutes before putting on your makeup after you've applied this moisturizer.
The Bottom Line
For its natural and nourishing ingredients with multiple benefits, Lova Daily Moisturizer Cream is our #1 pick for the best acne moisturizer.
The creamy formula hydrates, soothes, and heals skin, and it also tightens and refreshes to improve the appearance of dull, tired skin.
The moisturizer gives a matte finish, and it's pimple-fighting formula may help if you suffer from adult acne. Overall, it helps gives the appearance of a healthier and fresher complexion.