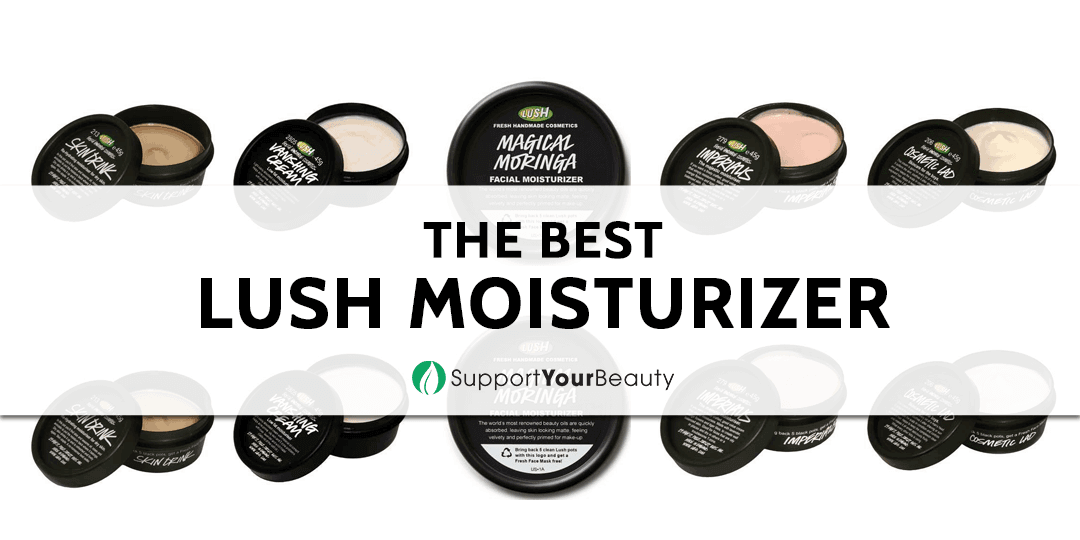 The Best Lush Moisturizer – 2018 Reviews & Top Picks
To continue with our vision to help you find products that will keep you looking your best, we've listed 5 of the best Lush moisturizer products. The moisturizers presented in this list were carefully chosen based on the quality of moisture they deliver. We believe these products deserve a place in your beauty collection.
Lush's multifaceted line of skincare products is designed to resolve any skin imperfections we know of.
They have all kinds of stuff – from cleansers, moisturizers, face masks, and toners, to shampoos and teeth-related products. Lush will make you fall in love with every single item in their catalog.
So, what makes them so special, you ask?
Lush products, including their best Lush moisturizers, are 100% vegetarian.
Each Lush product is formulated with fruits, vegetables, herbal oils, and even raw food. Lush believes that in order to correct skin impurities, you have to feed it with proper nutrients.
Lush moisturizers contain no preservatives, so you have to put them in the fridge to avoid spoilage – very much like food.
Lush moisturizers are expertly formulated for a variety of skin types and problems. These hand-blended moisturizers contain the freshest and most effective ingredients.
More...
Quick Overview: Our Top Picks for the Best Lush Moisturizers
OUR TOP #1 PICK - The incredibly nourishing Skin Drink Moisturizer gets rid of dry patches and solves other skin imperfections. It's a pot of wonder, as the name suggests, that's why we chose it as our top pick for the best Lush moisturizer.
OUR TOP #2 PICK - Blemishes and scars won't stand a chance against the Vanishing Cream Moisturizer. It blurs out marks while gently moisturizing temperamental skin. It also uses a cleansing agent designed for eliminating acne and breakouts.
OUR TOP #3 PICK - Are you just starting out on your skincare routine? If so, you ought to try Imperialis Moisturizer. This product is an all-purpose one designed to suit most skin types, tone the skin, and soothe irritations.
OUR TOP #4 PICK - Lush's Cosmetic Lad is ideal for men who desire a smooth and sleek finish minus all the glamor, fragrance, and glossiness of feminine products. But generally, it works great for anyone who's suffering from acne, rosacea, and other irritations.
OUR TOP #5 PICK - The Magical Moringa Moisturizer transforms an oily skin to a mattified one. If you're looking for a moisturizer that doubles as a makeup base, this is your best option. It holds your foundation in place like a primer, and it leaves a velvety soft texture.
Using Lush moisturizers
Lush has one of the most diverse moisturizer options that we've ever come across. That is because they believe that there is more to the skin than being oily, dry, or normal.
Some people need to moisturize their skin more often than others; and depending on the season, your face may be in greater or lesser need for moisturizing.
For best results, dab a little product in the morning and before sleeping on slightly damp skin. You can do this after you shower or after cleansing and toning.
A little goes long ways with these moisturizers so don't scoop out much.
It is worth noting that these products have short expiry dates because they are made with fresh ingredients and contains no preservatives, resulting to a shorter shelf life compared to traditional creams.
Always check the expiry date before using your Lush moisturizer.
Choosing the right Lush moisturizer for your skin
Every Lush moisturizer has a unique formulation of nourishing ingredients carefully selected for their beautifying effect on the skin.
No matter what your ultimate skin goal is – brighten dull skin, balance skin pH, calm irritation – there are specific moisturizers for you.
1. Balance temperamental skin
Temperamental skin is characterized by inconsistent textures – it may be tight and dry today and super oily the next day.
It's caused by a disruption in the skin barrier. Thus, gentle moisturization is required.
A non-greasy moisturizer like the Imperialis or Vanishing Cream will be of great help as they won't clog the pores and provide lasting hydration.
Lavender oil, the main ingredient of both moisturizers, helps the skin achieve equilibrium between being too dry and too oily.
Apart from lavender oil, both moisturizers also use fresh soothing and moisturizing ingredients to calm irritation.
2. Replenish dry skin
A lot of moisturizers provide hydration for the skin, but some skins need more than moisture.
For instance, the Skin Drink moisturizer contains powerful oils and plant extracts to restore and seal in moisture into skin cells.
Likewise, the Skin's Shangri La, an even richer moisturizer, uses a premium blend of plant oils and wax to plump the skin, resulting in a dewy, moisturized look.
3. Moisturize oily skin
Are you suffering from oily skin? You probably thought that moisturizers wouldn't be of help because it will just make the skin way oilier.
You're totally wrong – oily skin needs moisturizing too! As a matter of fact, excess sebum production is caused by lack of moisture.
Lush's Enzymion, Gorgeous, and Magical Moringa moisturizers are the answer to your oily skin's every need.
They contain botanical oils, citrus juices, and antioxidants that regulate oil production and help brighten the skin, resulting to a mattified, shine-free face.
4. Calm irritated skin
Irritated skin can easily breakout due to weather changes or just plain sensitivity to almost everything it comes in contact with.
If that's the case, your delicate skin needs a moisturizer loaded with soothing ingredients to make your skin be at comfort again.
For the guys, Lush's Cosmetic Lad will be your new after-shave friend. Its soothing ingredients can calm burns, cuts, and any redness on the face.
On the other hand, if your skin gets irritated by every single ingredient and product, Celestial's heavenly formulation of oils, milk, and flower extracts will surely soothe and correct any redness and inflammation.
The specific moisturizers mentioned are but a small proportion of the entire line of Lush moisturizers.
It's unbelievable how Lush came up with a variety of moisturizers targeting specific skin needs.
To know more about these fantastic moisturizers, keep reading until the end of this post to know the best Lush moisturizer.
Product Reviews: Our Top 5 Best Lush Moisturizers
---
The Skin Drink Moisturizer by Lush is designed for thirsty skin.
This incredibly nourishing moisturizer gets rid of dry patches and a lot more, choosing it as our top pick for the best Lush moisturizer.
This amazing moisturizer also restores the normal balance of the skin to make it the softest and smoothest it can be, especially after cleansing which makes the skin feel tight and dry.
This product may smell a little funky because it has sesame oil and avocado in it, but it is honestly so moisturizing that you won't mind the smell.
Sesame oil, the primary ingredient of this moisturizer, leaves a supple protective layer on the face without leaving a greasy residue.
Aside from sesame oil, this moisturizer also combines the goodness of avocado, evening primrose, neroli, and other essential oils to keep your skin protected, soft, and glowing.
Avocado is rich in fatty acids, antioxidants, Vitamin C and Vitamin E.Among its benefits are protection from environmental and UV damage, stimulation of collagen production for firmness, and brightening of skin tone.
Like avocado, primrose oil imparts a lot of benefits to the skin, hair, and body health.
For instance, it is gentle, anti-inflammatory, contains high amounts of fatty acids, and very moisturizing for eczema-prone skin.
On the other hand, neroli oil has antibacterial properties, making it effective for minimizing the appearance of acne-prone skin and other skin irritations.
This moisturizer sure offers a lot to the skin. We must admit that we're more than satisfied with the results it gave.
First off, we loved how it's small and compact, perfect for travel. The smell is a little weird, yes, but it's not awful.
This moisturizer sits amazingly well on the skin – it hydrates without leaving an oily film, it makes the skin soft and supple, it eliminates dry and rough patches within weeks, and it's non-irritating to sensitive skins.
---
As the name suggests, the Vanishing Cream Moisturizer vanishes blemishes and scars away while providing gentle moisturization for temperamental skin, making it one of the best Lush moisturizers.
Unhealthy oils and dirt build up on the skin and clog pores, causing inflammations and breakouts. This lightweight cream is made just for that.
Often, breakouts mean you're producing too much oil to compensate for the dryness.
The pH-balancing ingredients of this product like witch hazel, lavender absolute, and grape seed work to restore the balance.
Witch hazel, a known cleanser, also dislodges dirt and grime from the pores so acne-causing bacteria can't thrive.
When pores are emptied of impurities, they shrink and become unnoticeable, contributing to the flawless appearance of the skin.
Acne can leave open wounds and scars. The lavender absolute essential oil has healing, antiseptic, and antibacterial properties that are ideal for treating acne, inflammation, as well as wounds, cuts, and burns.
We loved how this moisturizer carries a satisfying aroma, way better than Skin Drink's.
Anyone with acne-prone skin and rosacea will surely make this product a staple because it's very gentle; it won't give you a single rash.
Furthermore, it does moisturize the skin without causing it to break out.
We've also seen a significant reduction of redness and acne on our faces after weeks of applying this product religiously.
---
If you're just starting on skincare and or you need to completely revamp it, Lush recommends the Imperialis as your first try.
This product is an all-purpose moisturizer designed to suit most skin types and soothe skin irritations.
It's made with a fresh lavender infusion which promotes sebum production, encouraging the production of more natural oils in regulated amounts to prevent the unsightly -- a greasy and shiny face.
Moreover, the infusion also rids the skin of unwanted dirt while moisturizing it in the process.
Another standout ingredient of this moisturizer is the orange blossom, a great toner for oily skin. This ingredient has been proven to brighten up dull skin and lighten the skin tone.
We're one of the many who have great admiration for this moisturizer. It's our first Lush moisturizer, our stepping stone to the other great Lush products.
We had someone with severely dry skin try this out. Her skin gets dries easily, so she needs something to keep it balanced and zap it back to normal when it gets really cold and dry.
After several weeks of using this moisturizer, she reported that her skin felt deeply moisturized day and night although this stuff is too mild as a winter moisturizer.
---
Lush made Cosmetic Lad with men suffering from skin irritations in mind, but it also works great for anyone who generally has sensitive skin.
This moisturizer offers immediate relief from irritation whether it be due to weather, acne, drying, burns, cuts, and wounds.
The chamomile extract mixed with marigold and aloe will quickly ease, soothe, and heal irritations, while the lavender extract cream works intensively to moisturize any dry areas.
Apart from its soothing duties, chamomile extract is also praised for its versatility in skincare. It also has antifungal, antibacterial, and antiseptic properties.
Furthermore, it contains essential oils and antioxidants that prevent free radical damage, allowing the skin to maintain its elasticity and firmness.
Likewise, marigold helps chamomile in keeping the skin young due to the numerous anti-aging compounds it contains, resulting in the production of collagen which is vital for delaying the onset of facial lines and wrinkles.
As always, this is a must have if you are an avid Lush user.
It works great for everybody, but it's perfect for or a man who desires a smooth and sleek finish minus all the glamor, fragrance, and glossiness of feminine products.
---
Do you want to keep your oily skin at bay? The Magical Moringa Moisturizer has all the ingredients to solve your problem, so climb aboard.
The trio of renowned beauty oils – rosehip, argan, and moringa, creates a little magic.
These three powerful antioxidant oils contain fatty acids and vitamins that reduce oil production, nourish, repair, treat acne, and eliminate blemishes and scarring.
Shea butter, also included in the formulation of this wonderful product, moisturizes and primes the skin, leaving it feeling velvety and looking matte at the same time.
You'll definitely love how the texture of this moisturizer is way different than other Lush moisturizers.
When you warm the product between your fingers before spreading it on the face, the product transforms from a thick cream to a silky oil which sinks in quickly, leaving your skin feeling velvety soft.
It felt so smooth and soft that we can't stop stroking our faces!
This product, when applied as a makeup base, holds your foundation in place, making it longer lasting not to mention how beautiful its mattifying effect on the skin is.
The Bottom Line
We love all Lush moisturizers because they're great for the skin, but if there's only one product we can choose, it's got to be the Skin Drink Moisturizer, making it our top pick for the best Lush moisturizer.
The Skin Drink Moisturizer offers a lot to any skin type. It features a perfect blend of ingredients that gradually resolve almost all skin imperfections from pH, moisture (or lack thereof), acne, and tone to wrinkling and irritations.
Furthermore, this amazing moisturizer restores the normal balance of the skin to make it the softest and smoothest it can be, especially after cleansing which makes the skin feel tight and dry.
Lastly, it's packed with fatty acids, antioxidants, vitamins, and minerals that are very nourishing to the complexion.