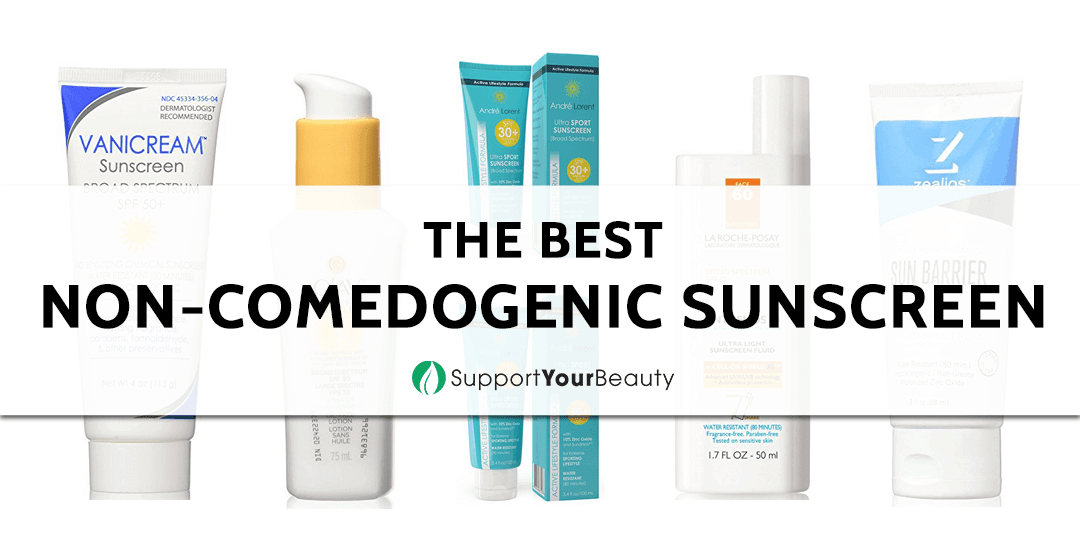 The Best Noncomedogenic Sunscreen – 2018 Reviews & Top Picks
In order to help you stay updated on the best beauty cosmetics, we're rounding up the best noncomedonic sunscreen in this list. We've tested these products and found that they work great for protecting you from the sun, without clogging your pores. We believe these products can be a good addition to your beauty collection.
When you think about sunscreens, the image that comes to your mind is not always a happy picture. We often relate it to white, greasy, and sticky lotion.
Anyway, you perfectly know that you need to put it on your skin to get protection from the sun.
Luckily, technology has upgraded our skincare products. Not only do some sunscreens feel lightweight, but they are also non-comedogenic.
This term can be seen on various labels. We don't want you to get lost. Instead, we will present the best non-comedogenic sunscreens on our list.
More...
Quick Overview: Our Top Picks for the Best Non-comedogenic Sunscreen
OUR TOP #1 PICK - Our top choice is Zealios Sun Barrier SPF45. This ultra-effective broad spectrum sunscreen is not only non-comedogenic. It is also paraben-free, oil-free, and water-resistant. It is designed to fit endurance athletes and can withstand extreme conditions, along with daily use.
OUR TOP #2 PICK - Next up on our list is a cult-classic, the La Roche-Posay Anthelios Face Sunscreen. This sunscreen was one of the gems that beauty addicts have unearthed in the alluring pharmacies of France. Its signature formula uses a patented technology. Dermatologists worldwide highly recommend it.
OUR TOP #3 PICK - Our third pick of the litter is André Lorent Daily Rehydrating Sunscreen SPF30. This sunscreen is packed with Vitamins and organic extracts of Seaweed, Algae, Orchid, and Papaya. When combined, they can make up for an adequate protection against the sun. Surprisingly enough, they can also add as a soothing moisturizer.
OUR TOP #4 PICK - Olay Complete Daily Defense All Day Moisturizer SPF30 is fourth on our list. It is a godsend for busy ladies like us. We all want a fast and easy way to get both the moisture and sun protection we need. It makes use of unique technology to protect your skin from both UVA and UVB rays.
OUR TOP #5 PICK - The last choice on our list is another sunscreen that packs a punch. Vanicream Sunscreen SPF50+ is ideal for those who are looking for a physical sunscreen. It is free from lanolin, parabens, formaldehyde.
Let's Talk About Sunscreens
If you are here because you are looking for a good sunscreen, then you're already a step closer. But you might be surprised to know that you are now a member of the minority.
The American Academy of Dermatology showed a study, according to which only 30% of women regularly use sunscreen on their face.
The number rises a little when the question shifts from including arms, legs, and other exposed parts.
Some women only put sunscreen on their faces, and ignore the rest of their bodies.
It is important to remember that skin cancer is a very severe issue. No one is exempt from it.
Using sunscreen can literally save your life.
When to use sunscreen?
You would be surprised how often this question is asked. Anyway, the answer is quite simple: Always.
Many of us have this image of a white, sticky, greasy, film on their mind. This is our main frustration over sunscreens. Yes, they can be quite icky.
Because of this negative perception, lots of people are wary of using it on a regular basis.
Many think they only need it when going to swim in the pool or sea.
When in fact, it is something that we have to use every day. Yes, even when it is winter or when it is raining outside.
Just because you can't see the sun does not mean the harsh UVA and UVB rays are not there. Snow actually reflects up to 80% of UV rays.
This means that even though it might be freezing, the potential harm still exists.
It is always best to just be on the safe side. So you'd better put a layer of sunscreen before heading out.
What to look for in a sunscreen?
Zinc Oxide and Titanium Dioxide are two very common ingredients found in sunscreens. They are often used in a variety of beauty products.
Titanium Dioxide is considered as a safe, natural material. It has been used for decades in many ways. Most particularly, it is one of the most common ingredients found in sunscreen today.
Zinc Oxide is another favorite ingredient that can be seen in sunscreens. We were wondering where the white-colored film comes from. Well, this is the answer.
No, it is not some synthetic paint that is included in the formula. And it is definitely not made so that the whole world can see that you have sunscreen on.
It is actually Zinc Oxide. But to be particular, it's the earliest forms of it.
Latest formulations of Zinc Oxide nowadays have changed a lot.
They make it possible for this ingredient to be included in the sunscreen without leaving a horrific white film on your skin.
Decoding Sunscreen Labels
We advise you to look for names such as "non-comedogenic," "paraben-free," and "broad spectrum."
If you have no clue what are they, then today is your lucky day. We put our efforts to break each one down for you.
"Non-comedogenic" is the star of our list. Why does it matter? Non-comedogenic products do not clog your pores. That is the simplest explanation, but of course, there is more to that.
Comedo is a form of acne, wherein the pores are clogged with excess sebum. This can be dirt, bacteria, and dead skin cells. The "comedones" are formed because the microparticles from some products fill up your pores.
It is important to remember that non-comedogenic products are not acne solutions. They do not cure acne.
They simply prevent comedones or pimples from forming. This can be achieved by a formula that does not enter and clog your pores.
Next term to look out for is "paraben-free." You should be on the lookout for any label that shows your sunscreen is free from synthetic materials. Dyes are amongst the most common ones.
Parabens are commonly used as preservatives when added to beauty products. They can halt the growth of bacteria and fungus. Sounds good, right? Well, we have more to it.
Studies show that they may damage hormone function. Their usage is related to an increased risk of breast cancer.Since 2012, EU banned products containing parabens. The FDA still hasn't caught up though, as they still question some of the regards.
What you can do for yourself is to research on a product beforehand. Or better yet, look out for the "paraben-free" label.
Lastly, "broad spectrum" is another term you need to see on your sunscreen bottle.
Many products only protect you from UVA rays, but not from UVB rays. UVB rays cannot penetrate beyond the outer skin layer. However, they are responsible for the development of skin cancer.
Broad spectrum sunscreens are capable of protecting you from both UVA and UVB rays.
If you can't find the exact term on the bottle, make sure that it is capable of protecting you from both ultraviolet rays.
Reviews of the Best Non-Comedogenic Sunscreen
---
Our number one choice is Zealios Sun Barrier SPF45. The high-performance formula is perfect for athletes and anyone who spends hours under the sun.
It is water-resistant, and it doesn't sting when it gets near our eyes. This can be the perfect sunscreen for those trips to the beach. Despite the powerful formula, it is gentle enough for children and regular use.
Notable ingredients are Zinc Oxide, Octinoxate, Octisalate, and Dimethicone.
Zinc Oxide is a natural sunscreen ingredient. It can protect against UVA and UVB rays. It may also lower inflammation, which makes it ideal for sensitive skin.
Both Octinoxate and Octisalate filter UVB rays. Dimethicone is widely used in skincare products; it helps lock in the moisture in the skin. Furthermore, it may prevent mild irritation.
What we love about this sunscreen is the lightweight formula that packs a punch. We put it on and spent hours under the sun. No matter of this, it didn't feel sticky, and we were not burnt at all.
We are not fans of the ghost look that sunscreens often leave behind. So we enjoy how this product leaves no residue behind. Once the skin absorbs it, consider it done. Just wait a few minutes, as the result is definitely worth the wait.
---
Up next on our list is a product that has earned a name for how effective it is. The cult status of this sunscreen matches those of CeraVe Moisturizing Lotion and Paula's Choice 2% BHA Liquid. Do we need to say anything more?
Of course, like the beauty addicts that we are, we don't praise it until we've tested it ourselves. True enough, the patented Cell-Ox Shield technology found in this sunscreen works wonders.
The light, water-resistant formula absorbs well into our skin after seconds. We also discovered that it could be used under makeup. And even as a primer!
It can protect your skin from both ultraviolet rays. We've got good news for those with sensitive skin. This product is allergy-tested, so you can feel safe to use it.
After hours of multiple re-application, it does not irritate or clog our pores at all. We felt just as fresh as we did in the morning.
The active ingredients are Avobenzone, Homosalate, Octisalate, Oxybenzone, and Octocrylene. All of them are common for sunscreens. They can block the harmful rays.
---
Third on our list of the Best Non-comedogenic Sunscreen is André Lorent Daily Rehydrating Sunscreen SPF30. It boasts an ingredient list full of vitamins and natural extracts.
It also makes use of a unique, patented technology. The Sundrisol7 formula has anti-aging properties. After applying, we even thought it was a moisturizer and not a sunscreen.
Not only is it non-acnegenic, but hypoallergenic as well. It is designed to suit all skin types.​
There is a broad spectrum UV protection. That's thanks to Avobenzone, Octinoxate, Homosalate, and Octisalate. These are effective sunscreen ingredients.
As mentioned, it also contains natural extracts of Seaweed, Papaya, Algae, and Orchid. It also has Vitamins B, C, and E.
The Seaweed helps hydrate your skin. Meanwhile, the Algae promotes cell renewal through its minerals, proteins and amino acids. The Papaya can clear dead cells, and the Orchid can even out your skin tone.
Not only are the extracts powerful, but so are the vitamins. They are antioxidants to shield you from free radical damage.
---
We consider this one a heaven-sent for busy bees like us. We are always on the lookout for skin products that multitask. Time is precious, so we like to be out the door within minutes.
Going to work, out of town, or doing some gardening? Wherever we are heading for we always need a sunscreen.
We don't like those thick, white lotions just as much as you do. But this product can do the trick.
This moisturizer plus sunscreen boasts another unique formulation. Their patented SolaSheer Technology is responsible for providing broad spectrum ultraviolet protection.
It is packed with Vitamins and Aloe extract. When mixed together, they can provide powerful sun protection and hydration. It didn't mislead our expectations for its non-comedonic properties.
After days of testing, we fell in love with this product. The lightweight formula makes it ideal for everyday use. Plus it was not greasy even at the end of the day.
---
The last item on our list is just as effective as the last four products. This one is perfect for those who are searching for a physical sunscreen. It does not contain harsh chemicals.
Non-comedogenic, fragrance-free, gluten-free, and parabens-free. Sounds too good to be true? We were just as skeptical, so we tested it out for a full day.
It is also water-resistant for up to 80 minutes. So you need to apply another layer especially when swimming.
The active ingredients are Zinc Oxide and Titanium Dioxide. Both are safe enough, as there are rarely adverse side effects when applied topically.
After testing, we also noticed how it was not greasy even after hours. We looked at how effective it was as a non-comedogenic product. Actually, we were surprised at how clear our pores looked.
The Bottom Line
Sunscreens are an essential part of our skincare regimen. Whatever the season or weather, we need to wear some to reduce the risk of developing skin cancer.
Sticky, greasy, and stark white sunscreens are fortunately now a thing of the past. There are many products available to provide effective sun protection without clogging our pores.
Our top choice is Zealios Sun Barrier SPF45, because of its high-performance. It is gentle enough for everyday use. This includes children and those with sensitive skin.
The lightweight formula was impressive. After much testing, and upon inspection, we saw that our pores felt and looked clear. It's as if the day had just started.
All of the non-comedogenic sunscreens found in this list are just as effective. So don't hesitate to test them out and see for yourselves.
After all, sunscreen is a necessity. We hope to be of help by choosing one that works well for you.