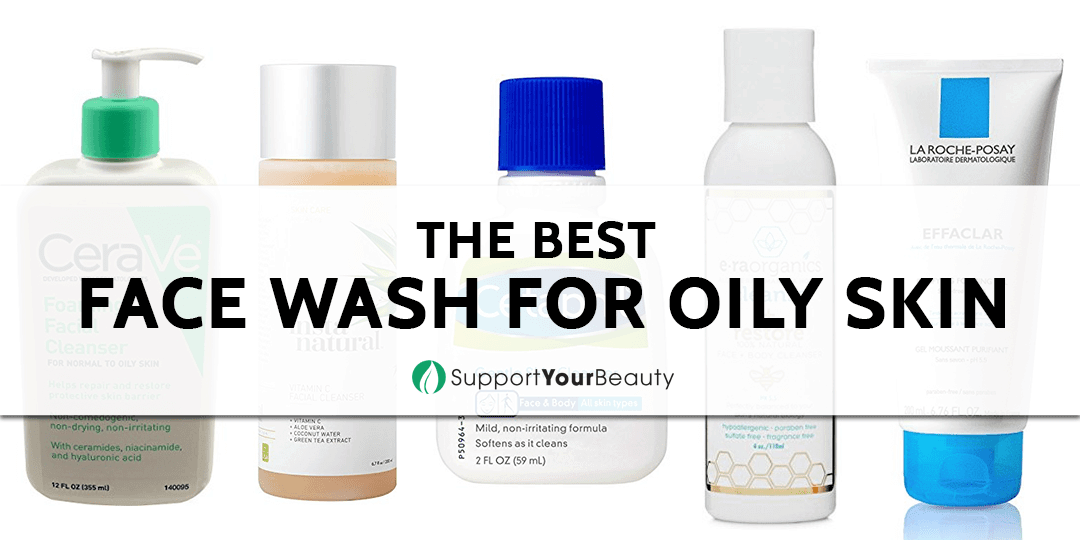 The Best Face Wash For Oily Skin – 2018 Reviews & Top Picks
In line with our goal of providing you with products that will work for your oily skin, we've reviewed the best face wash for oily skin. These products were carefully selected because they contain great ingredients that can moisturize and cleanse your skin, and help your face get rid of the excess oil without drying your skin. We believe these products will leave your oily skin fresh yet moisturized.
The skin is the largest organ in the body, and its primary purpose is to protect us and keep us intact.
But this layer of protection is prone to issues, and millions of people around the world are suffering from a sensitive, dry, or oily skin.
Oily skin can be such a bother especially on days when you are on-the-go and the temperature's high.
The excess oil on your face can lead you to feel a "heaviness," and most of the time this uncomfortable feeling makes you feel hotter and more irritable.
A lot of products that are specifically designed to address your oily skin are currently on the market - and we are thankful for their existence.
But the vast options that are out there may be overwhelming.
Picking the right facial wash for your oily skin is easy, but when you have a lot of choices and no idea what's good for your skin, what should you do?
We did the work, so you won't have to. Here are our top 5 picks for the best face wash for oily skin.
More...
Quick Overview: Our Choices for the Best Face Wash for Oily Skin
OUR TOP #1 PICK - Our top pick for the best face wash for oily skin is CeraVe Foaming Facial Cleanser. This facial cleanser, aside from cleansing your oily face, may also repair and restore the skin's natural protective barrier.
OUR TOP #2 PICK - Second as our best face wash for oily skin is Cetaphil Gentle Skin Cleanser. This skin cleanser is gentle enough that it may also be used for a baby's skin.
OUR TOP #3 PICK - The third on our list is InstaNatural Vitamin C Facial Cleanser. This facial cleanser has organic ingredients in its formula and may also be of help for your aging skin as the ingredients are mainly antioxidants.
OUR TOP #4 PICK - Coming in at number four is Era Organics Natural Face Wash. Aside from clearing your face of excess sebum, this face wash may also be of help in treating some skin conditions such as acne, eczema, and psoriasis.
OUR TOP #5 PICK - Last but not the least is La Roche-Posay Effaclar Purifying Foaming Gel Cleanser for Oily Skin. For this foaming gel cleanser, zinc pidolate (which isn't a common ingredient in a facial wash) is used to help remove the excess oil on your skin.
What Makes Your Skin Oily?
In medical terms, oily skin is called seborrhea, and there is nothing remotely attractive about it.
Aside from the hot and sticky feeling that the excess oil brings, let's face it: your face looking like it is ready to fry an omelet isn't appealing.
So why does one have oily skin?
For starters, our skin naturally produces oil or sebum.
This usually starts around puberty when androgen, or the male hormone that is present in both sexes, increases.
An increase in androgen means an increase in oil production as androgen signals oil glands to mature.
A maturing oil gland means the production of sebum, and that is completely normal.
But often, the oil gland goes into overdrive and skin gets excessively shiny because of too much sebum.
Too much sebum can be caused by several factors, but oily skin is something you may acquire.
The good news is that there is a way to minimize or control it, so your face won't resemble an oil slick.
For instance, your menstrual cycle can be the cause for your oily skin.
Menstruation and hormones are two words that go together, and their normal output is acne.
Aside from the hormones triggering zits, your oil glands may also be triggered and may produce more sebum than usual.
Other factors for an oily skin include stress and the weather.
When you decide to persevere through the stress, this adrenaline rush results to a surge of hormones in your body; these hormones can trigger your oil glands to produce excessive amounts of sebum.
Oily skin doesn't choose a season, and those with this skin type may have shiny faces all year round.
Another factor, and probably the most preventable factor for oily skin, is the excessive usage of cosmetics or skin products. Heavy makeup can trap oil and may even irritate your skin further.
Why Do You Need To Wash Your Face?
Washing your face is the most important step to skincare and the need for it is understandable.
Your face is on the receiving end of pollution, bacteria, sun exposure, and free radical damage.
This is why it's important to cleanse the face daily, as too much dirt, sweat, and oil clogging up your pores can lead to pimples.
Not only that, but having a thoroughly cleansed face feels refreshing and pleasant, especially on a hot day.
For fresh and clean skin, it's best to wash your face at least twice a day - once in the morning, and another before you go to bed to completely unclog your pores and slough off dirt and excess sebum.
Different skin types may also mean a specific number of times to wash your face.
For instance, the notion that you should wash more often to get rid of oily skin is false.
If you wash your face each time your face gets shiny, chances are you'll strip your face of moisture.
When this happens, oil glands will then compensate for the lost moisture by producing excess sebum. So even if it sounds weird, less is more for oily skin.
Product Reviews: Our Top 5 Best Face Wash for Oily Skin
---
Topping our top 5 picks for the best face wash for oily skin is a facial cleanser that combines hyaluronic acid with ceramides and niacinamide in its formula.
Although you might think that using a moisturizer on oily skin types will be counterproductive (oil on top of oil, won't that be too much?), truth is you shouldn't skip the moisturizer in your everyday skincare routine - no matter how oily your skin may be.
Remember that oil is not moisture and the cleansing and washing you do daily may strip your skin of the excess oil and the much-needed moisture.
The hyaluronic acid in this product may help you with that. Hyaluronic acid may work well as it may help retain and lock in the moisture.
Aside from this, hyaluronic acid is lightweight so you can get the intense hydration you need without feeling the "heaviness" of too much oil on your face.
The presence of niacinamide in this facial cleanser is also a big help as this vitamin is like a sponge - it can absorb the excess sebum on your face.
Both ceramide and niacinamide not only help you clean your face and slough off excess oil, but both may also be of use if you are fighting the visible signs of aging.
The two strengthen the protective barrier of the face; also, both may help in stimulating the natural production of collagen in the body.
Collagen is known to be responsible for the youthfulness of your skin and with this ingredient in this cleanser's formula, your skin may look smoother, healthier, and younger.
We love the pump-type lid! Every pump can be controlled, and every dollop of the cleanser goes a long way; therefore this helped us maximize the contents of the bottle.
---
The next best face wash for oily skin is a cleanser with a mild formula that can even be used as a wash for babies.
This skin cleanser can also be applied to people with varying skin types.
The formula of this face wash is mostly alcohols such as cetyl alcohol and propylene alcohol.
These alcohols are the types that help moisturize your skin as the alcohols present in this facial wash are mostly fatty.
These fatty alcohols and their ability to maintain moisture may help you get rid of the excess oil without drying your skin and making your face look dull.
This cleanser, aside from being a face wash, may also be used to help remove makeup.
Moreover, this product is economical in a sense that the whole family can use it, and that you may use it for various skin issues without much trouble.
We loved that this skin cleanser is gentle enough to be used for kids. It doesn't have a fragrance as well which means that there is no additional irritant and that this product is hypoallergenic.
---
Up next is a facial cleanser that uses organic ingredients in its formula.
The main ingredient of this facial cleanser is vitamin C. As an antioxidant, this vitamin may also help your skin combat the visible signs of aging such as wrinkles.
Aging is hastened by free radical cells, and vitamin C may do something to reduce the telltale signs.
For your oily skin, vitamin C may help hydrate your skin after the excess oil is sloughed off.
With vitamin C's ability to help moisturize your skin, this facial cleanser can cleanse your skin, but it won't dry it to the point that removing the excess oil will be counterproductive.
Other ingredients in this facial cleanser are sugarcane and green tea oil.
Sugarcane is a natural alpha hydroxy acid or AHA. AHA may help treat existing acne and reduce blemishes in the skin.
Both the sugarcane and green tea may help your skin look younger and healthier.
With AHA and antioxidants, respectively, these two ingredients keep the skin hydrated, smooth fine lines and wrinkles, and may even help to bring back a little oomph to sagging skin.
---
Our next product is a face wash that makes use of a rising ingredient in skincare products - manuka honey.
The manuka honey in this face wash has four significant benefits for the skin; first is that it can treat your acne, second is that it can repair your skin, it hydrates, and lastly, it may also be used as an anti-aging agent.
Manuka honey is anti-inflammatory in nature, and as an ingredient in this face wash, the redness of your acne and its surrounding areas may be improved.
This honey can also encourage regeneration and may repair cellular damage.
Lastly, the manuka honey in this face wash may help retain moisture, and this moisture helps hydrate your skin, which in turn results in fewer wrinkles and fine lines.
The aloe vera in this facial wash also heals acne as aloe vera contains two hormones that are proven to be anti-inflammatory and antiseptic.
We loved how this facial wash not only does something for oily skin, but that it also helps treat some skin conditions such as eczema, psoriasis, and rosacea.
The formulation in this facial wash is mild enough to be used even twice a day, and it can even be used as a body wash.
---
The last product is a foaming gel cleanser that contains an ingredient not commonly found in facial washes.
Zinc pidolate is this foaming gel cleanser's main ingredient, and it helps in purifying your skin and removing the excess oil at the same time.
The zinc in this face wash may also be used to treat your acne and may even address other skin issues such as rosacea.
Aside from zinc, this foaming gel cleanser also has citric acid, a kind of vitamin C.As an antioxidant, the presence of vitamin C helps your skin look younger and healthier as it battles free radical cells.
As an ingredient to improve oily skin, the vitamin C helps hydrate after washing, leaving skin clean yet moisturized.
It is recommended to use this product at least twice, once in the morning and another in the evening using lukewarm water.
The Bottom Line​
For the best face wash for oily skin, our top pick is CeraVe Foaming Facial Cleanser, and this is mostly because of what it can do and what it has to offer oily skin.
This facial cleanser is non-comedogenic, and it may help you especially if you are fighting a current wave of stubborn acne - and if you do not want to get a fresh batch ever.
The cleanser also helps unclog your pores and make sure they stay that way.
Also, we loved the fact that this face wash has ceramides in it.
Ceramides are lipids, and they are essential as a skincare ingredient because they help form your skin's protective barrier.
This barrier can lock in moisture, which your skin definitely needs, and may also protect you from factors such as extreme sun exposure and free radicals.
Aside from the ingredients in its formula, we were also sold on the pump-type lid in this facial cleanser.
Although it doesn't take much to have a good lather, the pump helped us maximize the entire bottle as you can control the amount of product with every pump.
So for the best face wash for oily skin, we highly recommend this facial cleanser.
This face wash, as well as the other four products on this list, may help you get rid of excess oil for a clearer and fresher complexion.