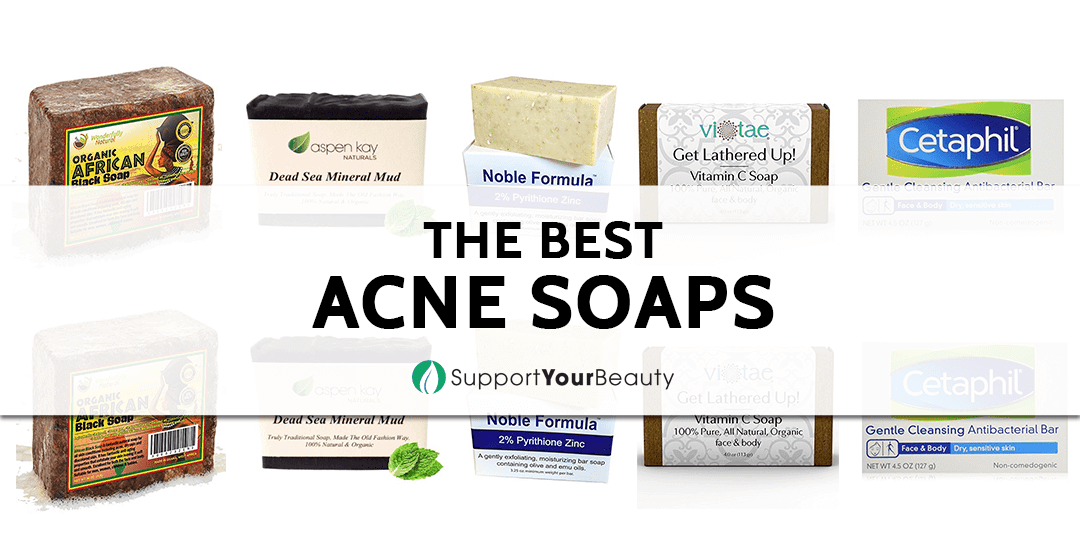 The Best Acne Soaps – 2018 Reviews & Top Picks
Don't miss out on the best old school ways. Learn how to make the most of the best acne soaps. Behind the scenes of time favorite treatments!
Although soap is one of the most common bath and beauty staples, it is often blamed for the occurrence of skin problems such as acne.
That's because preservatives that are usually added to soap bars in order to prolong its shelf life are often too harsh and irritating for your skin.
No wonder soap is becoming a less popular choice for maintaining the overall appearance and condition of the skin.
But did you know that it can actually be your best defense against acne?
Here we've compiled a list of the five best acne soaps available on the market today that will help keep your skin clear of acne and prevent future breakouts.​
More...
Quick Overview: Our Choices for the Best Acne Soaps
OUR TOP #1 PICK - Wonderfully Natural' s Organic African Black Soap is our top pick for the best acne-clearing soap. Infused with 100% organic ingredients, this handcrafted bar boasts shea butter that contains vitamins A and E that are known to strengthen and repair damaged skin.
OUR TOP #2 PICK - Aspen Kay Naturals' Dead Sea Mineral Mud is chemical and preservative free. This artisan soap contains pure Dead Sea mineral mud from Israel that accelerates your skin's natural exfoliation and restores its pH balance. It also has acne-fighting essential oils such as castor bean oil and sunflower oil.
OUR TOP #3 PICK - Originally formulated for skin conditions such as seborrheic dermatitis, Noble Formula 2% Pyrithione Zinc Bar Soap is also an excellent remedy for acne. More than zinc pyrithione and oatmeal, it also contains olive oil and emu oil (the natural grease produced by the fat of an emu) that are very efficient in toning down your acne' s inflammation and swelling.
OUR TOP #4 PICK - Vi-Tae Get Lathered Up! Vitamin C Soap is another handmade soap on our list that is safe for all skin types. It does not contain parabens, alcohol, or petroleum, which can cause skin irritation. It is specially formulated to fight acne with its rich mixture of blood orange, lime, and tangerine oil extracts.
OUR TOP #5 PICK - And finally, Cetaphil Gentle Cleansing Antibacterial Bar, which has practically become a staple beauty product in almost every household bathroom. It contains triclosan 0.3% which efficiently keeps pimple-causing bacteria at bay without drying your skin.
Acne Soaps: Why You Should Considering Switching To It
Soap is perhaps the most common toiletry that you have grown accustomed to washing your body with.
Soaps often contain active ingredients that moisturize and cleanse your skin, and sometimes, even more, like whiten, and clarify it.
Some soaps are even especially crafted to treat your skin for different blemishes, one of which is acne.
However, soaps have experienced a terrible dissing among beauty experts over the past years.
Critics claim that soaps have a higher alkaline content or pH level, which can be bad for your skin.​
Your skin's exposure to alkaline triggers the growth of acne-causing bacteria. When this happens, your breakouts only worsen instead of diminishing.
The alkaline content of soap also strips your skin of moisture, making it dry and crepey.
But don't worry! You can still use soap for treating acne, among your other skin conditions.
Soaps Do Not Contain Harmful Preservatives​
In fact, switching to an acne soap from a liquid facial wash can be a better choice.
While not all kinds of liquid facial washes are harsh on your skin, you must understand that since its main ingredient is water, it contains preservatives.
Preservatives such as parabens help ward off bacteria and fungi and prolong the shelf life of water-based products.​
Unfortunately, they are also linked to the development of breast cancer.
Soaps Are More Concentrated​
That's right! Soaps contain a higher concentration of the active ingredients that are beneficial to your skin, such as essential oils, vitamins, and minerals.
Originally, they contain sodium hydroxide, which controls the pH levels of cosmeceuticals.
While they are potentially hazardous, they almost disappear the instant water touches the soap if the formulation is correct.
What you're left with are soap molecules, moisturizing glycerin, and a higher concentration of the ingredients that will help you achieve your skin goals.
Soaps Are Eco-Friendly...And Budget-Friendly, Too!​
Soaps are packed in boxes. Dumping them will not make them sit in the trash pile for long because they can quickly go through the process of recycling to produce new boxes again.
Soaps are also formulated for use on both your body and face, so it's like buying two products for the price of one!
When you suffer from acne on the face, it is most likely that you have breakouts on other parts of your body.
By using a face and body soap, you can get the effect on both your face and body at an equal pace. That means you may not have to worry about having uneven skin tone.
How To Use Acne Soaps​
Convinced yet?
If you decide to switch back to acne soaps from liquid facial cleansers, keep in mind that there is always a correct way to wash your face with it in order to achieve maximum results.
Let us walk you through the proper conditions and correct instructions that will give you the full benefits of acne soaps.​
1. Temperature Check
Before you wet your hands, face, and soap with water, check the temperature if it is too cold or too hot.
Water that is too cold will only tighten your pores, thus keeping oil, dirt, and bacteria further within your follicles.
On the other hand, too hot water can irritate acne lesions on your face and body.
Opt for lukewarm water that helps your body's temperature react better.
2. Gentle Is the Way To Go​
Splash lukewarm water on your face, making it wet enough for you to work up a good lather with your acne soap
Don't just hold the soap bar against your face or body and lather directly on it. Instead, wet your hands and the soap bar. Rub the soap bar against your hands for about fifteen seconds.
Then, gently lather the suds on your face or body, massaging them on areas that are prone to oil and breakouts.
Never use a washcloth, a sponge, or a grainy scrub to wash your face. Your facial skin is thinner than the rest of your body and washing with an abrasive material can only cause dryness and irritation.
3. Twice A Day, That's All It Takes​
While you may be tempted to wash your face as often as you can, all it really takes to clear your acne is to wash twice a day.
Skin care experts recommend washing your face once in the morning upon waking up and another time in the evening before you hit the sack.
Wash your face when you get out of bed in the morning to remove the oil, dirt, and bacteria that accumulated on your face while you were sleeping.​
Naturally, you have to do the same in the evening before going back to bed to clear your skin of oil, dirt, and bacteria, as well as makeup and other products that gathered on your face during the day.​
Product Reviews: Our Top 5 Best Acne Soaps
Organic African Black Soap has since gained popularity as an effective product in clearing acne, so we thought we'd give it a try and it didn't fail us.
This acne soap is made with 100% pure organic and unrefined shea butter. This ingredient is a rich source of vitamins A and E, which are famous for their ability to promote the healing of wounds.
These ingredients also help repair damaged skin and protect your skin's natural oils.
This product also contains a number of natural oils, including palm and coconut oils. Such ingredients are rich in antioxidants; this means they can help you reduce cell damage and fight off free radicals.
These ingredients are also anti-inflammatory, which helps ease the swelling of your acne lesions and antibacterial which keeps acne-causing bacteria from thriving in your pores.
We've used this soap and found that it also helps diminish the redness on our face that has been around for months after a pimple has gone.
Besides, this soap may also help you reduce existing acne marks and scars if you use it frequently. However, this depends on various factors, such as your skin type and the condition of your acne.
---
Aspen Kay Naturals' Dead Sea Mineral Mud is ranked #2 on our list of the best acne soaps. We've carefully selected this product because it's made with all organic ingredients.
Not only is Dead Sea mineral mud hard to obtain, but it also provides a lot of benefits to your skin.
Rich in magnesium, potassium, sodium and calcium, Dead Sea mineral mud promotes your skin's exfoliation and helps restore its natural pH balance.
We fall in love with this gentle exfoliating soap because it contains 100% pure Dead Sea mineral mud from Israel, it works for all skin types, and on top of that, it's a cruelty-free product.
It also has activated charcoal, known to bind toxins, dirt, oil, and other impurities that clog your pores and cause acne.
Its other active ingredients include organic, unrefined shea nut butter, and different types of natural oils. These ingredients are famous for treating acne, improving your skin health, and reducing inflammation.
While these ingredients detoxify your skin, they may make the skin, particularly on your face, release toxins all at once, causing a surge of pimples anywhere from a day or two following initial use of the soap.
---
Noble Formula bar soap is another of our top picks for the best acne soaps because of its impressive 2% Pyrithione Zinc ingredient.
Pyrithione Zinc is known to be an antiseborrheic, which helps control the release of too much sebum that causes acne, itchy skin and flakiness.
In addition, this handmade soap also has a high concentration of olive oil, emu oil, calendula, and oatmeal, all of which have anti-inflammatory and antifungal properties.
These ingredients are also effective in treating acne while restoring the natural moisture balance of your skin and maintaining its healthy appearance.
Another reason why we chose this soap is not only because it's made in the USA, but also because it's a cruelty-free product and it works for all skin types.
---
Vi-Tae's Vitamin C Soap also makes our top pick for the best acne soaps. Not only is it handmade in the USA, but it also comes from a famous brand in the natural beauty market.
As you may guess, this soap is rich in Vitamin C essences, which come from its active ingredients of blood orange, lime, and tangerine oils.
These ingredients are known to help fight acne-causing bacteria and clear away existing lesions for silky smooth skin.
It also contains a lot of natural ingredients, such as safflower oil and rosemary. These ingredients are effective in rejuvenating your skin by improving its texture and reducing the appearance of acne scars.
We carefully selected this product because it also works for all skin types and conditions, and it doesn't contain any harmful chemicals, which is good for your skin.
In addition, this soap may also help ward off acne and diminish the appearance of pimple scars if you use it frequently.
---
With a non-soap formula, Cetaphil Gentle Cleansing Antibacterial Bar makes our list of the top 5 best acne soaps on the market.
It's an antibacterial product that works for any skin type, especially dry or sensitive skin.
This bar contains 0.3% triclosan, which is an antibacterial and antifungal agent that helps kill acne-causing bacteria. It works by inhibiting the bacteria from using fatty acids to thrive on the surface of your skin.
Besides its main antibacterial ingredient, this product is made with many beneficial ingredients that are effective in fighting acne, cleansing sebum, and moisturizing your skin.
We found that it also contains emollients in the form of petrolatum and sucrose cocoate, which are capable of drawing water to your skin and locking it up to keep it moisturized.
The Bottom Line
There are many available acne soaps on the market but Wonderfully Natural' s Organic African Black Soap remains our top pick for the best acne soaps.
Handcrafted and infused with 100% organic ingredients, it works well for any skin type and helps you clear away acne and keep its symptoms at bay.
Its active ingredients effectively strengthen and repair damaged skin with their vitamin A and Vitamin E properties.
While promoting skin cell renewal, it also helps get rid of oily skin and fights off acne-causing bacteria with lauric acid.
It also leaves your skin silky and smooth by locking in moisture with the help of its natural oil ingredients.​