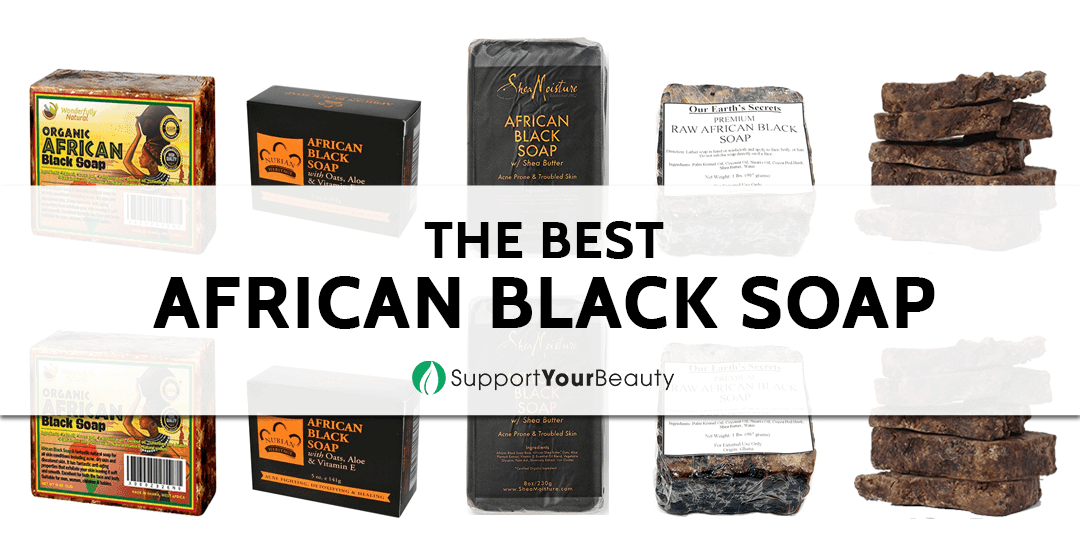 The Best African Black Soap – 2018 Reviews & Top Picks
In order to help you look and feel great, we're rounding up the best African black soap products in this list. After hours of testing, we've found that those products worked great for gently cleaning the skin, while fighting irritations and inflammations. We believe these are the Best African Black Soap products to support your beauty.
If you're on the lookout for a skincare product you can rely on for a lifetime, we recommend the African black soap. It is made from the ashes of plants and barks such as palm leaves, shea bark, and cocoa pods.
This particular soap works to gently cleanse the skin, remove toxins, and improve the overall complexion. Some people even use it as shampoo and makeup remover. Its versatility is just endless!
Pure black soap is traditionally made in Africa, but there are other existing variations as well. Nowadays, they are coming from Europe and the US. Some tend to have added chemicals.
It can be difficult to find a legitimate product on the market so let us help you. Below are our skincare experts' top picks for The Best African Black Soaps that have undergone weeks of testing and evaluation.
More...
Quick Overview: Our Top Picks for the Best African Black Soaps
OUR TOP #1 PICK - Our Top Choice, Shea Moisture's African Black Soap with Shea Butter, contains a bevy of plant-derived ingredients. We also have additional skin-beautifying agents to provide cleansing, hydration, and balance. This can calm acne-prone and troubled skin.
OUR TOP #2 PICK - If you aim for flawless and youthful looks, you may want to try with Wonderfully Naturals' Organic African Black Soap. This cleanser possesses gentle exfoliating properties. With nourishing vitamins and minerals, it can contribute to a soft, smooth, and clear complexion.
OUR TOP #3 PICK - Sporting raw oddly-sized blocks with blotchy colors, Natural Cosmetics' African Black Soap is one of the purest forms you can find. It contains ingredients which work together to help alleviate skin problems and overall condition.
OUR TOP #4 PICK - Anyone may love the gentle exfoliation offered by Nubian Heritage/Sundial Creations' African Black Soap. This beauty bar combines the traditional medicinal properties of black soap with the moisturizing and hydrating properties of shea butter and aloe. Thus, you may balance skin pH for a radiant and healthy-looking complexion.
OUR TOP #5 PICK - Our Earth's Secrets African Black Soap can work on almost all skin types to relieve and improve their condition. Not only can it provide relief. It is capable of supplying sufficient moisture and even helps in removing stubborn makeup.
What Makes African Black Soaps Unique?
As mentioned earlier, they are made from natural plant barks and oils. That's what makes them stand out from other bath soaps.
Let's look at what its natural ingredients can do for the skin.
1. Plantain peels
Plantain is a naturally occurring compound found in banana peels. It is a rich source of antioxidants, folic acid, thiamine, riboflavin, and Vitamin C.
Plantain aids in relieving sunburns, lowering the chances of scarring, soothing and treating acne and rosacea. Due to its germicidal and antibacterial properties, it can hasten wound healing.
2. Cocoa pods
Cocoa, another antioxidant-rich plant, is effective in combatting fungal diseases such as psoriasis and eczema. Furthermore, cocoa pods yield high levels of caffeine.
The combination of antioxidants and caffeine makes a potent anti-aging formulation. The onset of wrinkles and fine lines can be delayed and reduced.
3. Palm oil
Palm oil is as good for the skin as it is for the body. Uniquely, it contains Tocotrienols, a hard to find compound and a member of the Vitamin E family.
It has long been utilized to treat various skin ailments. Being an inherently strong antioxidant, Tocotrienols can fight free radicals that cause premature aging.
Used topically, they penetrate deep into the layers to provide healing and protection.
4. Shea butter
Most of us know that shea butter is a skin superfood. It's naturally rich in vitamins A, E, and F.
Moreover, it offers UV protection and supplies the skin with essential fatty acids and nutrients.
These are necessary to maintain collagen production, as a significant component of youth.
Benefits of African Black Soap
1. Gentle cleanser
Black soap's ingredients are able to cleanse gently. This unique characteristic can be non-irritating for people suffering from rosacea, rashes or dryness.
2. Remove toxins
We are all trying so hard to remove stubborn skin impurities. Thankfully, you can rely on a black soap to unclog the pores.
As a matter of fact, research has revealed that it has bacteria-fighting properties. These may treat a number of skin conditions.
3. Exfoliates the skin
African black soap is unrefined, unprocessed, and raw. So you shouldn't be surprised if your bar exfoliates your skin with fine particles of vegetative matter.
To prevent any irritation associated, it'd be best to slice it into pieces. Then you can knead it into a ball, and allow it to lather by rubbing it between your fingers.
In reality, imperfect bars with grainy textures are one of the primary indications that you bought the authentic stuff.
4. Fight acne
In addition to the cleansing powers of African black soaps, it also contains a bevy of robust compounds known to fight acne.
For instance, coconut and palm oils contain acids and Vitamin E. They may kill bacteria and calm irritated skin.
These acids also create an occlusive barrier to lock moisture in, ensuring a healthy glow all the time.
5. Prevent premature skin aging
Some of the secret ingredients for erasing wrinkles and fine lines are cocoa pods and banana peels. We often discard these substances as waste.
Both compounds are packed with a diverse mix of antioxidants, gallic acid, tannins, catechins, rutin, protocatechuic acid, and quercetin.
The terms might be too technical, but they all have the same goal – restore elasticity.
Product Reviews: Our Top 5 Picks for the Best African Black Soaps
---
Nestled in the top spot of our little list, this particular soap is designed to cleanse, hydrate, balance, and calm acne-prone and troubled skin.
African black soap contains a bevy of natural plant-derived ingredients that may clear blemishes, and calm psoriasis and eczema.
We loved how bathing with it leaves the skin feeling soft and refreshed.
Also, it is formulated with organic shea butter which aims to moisturize and nourish. Finely milled oats can provide gentle exfoliation.
As to aloe, it can comfort irritated skin while absorbing excess oil. After a month's use, we can say that this soap is incredible.
Have you ever had severe acne and tried every single OTC scrub, deep pore cleanser, refiner, or moisturizer to resolve the annoying problem but to no avail?
It just turns out that this African soap can help out. We could tell that our faces were smoother and the existing acne was healing faster. After two weeks, our complexions have visibly cleared up.
In addition, our skin tones were noticeably evened out.
---
We all want flawless skin, but with hundreds of skincare products plaguing the market, it's almost impossible to choose one.
We advise you to try Wonderfully Naturals' black soap.
Used for centuries to treat almost all skin conditions, this cleanser may be the ultimate solution. It may treat your acne, eczema, psoriasis, dermatitis, and stubborn rashes.
It has gentle exfoliating properties, combined with nourishing vitamins and minerals. Thus the soft, smooth, and clear skin you deserve may be only a few baths away.
It contains refined shea butter, organic palm oil, kernel oil, and coconut oil. They work synergistically to moisturize while repairing damaged skin.
Furthermore, they can protect cells from oxidative stresses, and even fight aging wrinkles.
For several weeks that we've been using this soap, we've concluded that it can be an effective acne remedy. It has proven to reduce it as well as the scars left.
It has also made our skin glow and look healthier. The only thing we dislike about it is that it withers easily with water. One bar will probably not last up for a week with daily use.
---
This one might be the purest form of African black soap out there. It is oddly-shaped and has a raw, pure look with blotchy colors.
Like most legitimate ones, this particular brand also contains palm oil, cocoa pods, plantain skins, kernel oil, glycerin, and shea butter.
You're probably familiar with their beneficial effects and all. But what makes this soap different from the rest? It can impact in a way that is unique.
Okay, so we've been testing this soap for about two months now, and so far, it has done an excellent job in improving our skin.
We notice less acne, less keratosis pilaris flare-ups, and overall bump-free and healthier appearance.
However, there is one thing about it that we just can't tolerate. There seems to be little remnants of twigs and rocks that can scratch the skin.
We've been trying real hard to pick them out when we see them, but it is impossible not to miss. Be careful and watch out before it is too late and you have scratched up your body and face.
---
This product combines the traditional medicinal properties of black soap with the ability to moisturize and hydrate. It is infused with shea butter, aloe, and oats.
Using shea butter and aloe to balance the skin pH, this can lead a radiant and healthy-looking complexion.
We loved how gentle this soap is in getting us rid of blackheads and whiteheads. Some exfoliants can often impart a burning sensation after, but not this one.
Furthermore, the scars and blemishes can be swept away during the process.
Overall, it works well as it has been effective in eliminating our acne. It may also address other impurities left from popping pimples.
Additionally, it gave us smoother and clearer complexion without any irritation or whatsoever.
We have to warn you that it can be very drying to the skin. But if you're really into its benefits, all you have to do is not to use it on a daily basis.
Try applying it every other day or thrice a week. Then immediately follow it up with a moisturizer.
---
What we found here is all-natural oils such as palm kernel, coconut, stearin, cocoa pod husk, shea butter, and glycerin.
It can work on almost all skin types to relieve and improve their condition.
We've discovered that this soap is also great for removing makeup. It may effortlessly wipe away mascara and liner marks with a single wash.
Just a word of caution: since this is raw soap, complete with remnants, do not rub it directly on your skin. Lather it first between your fingers or washcloth before applying.
As first time users of this product, we're quite pleased with the results. Although we experienced a breakout period, this is a typical reaction.
The important thing is that the excessive oil production in our T-zones has been drastically reduced. Furthermore, dark hyperpigmented spots have considerably faded.
Besides, the soap is easy to break apart. The only off-putting thing about it is that it dissolves quickly and may dry the skin out.
The Bottom Line
Our top pick for the Best African Black Soap Shea Moisture's African Black Soap with Shea Butter can purify our skin significantly without any adverse side effects.
This bar's ingredients are geared towards cleansing, hydrating, balancing, and calming acne-prone and troubled skin.
Additionally, the infusion of shea butter to the robust formulation of this cleanser boosts the moisturizing and hydrating properties of the soap.
You may fall in love with the gentle exfoliation provided by the soap's finely milled oats. The aloe content that helps comfort irritated skin while absorbing excess oil is also unique to the compound.