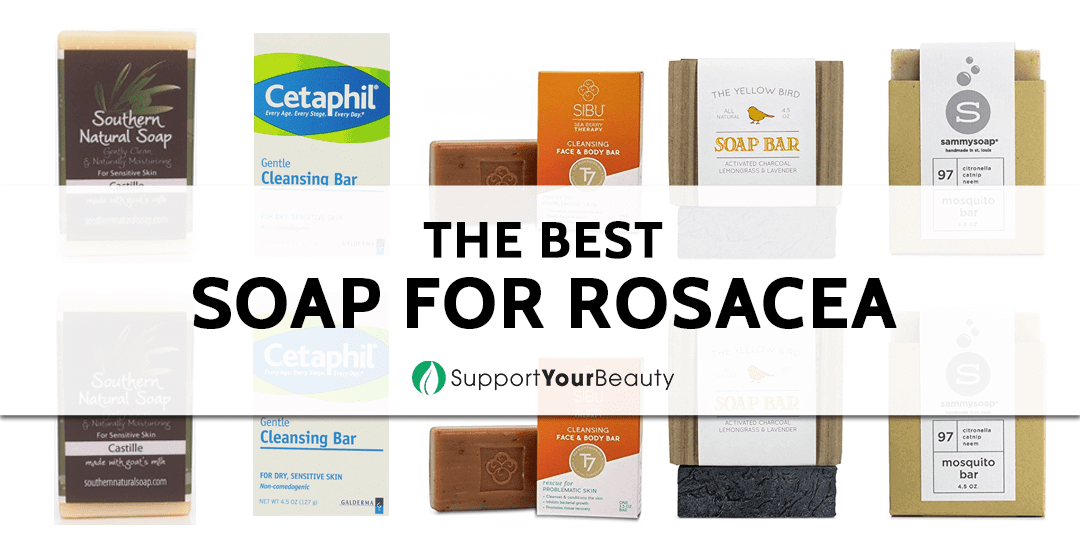 The Best Soap Bars for Rosacea – 2018 Reviews & Top Picks
To continue with our goal of being your best source of all things beauty related, we're rounding up the best soap bars for Rosacea in this list. After hours of testing, we've found that those products worked great for sensitive skin. We believe these are the best Rosacea products to support your beauty.
Rosacea is a common skin condition that causes redness and inflammation. There is still no known cure for Rosacea, but it is possible to manage with the use of certain skincare products.
Because we know how hard it is to live with sensitive skin and because we want to make our readers look their absolute best, we tested dozens of soap bars that may help you.
After thorough testing, we present to you a list of the 5 best soap bars that will help you control your Rosacea.
More...
Quick Overview: Our Top Picks for the Best Soap Bars for Rosacea
OUR TOP #1 PICK - Our number one choice when it comes to the best soap for Rosacea is Southern Natural Lavender Goat Milk Soap. The goat milk alone is packed with natural fats, proteins, vitamins, and minerals that are combined to give your skin the pampering it deserves.
OUR TOP #2 PICK - Next on our list is Cetaphil Gentle Cleansing Bar. This hypoallergenic and noncomedogenic soap bar is designed to work well for sensitive skin. The gentle non-irritating formula is ideal for those with Rosacea.
OUR TOP #3 PICK - The Yellow Bird Activated Charcoal, Lemongrass & Lavender Soap Bar is a close third because of its certified organic ingredients, such as activated charcoal and lemongrass essential oil. Activated charcoal naturally detoxifies the skin, while the antibacterial and antifungal properties of lemongrass help sensitive, acne-prone skin.
OUR TOP #4 PICK - The anti-inflammatory jojoba oil found in Sammysoap All Natural Facial Oat Soap Bar is an essential ingredient in an effective soap bar for Rosacea. The soap also contains shea butter to moisturize the skin and whole oats to balance the pH of the skin.
OUR TOP #5 PICK - Last soap on our list of best soap bars for Rosacea is Sibu Beauty Cleansing Face & Body Bar. The natural ingredients such as coconut oil, safflower oil, oatmeal, and sea buckthorn are proven to moisturize and soothe Rosacea-affected skin.
Important Tips When Looking for Soap Bars for Rosacea
As mentioned, there is no cure to get rid of Rosacea completely. But with the help of skincare products that are specifically tailored to soothe sensitive skin, you can manage the inflammation and irritation.
Here are a few essential tips you should remember when taking care of your skin and choosing soap bars for Rosacea:
1. Less is more
This is an adage we have heard many times before when it comes to makeup, fashion, decorating, and even cooking. When it comes to working on your skincare routine, it works just as well.
The fewer products you are using on a regular basis, the better it will be for your skin. By piling up more skincare products in your skincare regimen, you may just worsen your Rosacea.
Keep it simple: stick to a mild and effective cleansing soap, moisturizer, and sunscreen. Stay away from harsh astringents because these will dry out your skin.
2. Take note of fragrances
Certain scents are relaxing enough to work on sensitive skin, such as lavender, etc. Unfortunately, fragrances are a common skin irritant.
​The National Rosacea Society carried out a survey which aimed to find out what are the ingredients to steer clear of if you have Rosacea, they found out that over 30% of people with sensitive skin avoid products with fragrance. 21% of which avoid menthol and 14% stay away from peppermint.
When looking for a soap bar that will not irritate your skin, take note of fragrances. As much as possible, especially if you have extremely sensitive skin, use unscented products.
3. Check the Ingredients
Rosacea is more than just more than the usual blushing. It is a skin condition which makes your skin prone to irritation, redness, swelling, acne breakouts.
From food to sunlight and stress, there are a lot of environmental triggers that can induce and worsen Rosacea. Other than triggers found in your surroundings and lifestyle, you can also spot skin irritants in certain skincare products.
Always check the ingredients in your soap bars. Here are a few ingredients that you should avoid: acetone, alcohol, lanolin, propylene glycol, sodium lauryl sulfate, camphor, urea, alpha-hydroxy acids, formaldehyde releasers, menthol.
It is important to note that these are common skin irritants, but not all of these affect everyone with Rosacea. Some people with sensitive skin are okay with mild fragrance, while others flare-up at the hint of it.
4. Wear Sunscreen
Exposure to UV light can be exceedingly harsh for people with Rosacea. Direct sunlight without sunscreen can aggravate the inflammation and damage your skin.
When searching for the ideal soap bar for Rosacea, look for ingredients such as Titanium Dioxide. It is a safe ingredient found in sunscreens and is proven to protect the skin from UV exposure.
Calming ingredients such as oats, aloe vera, jojoba oil and olive oil can also help soothe your skin after being out in the sun. These will tone down the flare-ups by helping your skin calm down.
5. Keep On Trying
What is particularly difficult about Rosacea is that there is no certified product that will work for everyone—what works miracles for some people are not necessarily holy grails for others.
You might be too scared to test out products because of the potential bad result, but remember that by testing, you may just find out the ultimate skincare product that will work out wonderfully for you.
The "trial and error" method is not always the cleanest scientific test out there, but it sure is effective once you have found the right soap bar.
Product Reviews: Our Top 5 Best Soap Bars for Rosacea
---
The natural ingredients found in Southern Natural Lavender Goat Milk Soap made it the clear winner in our search for the best soap bars for Rosacea.
It is made with Olive Oil, Palm Oil, Goat's Milk, Coconut Oil, and Lavender Essential Oil.
Goat's Milk as the main ingredient contains fat molecules and fatty acids that have anti-inflammatory and moisturizing capabilities.
If you are worried about free radicals, Palm Oil is rich in toctrienols. This form of Vitamin E is stronger than the common form which is tocopherol.
Olive Oil is also rich in vitamins A, D, E, and K. Vitamin A is known to minimize wrinkles and soften rough skin, while Vitamin D also reduces swelling.
This multitasking ingredient is also packed with a large amount of squalene which protects the skin from UV damage.
If you are also prone to acne breakouts, the fatty acids (capric, caprylic, and lauric) found in Coconut Oil provides anti-fungal and antibacterial properties.
On top of all that, Lavender Essential Oil not only provides a relaxing scent, but it also has antimicrobial benefits that also reduce acne.
We loved the gentle, soothing formula of this soap. It thoroughly cleansed our skin, without drying it out. Not only that, but the soap lasted for a long time even with daily use.
---
Since its inception in 1974 up to today, Cetaphil's product line caters to those with sensitive skin and skin problems, such as Rosacea, Psoriasis, and more.
When you take a look at the ingredients list, you may find yourself lost with all the complex-sounding names.
Stearic Acid is a fatty acid that helps the bar last longer even with regular use. Apart from acting as a hardener, Stearic acid is also a powerful surfactant.
Surfactants are substances that help remove dirt and sebum. Another surfactant in this soap bar for Rosacea is Sodium Cocoate, which is a non-toxic, all-natural product made from coconut oil.
Sodium Stearate and Sucrose Laurate are also surface-active substances that cleanse your skin. The latter ingredient also softens it.
Titanium Dioxide reflects UV light and acts as a sunscreen, which is essential in a Rosacea skin care regimen.
What we loved about Cetaphil Gentle Cleansing Bar is its effectiveness in its simplicity. It lathers up easily and does not dry out our skin.
After two weeks of testing, you can see some noticeable changes. On the other hand, the scent was a little too strong.
---
Next up on our list is The Yellow Bird Activated Charcoal, Lemongrass & Lavender Soap Bar. Activated Charcoal products are notorious for making a mess because of the black foam.
But those are easy enough to clean (and accept) once you test the product and see the efficiency of the ingredient.
Activated charcoal naturally detoxifies the skin by absorbing dirt and oil. It gets rid of acne and other blemishes.
More than just aromatic essential oils, Lemongrass and Lavender have antibacterial and antifungal properties which will also help manage your sensitive skin.
After the Activated Charcoal, Lemongrass, and Lavender strip off the dirt from your skin, the Shea Butter steps in to moisturize and prevents the skin from drying out.
The other ingredients, such as sunflower oil, palm oil, and coconut oil will also prevent your skin from free radical damage.
What we especially love about this organic soap bar is that it is made with zero parabens, sulfates, and other synthetic ingredients. Remember: the more natural the ingredients, the better it is for our sensitive skin.
Aside from effectively cleansing our skin, this soap bar is also an efficient makeup remover. Despite that, the bar itself breaks apart easily and lasts for only a few weeks.
---
Sammysoap All Natural Facial Oat Soap Bar is ideal for those who have extremely delicate noses and require a soap bar with absolutely zero fragrance.
It boasts a unique blend of natural emollients and other organic ingredients that makes this cleanser gentle enough for sensitive skin.
The ingredients list in this soap bar is packed with different oils of rice bran, palm kernel, castor, soy, and jojoba.
If you have an oily face, you might be wary of soap that consists of so much oil, which is why we will break down each ingredient for you to see their individual benefits.
Jojoba Oil keeps the oil levels of your skin balanced; it moisturizes dry skin and removes excess oil at the same time. It also acts as an antibacterial agent because it is rich in Iodine.
Rice Bran Oil is packed with vitamins and antioxidants, while Soy is high in protein and isoflavones; both of which hydrate your skin. Palm Kernel Oil has fatty acids that have antibiotic properties.
Castor Oil contains ricinoleic acid which detoxifies the skin and breaks up oils that clog the pores and glands. It also moisturizes and acts as an anti-inflammatory.
Oats are rich in fatty acids that soothe sensitive skin, while Shea Butter is also an effective anti-inflammatory and moisturizer.
The organic mix of ingredients in this soap bar make it an effective, gentle cleanser for sensitive skin. We especially loved how soft our skin was after washing.
---
Last on our list is Sibu Beauty Cleansing Face & Body Bar. What makes this soap bar stand out from the rest is its use of Sea Buckthorn.
Sea Buckthorn is full of essential vitamins, minerals, amino acids, and fatty acids.
When used for the skin, it prevents damage from free radicals and also acts as a powerful sunscreen.
Another ingredient that protects your skin from harsh UV rays is Titanium Dioxide, by shielding you from the sun it reduces your risk of skin cancer.
Other notable ingredients present in this soap bar are Glycerin which acts as a humectant that seals in moisture, Oatmeal which soothes sensitive skin, and Safflower Oil which is also a lubricant because of linoleic acid.
Safflower Oil also has anti-inflammatory properties, while Coconut Oil is an antibacterial and antifungal agent thanks to its efficient fatty acids.
Palm Oil is an anti-aging ingredient that contains toctrienols, which is a stronger form of Vitamin E than its common counterpart, tocopherol.
We loved the powerful ingredients found in this soap bar that makes it ideal for sensitive skin. It thoroughly cleansed our skin, but the bar did not last for long.
After washing, our skin felt drier than usual. If you have a moisturizer in your Rosacea skincare regimen, make sure to use it after washing to prevent dryness.
The Bottom Line
Rosacea is an uncomfortable skin condition that can pose a lot of challenges and hurdles to manage. Using the right products is one way to control the effects of Rosacea.
Just remember to thoroughly check the ingredients and do your research about these items before trying on a product.
To make the trial and error process easier for you, we have laid out our top five picks for the best soap bars for Rosacea.
Each product was carefully tested for efficiency, consistency, and strength. Feel free to check each product out and see which one works wonders for you.
Our top choice is the Southern Natural Lavender Goat Milk Soap because of its powerful (but all-natural) formula that thoroughly cleanses our sensitive skin without stripping it dry. Plus, one bar lasted for a long time, even with regular use.
Because Rosacea makes your skin highly sensitive to particular ingredients, keep an eye out for those and steer clear of them. Some of those harsh ingredients are mentioned in our important tips.
Of course, not everyone is equally affected by each ingredient, some are okay with mild fragrance while others flare-up with even a hint of a scent. Be sure to consult your dermatologist for any product you are about to test.