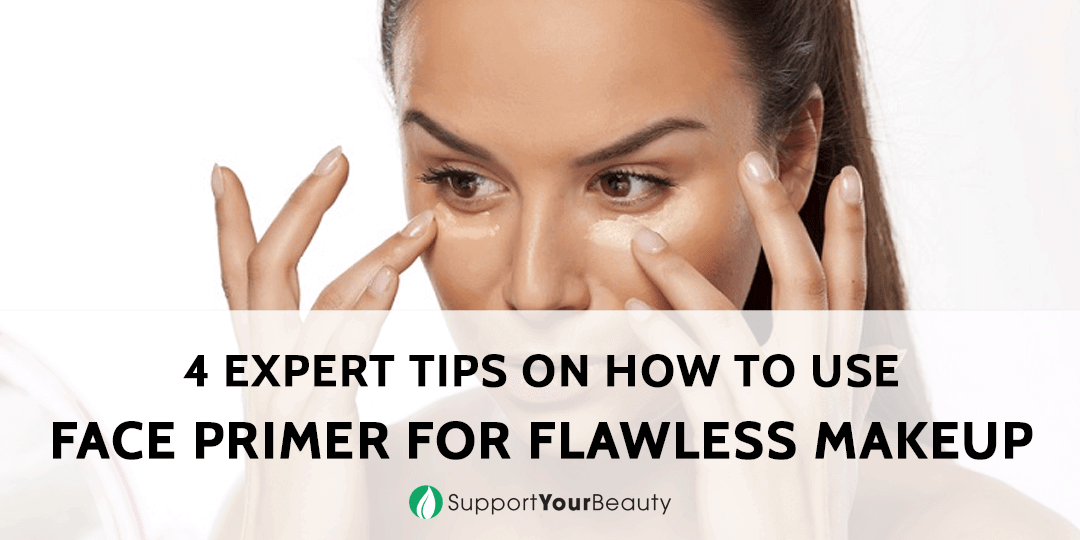 4 Expert Tips on How to Use Face Primer for Flawless Makeup
Does your job require you to put on makeup? Do you have spots which you would like to conceal?
Are you fond of exploring cosmetics? Regardless of the goal, the end result desired by many is a spotless gorgeous look.
Application of other cosmetics on the face starts with a good quality base makeup you can rely on. It is the key component that holds them together.
Base makeup includes a foundation and a face primer. In order for either a liquid or a powder foundation to look crisp and neat on the face, a primer is placed first.
Face primers come in the form of powder, spray, gel, and cream. They can extend the longevity of makeup on the face.
You may come across various kinds of face primers at beauty shops and these days, they are designed to serve many purposes. Some are made to blur areas that are seemingly imperfect like enlarged pores, blemishes and fine lines.
Some primers have SPF element, anti-aging attributes and glowing ability. These kinds appear appealing to users, too.
Moreover, an innovative kind of primer of different shades has emerged to correct skin color. Plus, there are those primers that can offer hydration and moisture to skin.
Whatever the function is, a face primer can definitely help achieve a flawless makeup look. In order to optimize the functions and maximize the benefits of this tool, here are some tips to consider.
More...
1. Match the primer to your skin attributes.
In order to choose a suitable primer, you must understand what your skin needs. Determining the consistency of the primer you want to use will also largely depend on your skin type.
Those with dry skin must go for primers with the labels hydrating, moisturizing, soothing, glow or replenish. You might want to conceal flakes on your face so do not use a primer with an illuminating or shimmering function.
Those with oily skin can opt for primers tagged as mattifying, shine-control, oil-free. The consistency is lightweight and it can keep grease off your face for a long time.
You don't have to bother yourself blotting out shine with an oil-control film. Those with sensitive skin should look out for labels like equalizer, balance, redness-control, light and fragrance-free.
Those with normal skin can lean towards a dewy look or a healthy glow. For this attribute, you may choose a light texture with an illuminating feature.
2. Select the right shade.
Some primers come in the same shade as other typical foundation colors. Some come in different shades to correct certain skin issues.
The right shade of primer will support the kind of finish you would like to have. Use a colorless primer if your goal is to have an even skin tone and to enhance your foundation.
Use a pink shade if you want to add vitality and brightness to your look. This is best when your goal is to hide any indication of tiredness on your face.
Use a yellow tint for the purpose of concealing imperfections and for levelling skin tone. Moreover, it can give a boost of warmth to your appearance.
Use green if your face is suffering from any redness or Rosacea. This tint will balance out any red marks or sunburn.
Peach shades are used to downplay age spots, pigmentation or dark circles.
3. Cleanse your face thoroughly.
Before applying any cosmetics on your face, it is vital to prepare your skin to absorb liquid or powder base. This includes washing, toning, and moisturizing.
While your skin is still a bit moist, dab the moisturizer using your fingers. Wait for sometime for the moisturizers to seep through the skin.
After applying a few products to hydrate your skin, make sure to pat your face with a cotton pad to take excess moisture. Moisturize sufficiently.
These steps are needed to ensure your skin will turn out smooth before putting any base on your face.
4. Use the right amount and tools.
Just apply what is needed according to your goal and do not overdo it. If you put more, your face will look unnatural.
Begin with just a small amount add little by little. Use your fingers to dab on areas where you need coverage, like under the eye, forehead, chin, or blemishes.
It is also important to utilize the correct tools. When spreading face primer, use your fingers.
Flat brush is appropriate for a full coverage. For medium coverage, use a buffing brush or a stippling one.
There is also a trend in using a beauty blender to even out application.
Although not everyone is naturally equipped with a flawless look, primers aid in adjusting skin tone to accomplish an impeccably beautiful made up face. Adhering to correct usage and tips will help you boost your look, extend the wearability of your makeup.