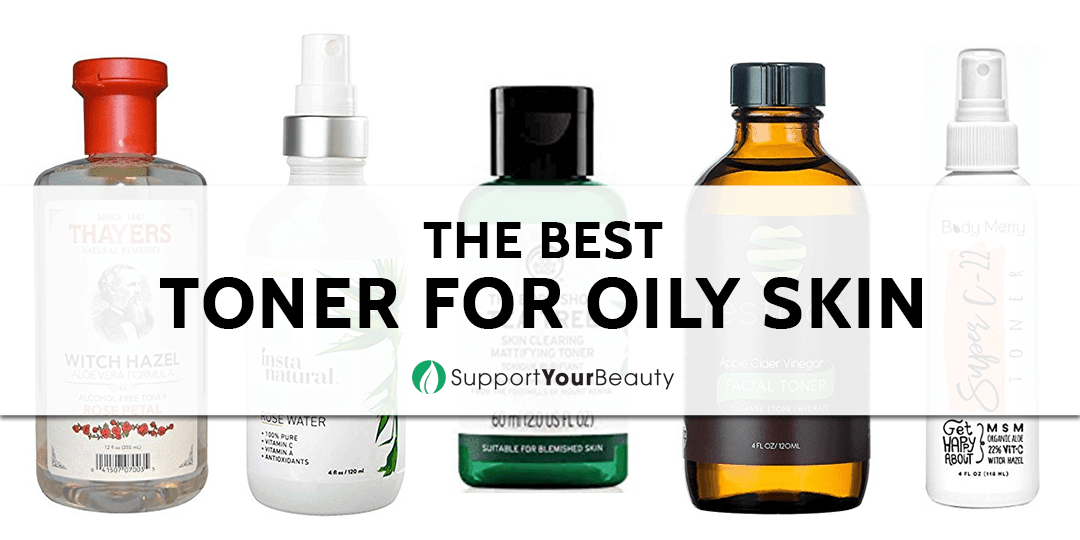 The Best Toner For Oily Skin – 2018 Reviews & Top Picks
In line with our goal of being your beauty expert, we've gathered and reviewed the best toner for oily skin. These products made our list because of their effectiveness in keeping your skin oil-free while nourishing it with beneficial ingredients. We believe these products will be your skin's new best friends, especially when you have oily skin.
If you have oily skin, you'll probably agree with us when we say that it's a pain to keep your face looking fresh and grease-free.
Women often turn to face powder to blot out the shine from their faces, while some men use blotting paper or film to take care of excess sebum.
While these methods work to keep shine at bay, the effect is temporary, and oil and shine can return in just a few minutes, depending on how oily your skin is.
To rebalance your skin, you may need a good toner for oily skin, as this won't only give you the appearance of a clean and clear complexion, but it may even improve the overall quality of your skin.
On that note, here is our top five list of the best toners for oily skin.​
More...
Quick Overview: The Top 5 Best Toners for Oily Skin
OUR TOP #1 PICK - Our top pick for the best toner for oily skin is Thayers Alcohol-Free Rose Petal Witch Hazel Toner. It contains plant extracts to keep skin clean and fresh for a soft, supple, and oil-free complexion. We also love that this toner doesn't have any parabens or alcohol in it.
OUR TOP #2 PICK - The next spot on this roundup belongs to InstaNatural Rose Water Facial Toner. This product helps to balance the skin's natural pH and is suitable for all skin types, including oily skin. We like that this product also doubles as a gentle makeup remover.
OUR TOP #3 PICK - Third on our list is Restoar Apple Cider Vinegar Toner. It not only cleanses but may also give you an even skin tone. Moreover, it hydrates thirsty skin and may prevent acne breakouts.
OUR TOP #4 PICK - Body Merry Super C-22 Toner contains Vitamin C to reduce the skin's oil production, leaving you with clean and glowing skin. It may also help fight the signs of aging and prevent lines, age spots, and wrinkles from marring your complexion.
OUR TOP #5 PICK - Lastly, The Body Shop Tea Tree Skin Clearing Mattifying Toner is enriched with tea tree oil which helps to purify the skin. We also love that this product is 100% vegan, and it clears away excess oil, makeup, and impurities from the skin.
What is a Skin Toner?
Anyone who has a basic skincare routine is familiar with the importance of washing and moisturizing the skin, but few know about the benefits of using a toner in their daily regimen.
A toner is a liquid that cleanses the skin by removing excess oil. It may also help improve enlarged pores and is very important for those with oily skin.
You use a toner typically after you wash your face and before you moisturize your skin. However, it can also be used as a cleanser when you're on the go, and it may even work well as a makeup remover.
If you were a teen in the 80's, chances are, the one thing that you remember about the toners during that time were the highly astringent products that left a cooling sensation on your skin.
At the time, the most popular toners imparted a cool and fresh feeling that made you think that your skin was getting thoroughly cleansed of impurities.
However, those products were also notorious for causing a sharp, stinging sensation that can make your eyes water. Also, those toners may dry up pimples, but they were very drying to the skin.
Nowadays, there are more toners on the market that are gentler on the skin than the toners of yore, and some even contain natural ingredients that won't cause any irritation.
Moreover, these toners may not only address oily skin but may also combat the signs of aging. Some face toners may even brighten skin to give you a more luminous complexion.
Why Do You Need A Toner?
If you have oily skin, you'll find that a good toner can remove excess oil upon application, and with continued use, you may find that your skin produces less oil than before.
A toner can also balance the skin's pH. Because most soaps and facial washes are alkaline in nature, your skin works hard to return to its balance.
This results in excess oil production, and toner can stop excess sebum in its tracks before it makes your skin greasy.
Some toners can also hydrate skin and keep skin from aging, while others freshen the complexion and make it look smoother and brighter.
Other toners may even reduce inflammation, making them suitable for those with sensitive skin.
Moreover, if you're looking to get clean skin while you're traveling, a toner lets you do that without going to the trouble of using water and a foamy cleanser to wash your face.
All you need is a cotton pad and a bottle of skin toner, and you can get clean skin in an instant.
How to Use a Toner
Here's how to use a toner as part of your daily skin care routine for your oily skin.
Wash your face with a cleanser made for oily skin. If you're wearing makeup, you may want to double cleanse using a cream or oil-based cleanser before washing your face.
After washing your face, pat your skin dry with a clean, soft towel.
Saturate a cotton pad with toner and use it all over your face, neck, and décolletage. Use another cotton pad if one is not enough.
Finish with an oil-free moisturizer.
You can even use a spray-type toner as a quick pick-me-up on a hot day. Spray your face lightly, then blot away excess toner.
Product Reviews: Our Top 5 Best Toners for Oily Skin
The number one spot on our roundup of the best toners for oily skin belongs to Thayers Alcohol-Free Rose Petal Witch Hazel Toner. Apart from containing natural plant extracts, this product cleanses, soothes, and tones skin.
This toner contains non-distilled extract from the Witch Hazel shrub, which means that it has the highest level of therapeutic tannins.
Witch Hazel removes excess oil from the skin and is one of the most popular anti-acne remedies worldwide.
It also contains aloe vera extract from certified organic filet of aloe vera, which reduces skin inflammation and may even heal skin problems, such as acne and eczema.
Meanwhile, Rose Flower water has antioxidant and anti-aging benefits that may give skin vitality and nourish it from within.
We used this toner as part of our nightly skin care regimen, and we love how it made our skin glow. Our skin also felt clean and hydrated.
After a week of using this, the few pimples that we had on our face seemed to have improved and were not as red and swollen as before.
We also found that our face didn't oil up as fast as it used to.
Our second pick on our list of the best toners for oily skin contains only one ingredient, and it's all natural to boot.
InstaNatural Rose Water Toner contains pure Rosa Damascena Rose Water with no artificial fragrances, preservatives, or chemicals.
It balances the skin's pH and prepares your skin for moisturizers and serums.
It also laced with Vitamin A, which is effective in treating acne and psoriasis. Meanwhile, Vitamin C makes skin stronger and healthier.
We applied this toner to our face after spending a few hours outdoors on a sunny day, and our skin felt rejuvenated and refreshed.
Our slightly sunburned skin was soothed with this toner, and it made the redness go away in a few days.
After a week of using this, our skin looked more radiant and healthier overall. However, our face was still oily in some spots, particularly the T-zone
We also found out that this toner can be used to hydrate hair, which was a plus in our book. It can also be used as a makeup setting spray.
Next on our list is another natural toner that contains only seven ingredients, and not one of them is a chemical element.
Restoar Apple Cider Vinegar Facial Toner won our hearts for its ability to cleanse, tone, and moisturize our skin using only apple cider vinegar, natural plant extracts, and oils.
Apple Cider Vinegar is a natural astringent which can improve age spots, acne, oily skin, and acne scars. It also removes dead skin cells to reveal fresh, healthy skin.
Aloe vera juice and rosewater provide moisture and soothe inflammation, while tea tree oil and lavender oil treat acne and calm the skin.
Prior to this roundup, we tried to use raw apple cider vinegar as a toner because of its highly-touted benefits.
Though it did leave our skin with a fresh feeling, we didn't relish the scent, as it left us smelling like a salad.
Though this toner has that distinctive, apple cider vinegar smell, it wasn't as overpowering as the raw, undiluted stuff.
It gave our faces a slight stinging sensation, but it dissipated quickly enough.
We like that it made our skin look fresher and brighter, and it even improved the cluster of acne that was on our chin. We only wish that it came in a bigger bottle.
Our fourth pick for this roundup imparts a refreshing shot of Vitamin C to the skin while it tightens pores and clears away excess dirt and oil.
Body Merry Super C-22 Toner is infused with Vitamin C which deeply nourishes skin and helps it fight the signs of aging.
It also contains witch hazel which is a natural astringent that controls the skin's oil production.
Apart from these two elements, this toner contains quite a number of botanical oils and plant extracts, such as tangerine essential oil, lemon essential oil, tea tree oil, organic rosemary extract, carrot extract, grapefruit seed extract, organic aloe leaf extract, and chamomile extract, among others.
But one ingredient that this toner has that has truly intrigued us is colloidal silver. Experts say that this element stimulates healing in the skin and other soft tissues.
Moreover, it also benefits many skin conditions such as psoriasis and eczema. It's also an anti-inflammatory that reduces swelling of the skin.
After a week of using it, this toner appears to have made our pores look smaller, and our skin looked brighter than before.
However, this product can be very drying, so it may not be suitable for combination skin.
Last but not the least on our list of the best toners for oily skin is The Body Shop Tea Tree Skin Clearing Mattifying Toner.
Tea tree oil has long been used as an antifungal and anti-acne treatment. Its antiseptic properties make it useful for treating wounds and skin infections such as acne, athlete's foot, and ringworm.
As an ingredient in this toner, tea tree oil refreshes and purifies the skin, leaving it clear and even toned.
It also contains Willow Bark extract which contains salicylic acid, an ingredient which can help smooth fine lines and improve oily skin.
Witch Hazel extract treats existing blemishes, and it can also soothe irritated skin.
This toner helped to mattify our skin, and it stayed that way for almost three hours.
However, it can be very drying, so if you have dry patches of skin or if you have any redness or rosacea, this toner may not work well for you.
The potent, tea tree smell may also seem slightly medicinal for those who aren't used to tea tree oil.
The Bottom Line
For its ability to control our skin's oil production, our top pick for this roundup of the best toners for oily skin is Thayers Alcohol-Free Rose Petal Witch Hazel Toner.
It gave us clean yet hydrated skin, and our skin seemed to have a more radiant glow with this toner.
We loved how our oily skin wasn't as greasy as before, and it didn't oil up as fast as it used to.
We're fans of this toner because it contains natural ingredients that contain antioxidant and anti-aging benefits that cleanse, moisturize, and nourish skin.
This toner, as well as the other products on this list, may help you improve your oily skin and give you a clean and clear complexion.
If you're a fan of Korean product, I'm sure you also want to check out our detailed roundup of Korean toners for oily skin. Hope you like it!