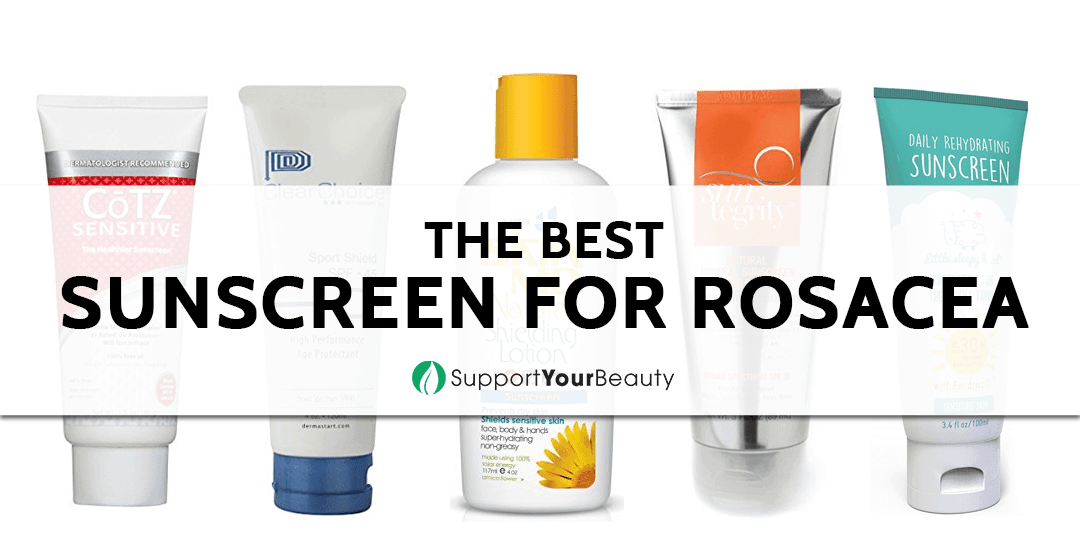 The Best Sunscreen for Rosacea – 2018 Reviews & Top Picks
In order to help you enjoy the sunny days, we're rounding up the best sunscreen for rosacea products in this list. After hours of testing, we've found that those products worked great for people fighting with this skin condition. We believe these are the best rosacea products to support your beauty.
Rosacea is a skin problem that affects a number of people. While it isn't life-threatening, it can be a big blow to self-esteem.
While living with rosacea can be difficult, preventing sunburn is even more challenging. Stay away from trouble, and don't make the problem worse.
Luckily, we are here to help. Let's take a look at the Best Sunscreen for Rosacea.
More...
The Best Sunscreen for Rosacea At First Glance
OUR TOP #1 PICK - Our number one option is CoTZ SPF 40 Sunscreen for Sensitive Skin. It was made especially for people with sensitive skin, including those with rosacea. This sunscreen can protect you from sun damage without causing outbursts.
OUR TOP #2 PICK - Second on our list is Skin MD Natural Shielding Lotion SPF 15. Its natural formula may help prevent sunburn on even the most sensitive skin. It can also address symptoms of rosacea and other skin issues like eczema and psoriasis.
OUR TOP #3 PICK - Clear Choice Dermastart Sport Shield Sunscreen SPF 45 is the third product on our list. It may prevent sunburn while fighting with the signs of aging. Hyaluronic acid as an active ingredient can keep skin hydrated.
OUR TOP #4 PICK - Number four on our list is Suntegrity Natural Mineral Sunscreen SPF 30. We selected this sunscreen because it doesn't contain any parabens or oils. By now we know very well these may be the cause for further problems with rosacea.
OUR TOP #5 PICK - Last on our list is Little Sleepy Head Natural Daily Rehydrating Sunscreen SPF 30. We chose this sunscreen because it is hypoallergenic. You can safely apply it to the gentle skin of kids and even babies.
What is Rosacea?
Rosacea is a skin condition that causes redness of the skin. In some cases, blood vessels can even become visible on the face. It may also cause small, pus-filled bumps on the skin.
Swelling of the nose and eye irritation are considered common symptoms of rosacea, too. They can lead to thickening of the skin in this area, making it more prominent.
The skin may also experience a burning or stinging sensation. It may cause a feeling of itchiness or tightness. The affected skin may be rough and dry to the touch.
While often mistaken for other issues like acne or an allergic reaction, rosacea is an entirely different condition. Most commonly it affects fair-skinned, middle-aged women.
Generally, rosacea only affects the face, but it can extend to the neck, scalp, ears or chest.
It is estimated that about 14 million Americans deal with rosacea. Currently, the causes remain unknown.
Some of the popular beliefs connect it to the consumption of spicy foods and dairy products. Research shows that these products can make it even worse.
There isn't a cure for rosacea. What you can do is treat the symptoms properly, as this can make it less visible. There are also a few different medications that can lead to rosacea being less apparent.
Fortunately, we can prevent flare-ups in rosacea by simply applying a good sunscreen. Bear in mind that sun exposure triggers this delicate skin condition.
Are Sunscreens Safe for Use on Rosacea?
Our answer to this question is yes, but you have to be very cautious. Not all sunscreens will be gentle enough for use on sensitive skin like that afflicted with rosacea.
In order to prevent inflammations, you should find a sunscreen that is made for sensitive skin.
Rosacea can be easily irritated by chemicals, excessive oils, and harsh alcohols. Finding a sunscreen that doesn't contain these ingredients can be difficult.
On our mission of being your top source for everything skin-related, we have taken this quest with high attention.
After days of extensive researching, we have managed to compile a list that will help you pick the best product for your needs.
Regular sunscreens can be too harsh for those with rosacea. Rosacea sufferers have to make sure that they carefully checked every single ingredient.
Don't get upset with the trials and errors when choosing a product that won't irritate. Our advice is to always make a spot test first. This is the only way you can really see how the skin reacts.
When looking for a suitable sunscreen, you should check for nourishing ingredients. They might provide valuable vitamins and minerals to support your skin's health and balance.
What Kind of Sunscreens Should we Look for?
There are two main different types of sunscreens, physical and chemical. You need to learn what rosacea skin needs. So you probably guessed it: physical sunscreens.
Physical sunscreens use natural materials to reflect the sun off the surface of your skin. Thus, they prevent the sun's rays from penetrating and causing damage.
Chemical sunscreens soak into the skin and try to absorb all the light before it can cause damage to your skin cells. Rosacea conditions should stay away from that.
By the time of the sunlight reaction, the symptoms could escalate and cause you trouble.
Two of the most common ingredients of physical sunscreens are Zinc oxide and Titanium dioxide.
Zinc oxide is seen as more efficient. However, when paired together, these two elements combine very well. And this is exactly what we need for a great sunscreen.
Product Reviews: Our Top 5 Best Sunscreens for Rosacea
Number one on our list is CoTZ SPF 40 Sunscreen for Sensitive Skin. We selected this product because it is made for extremely sensitive skin. This includes skin conditions, such as rosacea.
This sunscreen is free of chemical compounds, synthetic fragrances, preservatives, and oils. We liked this a lot, as any inappropriate content could lead to undesired results.
For example, oils can cause acne on top of the pre-existing rosacea. And we don't want that. Not at all.
While this sunscreen is water and sweat resistant, it only lasts for 40 minutes. This means you will need to reapply frequently.
Consider this every time you decide to take a swim or participate in outdoor sports. There is no place for compromise. Most ordinary sunscreens last about two hours. But since the compound of this one is very delicate, it dissolves in water more quickly.
The active ingredient Zinc Oxide acts as a mirror. It reflects the dangerous sun rays.
Meanwhile, Dimethicone can soothe and smooth. It has another important trait. Since it is a silicone, it can form an additional layer to keep UVA and UVB rays away.
Thus, we would finally be able to relax, as they cannot penetrate and irritate our skin.
The Microcrystalline Wax is also a great alternative to regular paraffin waxes. The fine crystal structure enables it to bind solvents or oil.
This prevents the sweating-out of compositions. The EWG rates it 99% safe.
To be honest, the sunscreen was hard to rub in. It may take you a while. But still, knowing its advantages, we didn't mind this.
Skin MD Natural Shielding Lotion SPF 15 is second on our list. We liked the all natural formula. It is made to help soothe even the symptoms of more severe skin irritations like eczema and psoriasis.
We chose this product to be on our list because it hydrates skin without being greasy. It is oil-free and won't clog pores.
This is one of the best way to affect acne outbursts. It also prevents skin from drying out.
One reason we really liked this product is that it lasted longer. This is a comparison to other products on the list. If you aren't sweating or swimming, this sunscreen will stay on effective up to four hours.
It can also help even out skin tone and improve the skin's texture. It is an excellent moisturizer and can be used as a makeup primer.
The only downside we noticed is its low SPF. Our suggestion is to use it as a makeup base. Afterward, you can apply some additional sunscreen to increase the protection.
Third on our list is Clear Choice Dermastart Sport Shield Sunscreen SPF 45. We selected this sunscreen because it is completely natural. Furthermore, it is made for high performance.
This means it will stay on during exercise and swimming. Since it is waterproof and sweatproof, this is the perfect product for athletes with sensitive skin issues.
We liked the fact that it contains a number of different age-fighting ingredients. Not only does the sunscreen protect against the sun rays that cause premature aging.
It also contains hyaluronic acid and vitamin C. This combination can fill-in existing fine lines and wrinkles.
After testing, we found this product can be used with other beauty cosmetics. Since it isn't greasy or over-drying, it is a good choice for conjunction with makeup.
Unfortunately, it has an odd smell. The formula was also recently changed. So if you have used this product before, make sure you do a sample test first.
Number four on our list is Suntegrity Natural Mineral Sunscreen SPF 30. Now, this is a chemical-free sunscreen. It is completely free of parabens, phthalates, and oils.
A large number of beauty products contain mineral oils. We don't usually bat an eye on something like this.
But when it comes to people with skin conditions, such as rosacea, it is very essential to notice. As we mentioned above, even a single inappropriate ingredient could cause irritations and inflammations.
This sunscreen protects skin from both UVA and UVB rays. They can damage skin and cause premature aging.
Suntegrity Natural Mineral Sunscreen also doesn't contain any sulfates or synthetic dyes. This is another plus when it comes to preventing further problems with our delicate skin.
We like that this product is also cruelty-free and vegan. Many ingredients are also 100 % organic.
Unfortunately, this sunscreen isn't waterproof and sweatproof. This isn't convenient for those participating in athletic endeavors.
We do not recommend this sunscreen if you are the type that loves swimming, rather than sunbathing.
Last on our list is Little Sleepy Head Natural Daily Rehydrating Sunscreen SPF 30. It has proven to be suitable for even the most sensitive skin.
Since it is safe for babies, it is gentle enough for people with all sorts of skin conditions, including rosacea.
The paraben-, PABA-, and fragrance-free formula of this sunscreen makes it much milder than some of its counterparts. It is also hypoallergenic.
This means it doesn't contain commonly known allergens that could cause skin irritations. Plus, it is tear free, which makes it a reasonable choice for those with small children.
We like its water resistance, that doesn't feel greasy on the skin. Greasy consistency can turn out into problems for those with rosacea.
So it is particularly important to notice if the product you choose is filled with oil.
We also like that the sunscreen contains vitamins A, C and E. This makes it helpful enough to prevent damage from the sun. Meanwhile, it can also fight the signs of aging through its high hydration properties.
The Bottom Line
Our number one pick for the Best Sunscreen for Rosacea is CoTZ SPF 40 Sunscreen for Sensitive Skin. We chose this product because it can efficiently help prevent sunburns. Furthermore, it won't let further damage happen to skin with rosacea.
Not only that, but it may also soothe the irritations. This sunscreen doesn't contain any chemicals, oils or fragrances. And this is exactly what people dealing with this skin condition should avoid.
While we like all of the sunscreens on this list for people with rosacea, CoTZ Sunscreen for Sensitive Skin is our favorite. We will be more than happy if you share your opinions with us.
You can add them in the comments section. Let's support our beauty together and be of help to many other people, dealing with rosacea.