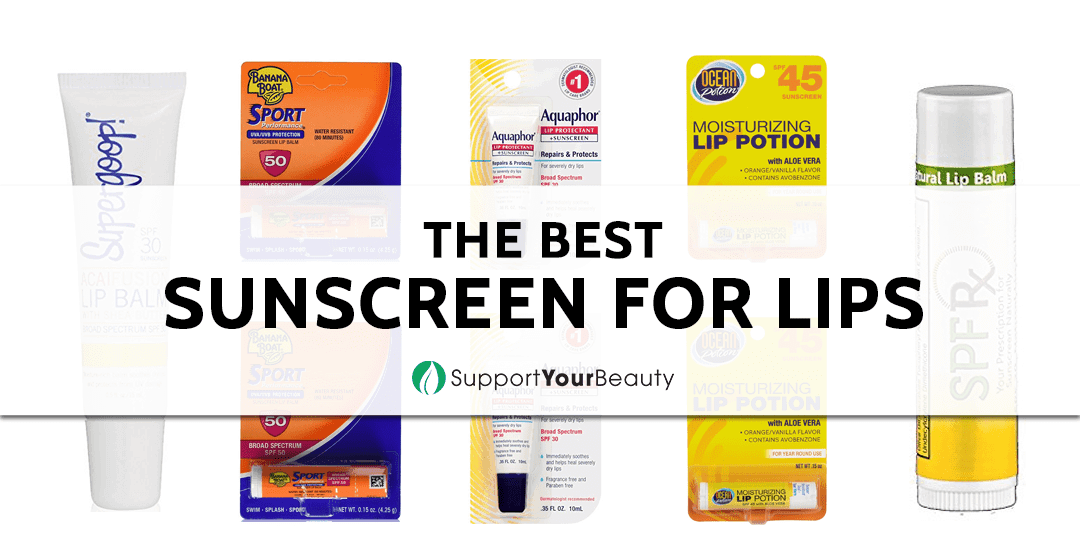 The Best Sunscreen for Lips – 2018 Reviews & Top Picks
As part of our mission to keep you updated on the best beauty products, we're rounding up the best sunscreen for lips in this list. We've tested these products and found that they work great for your lips. We believe these products can be a good addition to your beauty collection.
Our lips are often the second noticeable feature, next to our eyes, which means we have to take care of them the best that we could.
The makeup industry has always had a knack for coming up with the best lippies and balms to help our lips look nourished and selfie perfect.
But there are times that we feel that we are not our best, and that can even show on our lips. They tend to get dry, and flaky and in some cases even bleed.
We have carefully gathered the best care for the lips, one that gives the nourishment we need.
Besides, we use our lips to deliver important messages every day, and we owe it to them by keeping them as healthy as any part of our body.
We have researched the best lip balms that provide the nourishment and sun protection for your lips. This will help you in choosing the best that suits your lips needs, as well as to give you ideas on how to properly take care of them.
More...
Quick Review: Our Best Sunscreen For Lips
OUR TOP #1 PICK - Our top pick for this list is the Supergoop! Fusion Lip Balm SPF 30, Acai. Its SPF 30 hydrates, protects, and soothes. It contains Shea Butter to help moisturize the lips, and it has a slight colored tint when applied. It also has a slight taste and scent to it.
OUR TOP #2 PICK - The second lip balm on our list is the Banana Boat Sport SPF 50 Sunscreen Lip Balm. This lip balm has SPF 50 that protects and moisturizes lips at the same time. This product is long-lasting, compared to other lip balms and it is also water resistant. It also has natural ingredients that help repair lips such as Aloe Vera extract, Cocoa Butter Seed extract, and it also contains Vitamin E and C.
OUR TOP #3 PICK - Our third top pick is Ocean Potion Lip Moist Potion SPF 45 W/Aloe. This product also contains Aloe Vera and Beeswax that keeps your lips hydrated throughout the day. Its SPF 45 makes sure that you get great protection under the sun, without having to worry about your lips getting dry. It lasts long even if you take a dip since this lip balm is water resistant.
OUR TOP #4 PICK - The fourth product is the Aquaphor Lip Repair+. This lip balm has SPF 30 that protects lips from drying and from forming cracks. This product contains Shea Butter, Castor Oil, and Beeswax to help keep your lips hydrated. It has an incredible healing power that chapped lips need.
OUR TOP #5 PICK - The last top pick is the SPF Rx Lip Balm. This lip balm contains SPF 30 that prevents your lips from getting sunburned. It also has natural ingredients to provide your lips the extra moisture needed. These ingredients include Olive Oil, Shea Butter, Castor Oil, and Vitamin E.
Why Is There A Need To Protect Your Lips?
The skin is not the only sun-sensitive part of our body, and we tend to ignore giving our lips the same protection we give to the rest of our body.
We often think that a fancy lip balm that glides on our lips is all the protection we need which is often not true.
Sun rays can still damage the skin by causing inflammation and flaky skin. Not only this, remember that the harmful UV rays can also lead to skin cancer if we're not cautious about it.
The sun is not the only thing we have to watch out for; there are environmental factors too.
Even if you are inside with a protection over your head, the humidity will still get you. It can cause discomfort, and you can literally feel your lips going dry during humid weather.
It happens in cold weather too as it easily dries lips and we tend to keep them hydrated by giving our lips a good lick which is also not advisable.
It causes our skin to dry out even faster, and we wouldn't want to go around with our lips all chapped and bleeding out. There are also chances that some of the damages are self-inflicted.
Sometimes when we feel a dry patch over our lips, we can't help but try to pick it off making it worse than just having a dry patch.
Whatever the reason is for taking extra care for our lips, it's always best to do the precaution needed rather than dealing with already damaged lips.
How To Take Care Of Your Lips
Spoiling your lips like the way we like to spoil our whole body out on the spa isn't such a bad idea.
There are a lot of ways to take care of your lips than just plain lip products, and you don't have to visit the spa or spend a lot of money to do either.
The list below provides details on how to take care of your lips within a budget that actually works.
Hydrate
Overall, we have to keep ourselves hydrated most especially during hot weather. Studies recommend 8 or more glasses of water a day.
This might seem like an ordinary advice, but water does wonders to the skin. You are actually keeping your skin and lips hydrated from the inside, so keep those glasses coming!
Lip Scrub
Lips tend to peel when it becomes too hot and flaky, and these are really just dead skin cells that already dried off. And what do we do to remove dead skin cells?
That's right, we exfoliate them. Lip exfoliation can be one of the most ignored beauty routines around.
Just like what we do to our face after applying makeup, we have to exfoliate it to keep our lips prepped and ready for lipsticks and balms.
Applying sugar or honey or even both at the same time on the lips while rubbing it in a circular motion can rid your lips from the dead skin cells and gently exfoliate them.
Do Not Peel
Peeling can only worsen your lip condition, and it can even cause bleeding. However, there are times that it is really tempting just to rip it out, but we have to drop that habit.
When you find yourself itching to rip off the dry patch of skin on your lips, simply grab a soft bristled toothbrush and start brushing gently.
Brush until the patch of skin turns soft and in no time, it will peel off on its own. Brushing can not only aid you in removing the patch skin but it can also help with blood circulation.
You can do this twice a week and if you look closely, your lips will look plump after brushing!
Product Reviews: Our Best Top 5 Sunscreen for Lips
Despite having Acai on its name, it does not contain any acai berries on it. It was given the name after the color of the product.
It does contain Soybean Oil, Shea Butter, Sunflower Oil, and Beeswax.
When applied, it has a slight tint to it and it also glides very easily on the lips. This is due to the combined runny and creamy texture to it.​
The formula is also lightweight, and it does not have a fragrance to it.
What we didn't like about the product is that it is not water resistant and it may not last throughout the day.
There are some allergies that can be triggered by beeswax, an allergy that some people who are affected by it don't know.
Some of the symptoms include small bumps on or around the lips, and despite using a product with hydrating properties, the lips will tend to dry.
The reaction is caused by Propolis, something that comes along with beeswax. We do not recommend using this for those who have this allergy, and a light patch test should be done.
This product absorbs quickly and has a sheer coverage. It does not have any fragrance and it does not have any taste to it either, which is an advantage.
It protects very well and contains natural ingredients such as Cocoa Seed Butter, Aloe Vera extract, and Vitamin E and C.
It has a nice consistency to it and is lightweight. It is gentle for everyday use.
Another upside to this lip balm is that it is water resistant, so you can enjoy going out for a swim or even drink your favorite beverage without having to worry if the product wipes off or not.
The only downside to this product is that since it doesn't have a specific flavor, it does leave a waxy taste if it gets into the mouth. But this can easily be avoided if applied carefully.
This product's natural ingredients: Aloe Vera and Beeswax helps keep the skin hydrated and moisturized. Beeswax can help prevent cold sores and are naturally moisturizing.
The lip balm is water resistant and absorbs quickly.
Aside from being water resistant, the product is long lasting and gives a matte finish. However, it is not lightweight, but it is not entirely heavy either.
Another downside to the product is found in its ingredient: Beeswax. As mentioned before, beeswax has properties that might cause an allergic reaction to those who are sensitive to the ingredient.
This lip balm has SPF 30 that protects lips from drying and from forming cracks. It contains Shea Butter, Castor Oil, and Beeswax to help keep your lips hydrated.
It also has the incredible healing power that chapped lips need. This is also scent and taste free, so there are no ingredients added that could irritate the skin.
It is quite moisturizing however it does feel a bit heavy on the lips.
Reapplication is needed since it is not water resistant. Again, this product contains beeswax which may irritate those who are allergic to it.
This lip balm glides smoothly on the lips, without the heavy waxy feeling. It covers nicely and is barely noticeable when worn. The formula is also lightweight.
It has a mild mango scent to it but has a spearmint flavor. It has SPF 30 broad spectrum protection that helps you from getting sun burnt.
For us animal lovers, this lip balm is also a cruelty-free product which assures you of healthy ingredients.
It has Shea butter that coats your lips with a protective barrier that keeps it from getting dry. It also locks in the moisture.
This lip balm also contains Vitamin E, which also aids in repairing damage on the skin. It absorbs the nutrients faster to ensure a speedy recovery.
It also has Olive Oil to soothe already burnt skin, so you won't have to go through the discomfort of inflamed lips.
And lastly, Castor Oil helps keep the skin elastic and supple. This product functions more as a clinical product rather than a cosmetic one.
The downside to this product is that it is not water resistant, which means that it can be wiped off after some time. Reapplication may be needed if the product feels like it has worn off.
Its spearmint flavor might also tempt you to lick your lips, thus wearing off the product and will more likely to cause it to dry even more.
The Bottom Line
Overall in terms of protection and skin benefits, we recommend the Supergoop! Fusion Lip Balm SPF 30, Acai.
It completely hydrates and protects your lips from sun damage, without having to reapply. It delivers very well and can be used in any given weather.
Always remember to include your lips in your beauty routine and spoil it every once in a while.
Opt for healthier products, whether store-bought or a DIY remedy, so you know what exactly goes on to your lips.
Choose the balm that best suits your needs and activities and basically, take good care of your lips. Remember that a healthy smile is one of the best kinds.