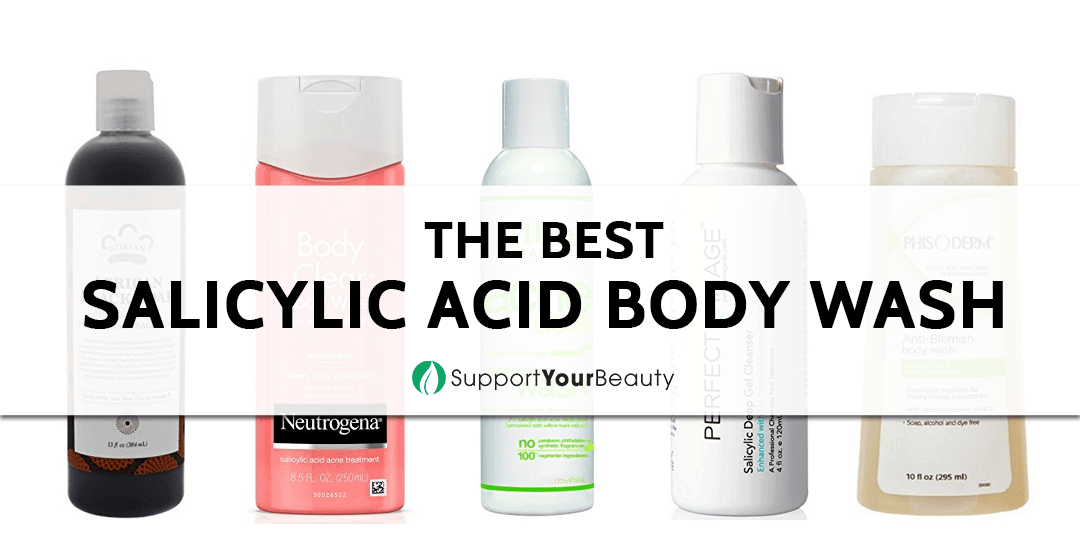 The Best Salicylic Acid Body Wash – 2018 Reviews & Top Picks
In order to help you feel clean and eliminate acne, we've come up with the best salicylic acid body wash. These products were carefully evaluated based on their active ingredients that can target the annoying breakouts and help you regain your confidence. We believe these products are the best on the market that will fit your skincare needs.
Acne is a problem that plagues people of all ages, ethnicities, and sexes. One of the best ways to treat it is salicylic acid.
This problem can affect not only the face but the body as well. The body washes on our list may be an excellent way to get rid of the trouble.
Let's take a look at the five best salicylic acid body washes on the market.
More...
Quick Overview: Our Top Picks for the Best Salicylic Acid Body Washes
OUR TOP #1 PICK - Our top choice is Nubian Heritage Body Wash. African Black Soap is one of the most touted products for treating acne on the market. The ancient medicine practices used for its creation are linked to old traditional methods that show to work wonderfully for centuries.
OUR TOP #2 PICK - Neutrogena Body Clear Body Wash is the second choice on our list. It contains both salicylic acid and vitamin C. Plus it is formulated not to clog pores. This formula may help dissolve oil and kill bacteria that causes acne.
OUR TOP #3 PICK - Third on our list is Alba Botanica Acnedote. We like the two percent salicylic acid formula. This body wash is completely vegetarian. There are no parabens or synthetic fragrances.
OUR TOP #4 PICK - Number four on our list is Salicylic Deep Gel Exfoliating Cleanser. This cleanser is made for both the face and body. Aside from salicylic acid, it also contains tea tree oil and green tea extract.
OUR TOP #5 PICK - Last on our list is Phisoderm Anti-Blemish Body Wash. We selected this one due to its soothing ingredients. In addition to two percent salicylic acid, it contains aloe vera, chamomile, and vitamin E.
What is Salicylic Acid?
Salicylic acid is commonly used in different acne products. But what is it really?This is a Beta Hydroxy Acid. It has the ability to exfoliate and thus kill bacteria. Chemically, it is similar to aspirin. It may help reduce redness and inflammation.
Salicylic acid is used in very tiny quantities for treating acne. It may be of help to cleanse deeply without the need for harsh scrubbing. By removing dead cells, we can get rid of the dirt accumulated within pores.
Acne products may contain between 0.5 and 30 percent salicylic acid. Even if they've got a small percent, your skin may see effects which are satisfying enough.
Once dead skin is out of the way, it can further clear oil and bacteria. It also boosts the production of collagen and increases cellular turnover. Thus, discoloration can be stopped. However, it isn't so good at treating cystic acne.
There are numerous other uses for salicylic acid. It can treat warts, corns, and calluses. Its powerful exfoliating abilities make it ideal for getting rid of these common skin conditions. It is even helpful in fighting dandruff.
While we are safe to use on the body, it doesn't come without side effects. It may lead to redness, burning and peeling. Some people are allergic to it. This can make side effects worse.
People with dry skin should avoid it. You don't need more dehydration. It isn't suitable for pregnant women either. It can interfere with the effectiveness of a few different drugs, like blood thinners.
Using too much of this acid can also lead to poisoning. You want to be sure you don't ingest any of it. If you happen to get some in your eyes, nose or mouth, you should rinse it off with water immediately.
Of course, this goes to a highly concentrated concoction of the acid. A regular cosmetic product is not going to kill you.
Why Should You Buy a Body Wash That Has Salicylic Acid?
If you suffer from body acne, you may want to consider switching to salicylic acid body washes. It may help people with whiteheads, blackheads and other surface-level problems.
So whether it is on your arms, legs, back or chest, you can cope with it.
They are non-comedonic and won't lead to future outbursts. Regular body washes may not be so gentle on your skin.
Look for a product with calming ingredients such as Aloe vera, Chamomile or Witch hazel. They can reduce swelling, redness, and irritation.
We recommend something with between one and two percent salicylic acid. Anything more than that is unnecessary. We suggest you start with less than 1 percent. But if you continue, bear in mind that it may not be as effective.
Product Reviews: Our Top 5 Best Salicylic Acid Body Washes
---
What caught our attention is its simple list of highly active ingredients. All of them are also organic.
We selected this as our favorite product because it can eliminate acne without a ton of harsh chemicals. We also appreciate the natural formula. People are less likely to experience allergic reactions.
It contains shea butter, which is a great moisturizer for dry skin. Fortunately, shea butter doesn't clog up pores.
Now, this body wash isn't perfect. The formula is very thick. We find it hard to get out of the bottle.
It also has a very distinctive smell. Many people may not like it. But considering the benefits, you may be able to put this aside.
---
We selected this product due to its gentle formula. One of the best things about this body wash is that it can get rid of excess oil and dirt.
Salicylic acid may help kill the bacteria living in the pores without overdrying the skin. The plastic beads can make perfect exfoliators.
Grapefruit extract adds a pleasant fragrance. Meanwhile, its vitamin C content can boost the antioxidant protection.
As we mentioned the plastic exfoliating beads, some may find that they are harmful to the environment.
So bear in mind that it contains different chemicals, which many people don't find appealing. Increasingly, people are turning to more natural products.
---
What we like most about this product is the two percent salicylic acid formula. It impressed us for being completely vegetarian.
We love that it doesn't contain parabens or phthalates. The manufacturer never tested it on animals.
Our favorite part of this body wash is that it foams up. Good lathering can make us feel soft and hydrated. It may reach deep into pores and clean out all the gunk.
First salicylic acid can eliminate dead skin on the surface. Then the foamy body wash can properly treat acne.
This product is gentle enough to be used on the face. So you can cut the need for a facial cleanser.
---
What we have here is a body wash that can double as a facial cleanser. It uses salicylic acid, tea tree oil, and green tea extract.
We don't want any dead or dry skin to fall into our pores causing acne issues. This product addresses well this exact need. The salicylic acid can unclog them by killing all the bacteria.
The tea tree oil in this wash may also help to diminish unwanted microorganisms. It is widely known for its antiseptic abilities.
Green tea extract is anti-inflammatory. With its antioxidant properties, it can fight off free radical damage.
We love that this cleanser can be effective on acne, blackheads, and whiteheads. But most of all, it doesn't dry out skin.
---
In addition to the two percent salicylic acid, this product contains Aloe vera, Vitamin E, and Chamomile.
We love that it is free of any oil, soap, alcohol or dye. It is also very mild. While you can purchase a facial cleanser, this body wash is suitable to come in charge.
It can balance pH levels in your skin. It can prevent acne, but it can further assist to balance sebum production.
Anyway, we wouldn't recommend using it every day. It may cause irritation, over-drying, and overproduction of oil.
We also didn't like that the body wash is very thin. It is really easy to lose or waste a lot of the product.
The Bottom Line
Our number one pick for the Best Salicylic Acid Body Wash is Nubian Heritage Body Wash. It contains only a handful of ingredients. Simplicity can be the key.
We discussed a lot on the active Salicylic acid. We find it superior at getting rid of acne. Meanwhile, shea butter can help keep skin hydrated and smooth.
This body wash is completely organic, as well.
All of the rest products on our list are highly recommended by our team. We agree on their ability to eliminate frustrating skin issues.
We will be more than happy of you can add up your suggestions and opinions. Join us in the comments section.