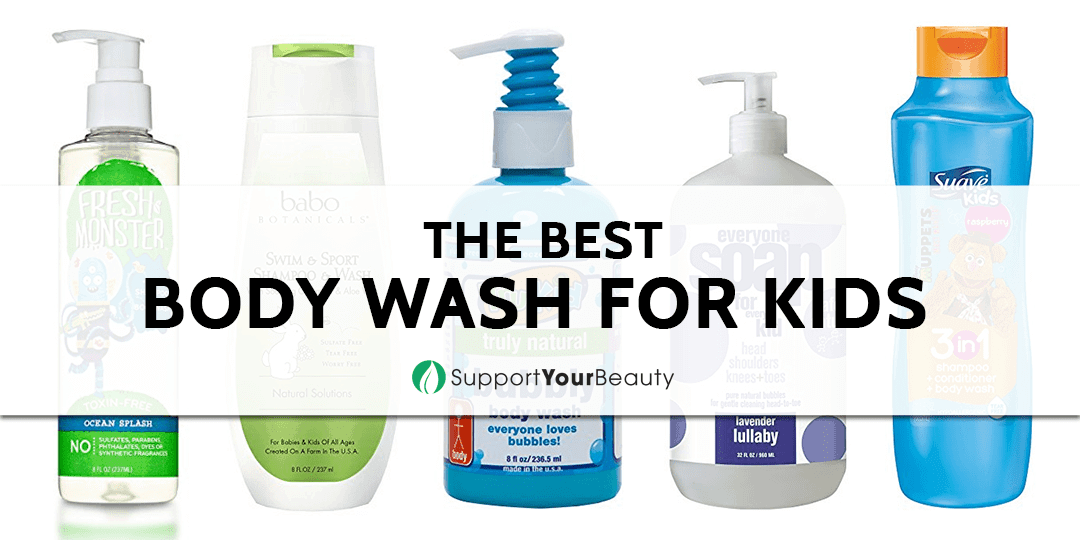 The Best Body Wash For Kids – 2018 Reviews & Top Picks
Learn how to take care of the vulnerable children's skin. We have a list of the best body wash for kids with no harsh chemicals included!

Children have much more sensitive skin than most adults do, which means that they require products that are specially formulated for their delicate skin.
It's important to find a body wash that is gentle to use on children yet is tough enough to get them squeaky clean.
Our list of the top five best body washes for kids features only the best products that are less likely to irritate skin or cause itchiness.
Read on to learn more about the best ingredients for use on children, as well as the best products that contain those ingredients.​
More...
Quick Overview: Our Top Picks for the Best Body Wash for Kids
OUR TOP #1 PICK - Our top choice for best body wash for kids is Everyone Soap for Every Kid in Lavender Lullaby. This product topped our list due to its natural formula that is also paraben- and gluten-free. Plus, it is a 3-in-1 product that can be used as a shampoo, body wash, and a bubble bath.
OUR TOP #2 PICK - Number two on our list is Fresh Monster Kids Shampoo and Body Wash in Ocean Splash because it is a natural shampoo and body wash that is scented using only natural ingredients, such as botanicals and fruits. It is also a product that is easy for kids to use by themselves.
OUR TOP #3 PICK - TruKid Bubbly Body Wash is number three on our list because it's fun to us and it's healthy. This product is both pediatrician and dermatologist tested and doesn't contain any phthalates, gluten or parabens.
OUR TOP #4 PICK - The fourth body wash on our list is Babo Botanicals Swim & Sport Shampoo and Wash in Cucumber and Aloe Vera because is it organic and is gentle on skin. It is also made to remove chlorine and salt, as well as pollution from the skin, which makes it perfect for using after a day at the beach or pool.
OUR TOP #5 PICK - Rounding out our list is Suave Kids 3-in-1 Shampoo, Conditioner and Body Wash. This product made our list because it is gentle enough to use as a shampoo, conditioner and a body wash.
Why Do Kids Need Special Body Wash and What Should You Avoid?
Children have thinner skin than most adults; plus, their immune systems haven't completely developed, which means that they are more susceptible to skin irritations. This means that they need products that won't cause any skin irritations.
Scented products, including soap, shampoo, lotions, and conditioners, can cause problems for little kids' sensitive skin. The reason that scented products cause skin allergies and irritations is that they are made up of a blend of different chemicals.
Remember that not all body washes that claim to be unscented truly lack fragrance. Oftentimes, these products actually contain more chemicals to make the product lack a scent.
Look for products that say fragrance-free or hypoallergenic, because these are less likely to cause skin problems. Soaps can be especially harsh on the skin.
Sensitive skin products made for adults aren't good alternatives to products specifically made for children.
These products often contain anti-aging ingredients and fragrances that aren't suitable for children's skin. Specifically, you want to avoid ingredients like vitamin A and fruit acids, because they can cause redness or a mild to a severe burning sensation.​
Chemicals and parabens are also no-nos for the sensitive skin of little ones. They are known to cause skin irritations that may cause discomfort.
Benzyl alcohol is actually a natural chemical that is potentially dangerous. It is a preservative, and it can be found in a number of different plants, such as jasmine and hyacinth.​
Parabens should also be avoided as they have been linked to hormone disruption, skin irritation, and reproductive toxicity.
Avoid anything that lists paraben as one of its ingredients, and keep in mind that chemicals such as Benzoic acid and Propyl ester are also parabens.
Mineral oils can also pump toxins into your child's skin. It is a cheap alternative to natural oils, and is a byproduct of petroleum processing.
Instead, choose products that contain natural oils like coconut, almond or olive oil.
Triclosan is used in antibacterial soaps and body washes. This ingredient is not only bad for the environment, but it is also a potential carcinogenic endocrine disruptor and it may weaken your child's immune system.
What Are The Ingredients to Look for in the Best Body Wash for Kids?​
While there are many ingredients to avoid, there are also a few that you may want to look for in a body wash for your little tyke.
Aloe vera is one of the most common soothing ingredients, and it is both natural and gentle on the skin. Aloe is also very hydrating and contains a number of nutrients that's good for young skin.
Coconut oil is a gentle moisturizing ingredient that is natural and soothing.​
Unless your child has a coconut allergy, this is one of the best oils for bath products. Plus, coconut oil is also an antibacterial and antifungal agent.
Calming ingredients are also good ingredients in body washes for children. Consider finding a body wash with chamomile, lavender, cucumber, and aloe, as these are some of the best calming and soothing ingredients that can be found in body wash products.
Product Reviews: Our Top 5 Best Body Washes for Kids​
---
Everyone Soap for Every Kid in Lavender Lullaby gets the top spot on our list of the best body washes for kids.
This product can be used as shampoo, body wash, and bubble bath. The soothing lavender scent makes it perfect for a pre-bedtime bath.
This body wash contains vitamins B5 and E, which not only nourish skin but also protect it from damage from the sun, pollution, and other toxins. Vitamin E also helps prevent inflammation in the skin.
The coconut oil in this body wash not only keeps skin hydrated, but it also creates a foamy lather, which is what makes this great as bubble bath.
With soothing lavender oil, this body wash is gentle and has a pleasant scent. It also contains orange oil, which gives it a hint of a light citrus smell.
Chamomile, aloe vera and white tea help soothe skin and keep it looking healthy.
We love that this body wash is completely natural and doesn't contain parabens, GMOs or gluten.
It also doesn't contain Sodium laureth and Lauryl sulfates, as well as polysorbate. All of the ingredients in this body wash are plant based.
---
Fresh Monster Kids Shampoo and Body Wash in Ocean Splash is number two on our list because it is 100 percent toxin-free.
Using only plant-based products, this body wash will get your kids clean without harsh chemicals seeping into their skin.
It doesn't contain any harsh chemicals or toxins, including artificial dyes or fragrances. It also doesn't contain any ingredients that will hurt their eyes should they get any in their eyes.
It is also gluten- and soy-free, and this body wash may work for kids that have sensitivities to those ingredients.
Another reason we love this product is that it is actually kid-friendly.
The pump makes it easy for kids to use the product themselves, which will help them learn how to wash themselves. Plus, since it won't sting their eyes, they can learn without fear of harming themselves.
---
Number three on our list of the best body washes for kids is TruKid Bubbly Body Wash. This body wash is pediatrician and dermatologist tested to be safe on children's skin.
We love this product, because it doesn't contain any chemicals or artificial fragrances which can be harsh on your child's skin.
It also contains aloe vera and sugar to gently wash your child's skin, while still smelling great.
This body wash has a great lather, but it is still very gentle. It is natural and non-toxic, and there aren't any parabens or phthalates in it.
It is also gluten-free, so it is safe for those with gluten allergies. Moreover, it is even gentle enough for eczema.
Another reason we love this product is that it is environmentally friendly. The packaging is 100% recyclable and BPA-free. The soap is cruelty-free and is never tested on animals.
Lastly, we love that just a little bit of this product goes a long way. You just need a couple pumps to be able to get your child clean from head to toe.
---
Babo Botanicals Swim & Sport Shampoo and Wash in Cucumber and Aloe Vera made our list because it gets skin squeaky clean while being gentle and soothing with cucumber and aloe vera.
This body wash by Babo Botanicals was created to remove chlorine, pollution, salt and other dirt from the skin using a corn-derived chelator.
This makes it a great body wash to use after days spent at the pool or the beach.
Ingredients like chamomile, aloe, and cucumber also soothe any irritation that may occur on the skin. These components act as anti-inflammatories and prevent redness.
Another reason we love this body wash it that it doesn't contain any potential allergens or harmful ingredients.
There aren't any artificial fragrances in this wash, and it is gluten-, sulfate-, formaldehyde-, paraben-, soy-, dairy- and phthalate-free.
Lastly, it doesn't contain peanuts, walnuts or almonds, making it safe for those with nut allergies.
---
The last product on our list is Suave Kids 3-in-1 Shampoo, Conditioner and Body Wash.
This product made our list because it is extremely accessible and it is versatile.
This is the only product on our list that also conditions hair, so if you use this as a shampoo on your child's hair, then you may not need to use a separate conditioner.
This product is hypoallergenic, which means that it is made to be safe for people with skin allergies. It is also tear-free so that it won't cause irritation to your child's eyes.
We love that this product leaves hair feeling soft, smooth and clean. This product is also very helpful at detangling hair.
This 3-in-1 product has a raspberry scent that will leave your child smelling fresh and clean.
Unfortunately, this product isn't natural like most of the other products on our list. It does contain a number of chemicals, as well as artificial colors and fragrances.
The Bottom Line
Our number one pick for the best body wash for kids is Everyone Soap for Every Kid in Lavender Lullaby because it has a gentle scent that is soothing and perfect for just before bedtime.
It also contains coconut oil and vitamins B5 and E that help moisturize and nourish skin.
While Everyone Soap for Every Kid in Lavender Lullaby is our favorite, every product on this list is a good option for getting your child good and clean.
We hope that our list will help you select the best product for you and your children.​