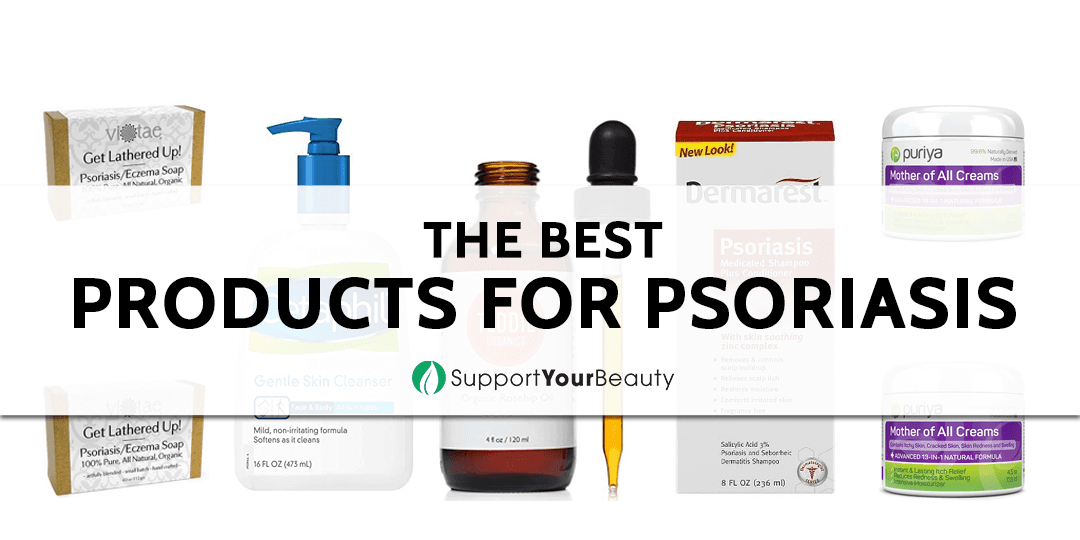 The Best Products for Psoriasis – 2018 Reviews & Top Picks
In order to help you deal with discomforts and regain your confidence, we're rounding up the best products for Psoriasis in this list. These products were carefully evaluated based on their active ingredients that can help you manage the issues related to troublesome psoriasis. We believe these products are the best on the market that will fit your skincare needs.
Raised red patches, uncontrollable itching, burning, silvery scales, and dandruff flakes are just some of the debilitating effects of psoriasis.
Psoriasis occurs when the immune system turns skin cells over too quickly, leaving red, inflamed, scaly patches. In fact, research shows that 7.5 million Americans suffer from this condition.
Anyone with this autoimmune disease knows perfectly well that it's more than just a skin condition. It may cause discrimination and lowered self-esteem, ultimately affecting the sufferer's quality of life.
There may be no cure for psoriasis, but it's completely manageable. Choosing the best psoriasis products is the only barrier that stands between you and an itch and flake-free skin.
More...
Quick Overview: Our Top Picks for the Best Products for Psoriasis
OUR TOP #1 PICK - Soaps are the first line of defense against psoriasis. Vi Tae's Organic Psoriasis/Eczema Soap is our top choice for the best product for psoriasis. It is packed with all-natural herbal concoctions and moisturizers designed to relieve the skin of itching, dryness, and sensitivity. All these issues can cause extreme discomfort and embarrassment.
OUR TOP #2 PICK - Alternatively, the Cetaphil Gentle Skin Cleanser can be used in place of soaps. This amazing cleanser focuses on restoring the skin barrier, hydrating, and reducing flare-ups. This can allow the skin to heal, thereby to regain its normal appearance.
OUR TOP #3 PICK - Scalp psoriasis is equally problematic and unsightly as skin psoriasis. Effective over the counter medications such as the Dermarest Psoriasis Shampoo and Conditioner can combat this discomfort. Furthermore, it can prevent recurrence of painful symptoms like crusting, scaling and flaking.
OUR TOP #4 PICK - Moisturizing and hydrating the skin is imperative for psoriasis sufferers. What better way to moisturize than to use a cream which doesn't only provide relief from psoriasis but from other common skin diseases as well? Hailed as the "Mother of all creams", the Puriya Cream can provide instant relief from dry, flaky or itchy skin. It may alleviate the condition of damaged skin, restoring a visibly healthier complexion.
OUR TOP #5 PICK - Facial oils might help curb psoriasis symptoms and much more. We've chosen Teddie Organics' Rosehip Oil for the best psoriasis facial oil. It has the ability to soothe dryness and restore smooth skin. We liked that it can fight free radicals, diminish aging signs, and lighten scars and blemishes.
What Causes Psoriasis?
Psoriasis affects the skin through stimulating the immune system to build skin cells rapidly on the surface.
Skins cells naturally shed at all times, but in psoriasis' case, both the dead and live cells gather on the surface due to an accelerated replacement process.
Plaque psoriasis, the most common form, is reported to affect 80% of the population. It manifests as raised, red patches.
It most usually appears on the elbows, knees, and scalp. Other body parts such as the feet, nails, hands, and genitals, can also be affected.
Less common types include guttate and pustular psoriasis. The former presents itself as small, teardrop-shaped spots while the latter is seen as white blisters of noninfectious pus.
Both types are more severe than the plaque form, hence resulting in more aggressive flare-ups, particularly Erythrodermic psoriasis. This rare form inflicts large scales and covers large areas of the body.
Psoriasis patients are usually diagnosed in their early teens, but some develop the condition at a younger age.
This condition isn't curable, but there are many ways to manage it such as using the best psoriasis products, phototherapy, and taking medications.
With regards to the primary cause of psoriasis, scientists are yet to come to a clear finding.
However, it is known that psoriasis triggers include stress, injuries to the skin, hormonal changes, cold weather, alcohol consumption, smoking, and certain medicaments.
Now you have an idea of the things that may cause your flare-ups, so it's best to steer away from them and see if there's any reduction in your symptoms.
How to Manage Psoriasis with Appropriate Skin Care
First and foremost, you should consult your doctor if you think you're experiencing psoriasis symptoms.
Also, steer clear of vices and other triggers for lessening outbreaks.
Topical treatments are the first-line management for mild cases of psoriasis. In combination with other treatments and medications, psoriasis can be curbed and lessened.
Which are the Best Products for Psoriasis?​
1. Soaps and cleansers
​Avoid harsh soaps, exfoliating scrubs, and bleaching cleansers which can be very irritating and aggravating for a psoriasis-prone skin.
Instead, opt for gentle cleansers, body washes, and soaps loaded with moisturizers and emollients.
2. Lotions, creams, shampoos, and ointments
​Lotions, creams, and ointments infused with emollients may lock oils and moisture into the skin barrier to prevent dehydration. This can help to reduce scaling, as well as soften and smooth skin.
Particular ingredients recommended by the U.S. Food and Drug Administration found in emollients include salicylic acid and coal tar.
Being a keratolytic or peeling agent, Salicylic acid can cause the outer layer to shed, thereby lifting psoriasis scales and softening the skin.
However, the overuse of salicylic acid-fueled products can result in skin irritation and weakened hair shafts.
On the other hand, hair products infused with coal tar has been proven to slow skin cell growth, improve the scalp's appearance, and reduce itching.
Other ingredients that may relieve the skin of psoriasis symptoms include humectants and moisturizers such as aloe vera, jojoba oil, and glycerine.
You can also make use of anti-inflammatory agents like zinc pyrithione and capsaicin.
Product Reviews: Our Best Product for Psoriasis
---
Vi Tae's Organic Psoriasis/Eczema Soap is our top choice among the best products for psoriasis.
It can be a potent natural remedy to eczema and psoriasis symptoms.
It may relieve the skin of itching, dryness, and sensitivity which cause extreme discomfort and embarrassment.
Using coconut, jojoba, and safflower oil to supply the skin with sufficient moisture, this soap is geared towards restoring and strengthening the skin barrier. This can fend off bacteria lingering on the skin's surface.
It may treat inflammation and discomfort through the power of the high anti-inflammatory properties of calendula petals, grape seed, and evening primrose oil. Using them can result in a visibly clear, nourished skin.
What we loved most about this soap is that it smells nice, feels very relaxing with warm water, and lathers well. Also, it might be beneficial for all skin types through its anti-inflammatory ingredients.
We used this product and found out that it may benefit patients suffering from itchy rashes, adult acne (a consequence of psoriasis), and scaly skin.
Within a week's usage, the rashes can be gone, along with back acne. The flaking of the skin can be also drastically reduced.
We loved this feature as all these symptoms that couldn't be solved by a prescription ointment could surprisingly be vanished by a soap.
---
When creating our list, we focused on products that may help you restore the skin barrier function, hydrate, and potentially reduce flare-ups.
We were searching for items that can allow the skin to heal and respond better to therapies and other medications. We believe this is almost imperative for eczema sufferers.
You may want to look for products that are made for sensitive or dry skin, and make sure they contain ceramides.
We found Cetaphil Gentle Skin Cleanser can give us exactly these features.
Designed for all skin types, this soap-free product may sweep away dirt and impurities. More importantly, it can do it without stripping the skin of its natural oils or emollients. Thus, we could enjoy softness and smoothness.
We think that anyone could fall in love with this cleanser, especially if striving to fight dry and tight skin.
Among its active ingredients are propylene glycol, sodium lauryl sulfate, and stearyl alcohol.
First off, propylene glycol is an organic compound. We oppose the common notion that it's synthetic based just because of the sound of its name. It has humectant traits and may help other ingredients penetrate the skin better.
Likewise, stearyl alcohol is the main emollient in this cleanser which serves as conditioning agent and lubricant, giving it a smooth and soft appearance.
On the other hand, sodium lauryl sulfate creates lather which causes the surface tension between the impurities and the skin surface to break off. The result can be unclogging of pores and a clearer complexion.
We here at Support Your Beauty have quite an extensive experience with this product because it's one of the staples in our drawers. It was surprising that this cleanser, which we use at a daily basis, can keep eczema at bay too.
We found out that this cleanser can completely change eczema-troubled skin. It can address redness, flaking, and dryness; you may expect your skin to get back to normal after consistent washing.
---
Scalp psoriasis, similar to skin psoriasis, manifests itself through reddish, scaly patches on the scalp. This condition needs urgent attention because it can spread on the forehead, neck, and ears.
Effective over the counter medications such as the Dermarest Psoriasis Shampoo and Conditioner can combat the discomfort and prevent recurrence of painful symptoms like crusting, scaling and flaking associated with psoriasis.
Salicylic acid, its active ingredient, removes scales that appear on the patches of the scalp. Removing these flakes allows other ingredients of this product, as well as medications to penetrate better.
While the dead skin sheds, zinc complex seeps beneath the scalp to maintain the health of the cells, fight free radicals, and soothe inflammation.
Furthermore, the highly moisturizing formulation of these products uses skin conditioners to soften and soothe severely dry, irritated skin. It can be a relief and comfort to our needs.
In the process of evaluating this hair care set, we found out that it could relieve guttate psoriasis patients. So far, it has done an outstanding job in removing the nasty white, crusty plaque that develops on the scalp.
After a month's use, we've noticed marked differences on the scalp like less itching, restored shine, and a more manageable hair.
---
Hailed as the "Mother of all creams", Puriya Cream may resolve major skin problems such as psoriasis, eczema, rosacea, dermatitis, shingles, etc.
This incredible product can do more than merely providing instant relief from dry, flaky or itchy skin. It may also reduce pain and alleviate the condition of damaged skin, restoring a visibly healthier complexion.
Breathing life back into troubled skin is the job of amaranth oil, the not-so-secret ingredient of this product that imparts beauty benefits that are as ancient as time itself.
For one, amaranth oil contains the highest concentration of squalene, a common lipid produced by the skin and a natural moisturizer. The oil has powerful anti-inflammatory and anti-allergic properties that can curb inflammation and soothe irritation.
Other powerhouse ingredients of this cream are aloe vera and shea butter. The famous aloe vera, apart from proving itself as a robust moisturizer, is antioxidant and mineral-rich. It acts to heal the disrupted barrier and form a protective layer as it recuperates.
In like manner, shea butter acts in conjunction with the mentioned ingredients to stimulate cell repair, soothe inflammation, and restore moisture back into the psoriasis-prone skin.
Admittedly, this cream has exceeded our expectations although some may find the lingering smell appalling. The Peppermint scent is a very particular one, and there are people who can consider it too overwhelming.
Just because you have psoriasis doesn't mean you have to downgrade your beauty regimen and miss all the goodness serums and facial oils have to offer.
A good botanical facial oil, like the Teddie Organics Rosehip Oil, can contribute to maximizing free radical protection.
This can plump and moisturize the skin, as well as allow it to absorb other products better with no irritation.
In fact, rosehip oil is a great moisturizer which can help soothe dryness that accompanies psoriasis. It has also been proven to decrease redness and inflammation.
Aside from treating psoriasis symptoms, this wonder oil can also minimize the appearance of fine lines, slow down skin aging, and improve skin tone and elasticity.
We were happy to get more benefits from this product than merely soothing our condition.
First, we liked how it moisturized flaky skin well, to the point that there could be no need for applying moisturizer.
Additionally, it has reduced itchiness and inflammation we've been experiencing.
And lastly, it has lightened our scars and blemishes – this includes stretch marks and acne scars.
The Bottom Line
Our top picks for the best psoriasis soap and cleanser are Vi Tae's Organic Psoriasis/Eczema Soap and Cetaphil's Gentle Skin Cleanser. Both products can gently cleanse the skin without irritating or stripping its natural oils.
Furthermore, they can potentially relieve itching, flaking, and redness while strengthening the skin's barrier to prevent entry of substances that may further irritate.
On the other hand, our vote for the best scalp psoriasis products goes to the Dermarest's Psoriasis Shampoo and Conditioner.
We think it can combat itching, scaling, and inflammation in the scalp while restoring shine and moisture back into the hair.
Lastly, our experts have accordingly picked Puriya Cream and Teddie Organics' Rosehip Oil as the best psoriasis cream and facial oil.
These products may help lock in moisture into troubled skin to reduce itching and flaking which are caused by moisture loss. Moreover, they can feed the skin with essential minerals and nutrients to speed up the recuperation process and stimulate cell repair.
Aside from lifting psoriasis symptoms, these versatile skincare products can also resolve other problems such as scars, blemishes, and sun damage.
Using all of these products on a daily basis may prove helpful in combating psoriasis. Don't let conditions like this lower down your esteem. You can also assist your skin to make it look the way you want it to be.