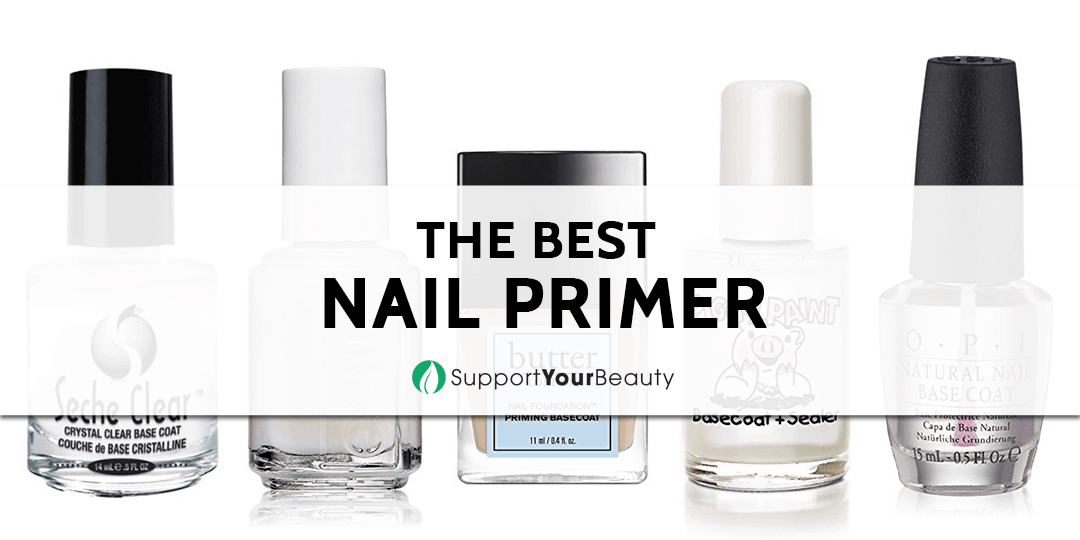 The Best Nail Primer – 2018 Reviews & Top Picks
To continue with our goal of being your best source of all things beauty related, we've come up with this list of the best nail primer. The products presented in this list were carefully chosen based on their ability to strengthen your nails and prep them for your next nail polish application. We believe these products deserve a place in your beauty collection.
Women have different techniques when they're doing their nails in the comforts of home.
Some go full-on and go through a salon-like routine, complete with long soaks, hand massages, and four different products on their nails, while others simply swipe on a coat and be done.
But however you choose to do your nails, one of the most important steps that you should never skip is the application of a nail primer.
So what is nail primer?
A nail primer, also called a base coat, can make your manicure last longer, and it may even protect your nails from yellowing. Some nail primers may even help to strengthen weak, brittle nails.
More importantly, a nail primer acts as a foundation for your nails, so your polish will go on smoothly.
On that note, here is our list of the top five best nail primers.
At First Glance: Our Top Picks For The Best Nail Primers
OUR TOP #1 PICK - Taking the top spot on our roundup of the best nail primers is Seche Clear Base Coat. This product prevents nails from yellowing and may even help weak and brittle nails get stronger over time.
OUR TOP #2 PICK - The next product on our list is essie Color Corrector For Nails Primer. This base coat neutralizes the yellow tones of dry, stained nails and gives nails a healthy glow.
OUR TOP #3 PICK - The third on our list of the best nail primers can be used both as a base coat and sealer and more importantly, it's safe enough for pregnant women as well as children. These are just some of the reasons why we love Piggy Paint Base Coat & Sealer.
OUR TOP #4 PICK - The next nail primer on our list comes from a fashionista and celebrity favorite brand. Butter LONDON Nail Foundation Priming BaseCoat fills in ridges, protects nails, and makes manicures last.
OUR TOP #5 PICK - The last spot on this roundup belongs to OPI Natural Nail Base Coat. This nail primer prevents staining of natural nails and ensures the longevity of your manicure.
What Is Nail Primer Used For
Beyond finding the perfect nail color, experts believe that the key to a good and long-lasting manicure is to use a nail primer or a base coat.
While it may be tempting to grab a nail file, brush on some nail polish, and go, adding one more step to your basic manicure can be beneficial for these reasons:
1. Nail primers prevent polish from staining your nails.
You love your nail polish but hate the fact that it leaves your nails with a sickly yellow stain.
So you do what most girls do—cover up the stain with more polish, hoping that it goes away.
If you use a nail primer or a base coat, you can prevent this from happening in the first place.
Staining occurs because of a chemical reaction between the ingredients in the nail polish and your nail plates (source).
By brushing on a nail primer before you apply your nail color, it provides a protective barrier between the nail and the pigment, resulting in nails that look healthy and beautiful even without nail lacquer.
2. A Good Nail Primer May Fill In Nail Ridges
If you're frustrated because your nail polish never looks good due to the bumps on your nails, that's because you have vertical nail ridges that start at the cuticle and go all the way to the tip of your nails.
These are fairly common, especially for aging people. Though it's not a cause for concern, it may be annoying if you love doing home manicures (source).
Just like what a face primer can do for your face and foundation, a nail primer can fill in the ridges on your nails for a smoother and glossier surface.
3. A Nail Primer Can Make Your Manicure Last Longer
If your nail polish chips just one day after you apply it, it means that your favorite nail color needs a little help to make it stick.
A nail primer contains chemicals that help nail polish to adhere to your nails, and it also gives it the flexibility to move with the nail as it bends.
This means that you won't have to fear that your polish will chip if you do anything at all that involves your hands.
How to Choose the Right Nail Primer
There are a lot of nail primers or base coats on the market, but the best thing to do when selecting one is to find out what you need or if you want to address certain nail issues.
For instance, if your nails are ridged, look for a ridge-filling formula. This type of nail primer is often very thick, and that viscosity allows it to fill in those vertical lines on your nails.
If you want a remedy for your stained nails, look for a color correcting nail primer.
This product can be worn alone, which is a good thing if you want your nails to look good yet you also want to give them a break from your beloved cherry red polish.
Weak, brittle nails will benefit from a nail primer that has a strengthening formula.
However, don't expect it to work immediately; it may take several applications before you see a noticeable difference in your nails.
You could also choose a base coat without toxic ingredients.
Look for ones that don't contain formaldehyde, dibutyl phthalate, or toluene, which are common nail product ingredients that are said to cause potential adverse health effects.
The Best Nail Primer To Support Your Beauty
The top spot on this roundup of the best nail primers belongs to Seche Clear Base Coat. This base coat adheres to the natural nail and protects nails from getting stained by dark polish.
This nail primer contains denatured alcohol, which acts as an astringent, anti-foaming agent, and antimicrobial.
It also contains ethyl acetate, a common chemical used in household and nail products.
Epoxy resin is another ingredient in this base coat, and this element is commonly used as a hardener in nail products.
After giving our stained nails a break from nail polish for almost two months, we decided to test this nail primer to see if it would prevent our nails from yellowing.
We brushed one coat of this base on our nails, and we waited five minutes before we applied our favorite dark red nail lacquer. The nail primer has a thin texture, which made it easy to apply.
After five days, our nails still looked great, and there was no chipping or peeling whatsoever. It didn't mask the ridges on our nails, but it protected them from stains.
Our nails looked healthy, so we're very happy with this nail primer.
---
This beautiful, neutral colored nail primer came in at a close second on our list of the best nail primers because of its ability to conceal stains and other imperfections.
Just like our first pick, essie Color Corrector For Nails Primer also contains ethyl acetate and epoxy resin.
This product also contains nitrocellulose, which gives the base coat its sheen and makes it adhere to the natural nail.
This nail primer's color is very similar to essie's best-selling nail polish shade, Ballet Slipper, so we thought that it would work on its own.
While the base coat masked the yellow tinge on our nails, it also gave our nails a sheer wash of color that's best described as a pink-tinged ivory, and it looks great on any skin tone.
The nail primer has a slightly shimmery finish which gives nails a healthy glow, so we were definitely looking forward to flaunting our nails on our next girls' night out.
---
The third product on this list gets points for its versatility, and the fact that it can be used by young children also makes it a winner in our book.
Piggy Paint was developed by Melanie Hurley, a mom of two little girls who loved to paint their nails.
Concerned that the nail polishes that they were using might be causing harm, she developed her own line of nail products that are non-toxic and hypoallergenic.
This nail primer contains water as one of its main ingredients, as well as neem oil, which has antifungal properties.
It also contains acrylates copolymer, which is commonly used as an adhesive. These three ingredients are the only elements in this nail primer.
While we love that it's non-toxic and safe for young kids, this base coat wasn't as effective as the other products on this list, and it made our nail polish peel off easily.
Our polish also chipped three days after we did our home manicure.
However, this is still a good product if you're looking for a something to use for your next mother and daughter manicure session.
---
Our fourth pick comes from a brand that is a favorite of fashionistas and celebrities, and this nail primer deserves a gold star for filling in ridges as well as for its neutral and ultra-chic shade.
Butter Nail Foundation Priming BaseCoat contains nitrocellulose and ethyl acetate just like the other base coats on this list, but it also has hydrolyzed silk, which supports nail growth.
It also has glycerin, which moisturizes nails to keep them looking healthy, as well as horsetail extract which strengthens them.
This nail primer has a beige tint that goes on matte, and we love how clean and healthy our nails looked.
We also like how it disguised our ridges, and it made our polish last for an entire week without chipping.
---
Last on our roundup of the best nail primers is OPI Natural Nail Base Coat.
If you've had enough of stained and unattractive looking nails, then this nail primer may work for you as it prevents nails from staining.
It contains nail primer mainstays ethyl acetate and nitrocellulose. It also has keratin amino acids, which are humectants that may also strengthen nails.
We love how this nail primer made our nail polish look shiny, and it also prolonged our manicure.
We took off our polish after a week, and we were happy that our nails didn't have a hint of yellow on them.
You can wear it on its own, but it's best as a base coat as it has no color, and it won't interfere with the color of your nail polish.
The Bottom Line
For its ability to protect nails from staining, our top pick for the best nail primer is Seche Clear Base Coat.
We love how easy it is to apply and how it made our manicure look great.
It also prolonged the life of our manicure, as it was more than seven days until we saw some slight chipping on the tips of our nails.
Moreover, it also prevented our nails from staining and yellowing, which made us more confident to wear our favorite dark red nail polish.
This nail primer, along with the other products on this list, may help you get a smooth foundation for your nail color while protecting your nails from stains.
And finally, make sure you check out this complete list of some good gel polish nails as well.
If you love this roundup, feel free to check out our latest reviews of other types of primers here: https://supportyourbeauty.com/makeup-products/primers/