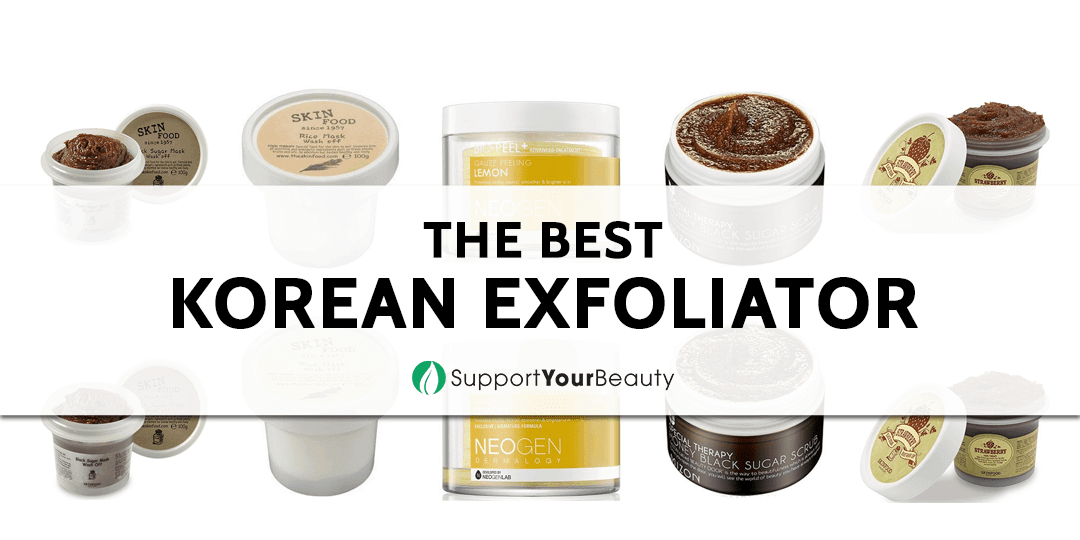 The Best Korean Exfoliator – 2018 Reviews & Top Picks
In order to help you achieve an even and radiant complexion, we're rounding up the best Korean exfoliator in this list. The products in this list were carefully picked based on their ability to remove dead cells and make way for a brighter and healthy new skin to appear. We believe these products deserve a permanent place in your beauty arsenal.
Exfoliation is one of the hottest trends in skin care, thanks to all the numerous benefits.
It simply is the process of sloughing off dead skin cells from the epidermis. This can cause the skin to look more radiant and glowing instead of being dull and rough.
Exfoliation can trigger the production of new skin cells. Dermatologists suggest incorporating exfoliation into the skincare routine as it helps shed dead skin naturally and encourages healthier looking skin to resurface.
You might be surprised how often Koreans exfoliate. They actually do it all year-round to prevent clogged pores and speed up cell turnover which helps with anti-aging.
Since they do it frequently to keep their envy-worthy complexions flawless, perhaps it can help us achieve the skin we've always dreamt of.
On that note, here is our list of the best Korean exfoliators that are enjoyed in Korea.
More...
Quick Overview: Our Top Picks for the Best Korean Exfoliators
OUR TOP #1 PICK - Skinfood's Black Sugar Mask Wash-Off Exfoliator is first on our list. It can nourish deeply and thus help to turn dull and dry complexion into a smoother and softer skin. It is suitable for all skin types. Because of its rejuvenating capabilities and the wide range of use, it became our top choice.
OUR TOP #2 PICK - Rice, aside from being an important food commodity, can also impart numerous benefits to the skin. Skinfood's Rice Mask Wash-Off can slough off impurities and dead skin cells. By doing this with utmost care, it may leave the skin bright, soft and lustrous.
OUR TOP #3 PICK - Third on our list is our favorite "face dessert," Skinfood's Black Sugar Strawberry Mask Wash-Off. We liked how this fragrant anti-aging exfoliator melts into wet skin. It can effectively remove dry flakes and dead skin cells without the risk of abrasion to the point of irritation.
OUR TOP #4 PICK - The Mizon Honey Black Sugar Scrub boasts a bevy of moisturizing and antioxidant plant oils and extracts. With their help, we can control sebum production. This balance is of extreme importance when it comes to revealing a brighter skin tone.
OUR TOP #5 PICK - We think that probably nothing can come so close to the Neogen Bio-Peel Gauze Peeling Lemon in terms of form and convenience. It features single-use gauze exfoliators filled with a powerful combination of herbal extracts and acids. They are aimed at correcting hyperpigmentation and increasing elasticity.
Tips for Picking the Right Exfoliator for Your Skin Type
If you're looking to refine your pores, even out your skin tone, and enhance your glow, a Korean exfoliator may be of great help.
Korean exfoliants, whether physical (e.g., fine scrub) or chemical (e.g., acid-based peel), impart a myriad of benefits. Including an exfoliant to your regimen could be the missing special boost your skin needs.
However, not all the best Korean exfoliators are created equal.
The first step is to assess your skin's needs and appropriate an exfoliator and its ingredients to your skin type.
1. Oily skin
Treating oily skin can be challenging because it requires a delicate balancing act.
If you attack it with exfoliators that are too drying, the skin can compensate by producing more oil, leaving you worse off than you started. Our advice is to avoid alcohol-based products.
The key is to find ingredients that curb oil production while hydrating the skin as well.
A scrub is an excellent choice for oily skin because it can help eliminate impurities and wash them away.
2. Combination skin
We often encounter the problematic T-zone and dry patches on some areas of the face when dealing with combination skin.
Your skin may require dual-action exfoliation like a peeling exfoliator.
You might want to try peel pads. They contain AHAs or BHAs like glycolic and salicylic acids which may help to gently eliminate unwanted dry skin while treating the oily parts like forehead and cheeks.
3. Sensitive skin
Before you protest how irritating exfoliants can be on sensitive skin, know that it can be the other way around by using the right type of exfoliator.
Steer clear of scrubs and other forms of chemical exfoliants and synthetic acids. They can cause inflammation and increase sensitivity.
Instead, stick to exfoliating masks and peels as they are non-irritating and less likely to cause inflammation or redness.
Also, bear in mind not to over-exfoliate; Once a week should be enough.
4. Normal skin
Lucky for you if you don't have any issues with oiliness, sensitivity, or dryness because all you need is a gentle exfoliator to keep your skin healthy and line-free.
Your fuss-free skin can use either a scrub or an enzyme-based exfoliator. For scrubs, look for products with gentle microbeads such as jojoba beads. You'd better avoid those with plastic beads that can be degrading to the environment.
Enzyme-based exfoliants containing pineapple or papaya extracts may help balance the skin's pH levels while effectively brightening the skin through diminishing away dead skin cells.
5. Mature skin
Aging skin requires extra care and attention because it's no longer turning over new skin cells at a fast rate compared to when it was younger.
Keeping the skin young boils down to increasing the number of times you exfoliate per week and choosing the right exfoliator.
Aim to exfoliate twice or thrice weekly and opt for glycolic acid-fueled exfoliators. They can gently sweep away dead cells and aid in stimulating collagen production.
6. Dry skin
Using exfoliators, even the gentler ones, can still dry the skin to some extent.
Dry skin tends to have trouble absorbing ingredients that keep skin quenched. To combat this, your choice of exfoliator should hydrate and zap off dry flakes at the same time.
Try using exfoliators with gentle beads or enzyme peels and lots of moisturizing and soothing ingredients.
We also encourage you to follow your exfoliation treatment with a moisturizer containing hyaluronic acid and other moisture-sealing agents.
The Best Korean Exfoliators
Securing the coveted spot on our list of the best Korean exfoliators is Skinfood's Black Sugar Mask Wash-Off Exfoliator.
Having the ability to turn dull and dry complexion into a magically smoother and softer skin, we must admit that this exfoliator is pretty affordable.
Not only can this mask benefit dry skin, but it is also suited for sensitive, normal, and almost all skin types because of its gentle nature.
This hydrating and exfoliating mask features organic and refined black sugar granules rich in vitamins (riboflavin, niacin, and pantothenic acid) and minerals (phosphorus, calcium, iron, magnesium, and potassium).
They are aimed at nourishing the skin while restoring the nutrients and moisture lost through daily activities and the aging process.
We so loved the grainy and velvety texture of black sugar, coupled with lanolin and shea butter, as it feels like butter on the skin.
After using this exfoliator a few times, you may notice a fresh, soft and glowing skin. If you have normal skin, it's best to use this twice a week for a deeper facial cleanse than you regularly do.
---
Running behind the Black Sugar Mask in our roundup of the best Korean exfoliators is Skinfood's equally popular Rice Mask.
As the name suggests, this wash-off mask contains rice extract that can moisturize the skin and brighten its tone. The fine texture of ground rice can slough off dead skin with utmost care, leaving the skin bright, soft and lustrous.
The star ingredient of this terrific product is rice. Rice is as heavy to the skin as it is to the stomach due to its numerous advantages.
With regards to the nitty-gritty of rice, this food commodity produces three substances that are the raw materials used to make the mask -- rice bran oil, rice bran powder, and rice water.
All three of which, when applied topically, can impart smoothing, brightening, and hydrating effects on the skin.
Furthermore, rice is a rich source of Vitamin E, a potent antioxidant that can fight oxidative stress which causes the skin to age prematurely.
Additionally, another abundant substance found in rice is linoleic acids. It has anti-inflammatory and moisturizing properties that support cell regeneration, making it a potent acne-fighter.
We're naturally thrilled to try this mask because it's the first product we discovered that uses rice as a primary ingredient.
We used this mask combined with the steam and heat of the shower once a week for a month, and it has noticeably improved our complexions, just don't mind the smell.
It sorts of brightens things up. It might give a gentle exfoliation, and improve skin texture, which is pretty impressive.
---
If you're into fragrant bath products, then you might not be able to resist the sweet-smelling goodness of Skinfood's Black Sugar Strawberry Mask Wash-Off.
To be honest, it feels like exfoliating the face with strawberry preserves – it smelled so good we were ready to eat it.
This product boasts Brazilian black sugar and strawberry seed oil as primary ingredients.
Unlike the sharp, unyielding shards of coarse scrubs, organic black sugar melts into wet skin, effectively removing dry flakes and dead skin cells without the risk of abrasion to the point of irritation. This can make it gentle enough for sensitive and acne-prone skins.
Another interesting (and surprising) ingredient of this exfoliator is strawberry seed oil. If you happen to wander more into the organic skincare aisle, you've probably heard this one before.
This "dessert" for the face doesn't only give off a fragrant smell, but it can also do wonders for the skin. This oil is abundant with fatty acids and antioxidants that can keep the skin youthful by preventing collagen degradation.
Moreover, it can diminish wrinkles and fine lines while protecting the skin against the adverse effects of harmful UV rays. In other words, this fruity oil can be a wonderful anti-aging agent.
Our thoughts on this product: It washes off easily without leaving any residue, and it also contains lanolin and other oils among in its formulation. So when you apply this mask, it's kind of like wearing a strawberry vaseline sheet mask, which is pretty great.
Your skin may feel soft and smooth after rinsing, but you'll need to absolutely follow up with moisturizer. Especially if you have very dry skin as this mask is very exfoliating.
It might also prove not suitable for oily skin. The thick film that is left behind for protecting after the exfoliation process might not be your skin's best friend.
---
The Mizon Honey Black Sugar Scrub is a multi-targeting sugar scrub formulated with a whopping 35% black sugar.
Black sugar can powerfully slough away blackheads, whiteheads, oil residues, and dead skin cells clogging pores.
The other entries here in our list features black sugar but what sets them apart from this one is the sugar's particle size. Well, this one's a bit coarser so people with sensitive, dry, and acne-prone skin should practice caution when using this exfoliator.
This product also uses glycerin, grapeseed oil, olive oil, and sunflower seed oil for hydration purposes. The combination of lemon and green tea extracts might calm troubled skin.
When we tried this exfoliator, we've discovered that it's very effective not only with regards to exfoliating and brightening the complexion. We liked how it can control the excess sebum production. So if you have oily skin, this one might be the exact product for you.
---
Neogen Bio-Peel Gauze Peeling Lemon is fifth on our list with regards to its form and convenience.
To start off, let us acquaint you with the specifics of this exfoliator. So the single-use gauzes inside the jar are soaked up in ready to use exfoliating juice that is made up of 3 layers. We have a cotton gauze, a cushion pad, and an embossed cotton pad.
The pad holds the goodness-filled essence used to exfoliate the face. To use, simply wipe the gauze side all over the face then flip it over to the embossed cotton side to slough off the leftover impurities. Then you can gently tap the essence into the skin.
We loved how you can control the degree of abrasiveness of this product by putting more or less pressure to get rid of deep-seated impurities and otherwise.
Concerning its effect, let's take a look at its formulation. The essence consists of lemon extract, papaya extract, soybean extract, lactic acid, and glycolic acid . And they can make a full-on recipe for great skin.
Lemon and papaya extracts can brighten skin due to their high Vitamin C content whereas soybean can help with increasing elasticity as well as moisturizing the skin. On the other hand, the acids can serve as exfoliators to gently lift skin impurities.
So far, we're satisfied with this innovative exfoliator. It did lighten pigmented spots, reduce breakouts, and moisturized well.
The Bottom Line
We think that the exfoliator must be moisturizing, hydrating, brightening, and nourishing.
Our top pick for the best Korean exfoliator is Skinfood's Black Sugar Mask Wash-Off Exfoliator. According to us, it encompasses all these attributes and more.
It's loved by many for its gentle exfoliating ability, courtesy of the organic black sugar granules, shea butter, and lanolin, which can make it suitable for all skin types.
We found this an ultra-nourishing and moisturizing exfoliator. It replenishes minerals, vitamins, and hydration that we all need. It has the unique ability to turn your dull and dry complexion into a smoother and softer skin.
We've managed to evaluate different product on our list through testing and researching the ocean of information for you.
We will be more than happy to be of help, as we think all the exfoliators on this list can address various conditions.
And if you want to get into the most effective skincare routine, check out our detailed guide here.