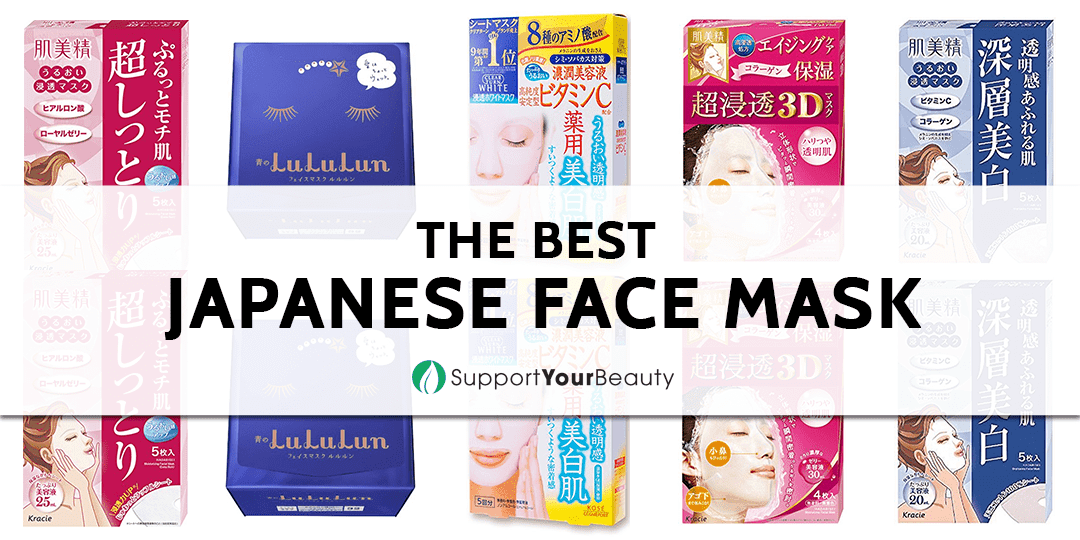 The Best Japanese Face Mask – 2018 Reviews & Top Picks
Do you want to breathe new life to the skin? It feels like the first time genuine healing. Bargain the best Japanese face mask products now!

Beauty trends come and go, but the face mask trend looks like it won't be leaving any time soon.
Japanese women, much like Korean women, prioritize skin care over any other beauty regimens.
Face masks are an essential part of Japanese women's skin care routine. Most of them use these masks in their daily or weekly routines.
In fact, most Japanese women we know of, even teenage girls, enjoy face masks every night after their bath.
It's one of the secrets to their flawless, bright, and porcelain-like complexion.

Face masks are easy to apply and deliver amazing results in a short time– that is, if you're using only the best ones available on the market. And that's where we come in to help you out!
More...
At First Glance: Our Top Picks for the Best Japanese Face Mask
OUR TOP #1 PICK - Our number one pick for the best Japanese face mask is Hadabisei Super Moist Facial Mask. Your face gets intense hydration from the hyaluronic acid and royal jelly in this face mask, which results in a radiant skin.
OUR TOP #2 PICK - Infused with hyaluronic acid, trehalose and yuzu extract, the LuLuLun Rich Moisture Facial Mask works to retain moisture while balancing the skin tone to eliminate skin dullness.
OUR TOP #3 PICK - The Kose Clear Turn White Facial Mask penetrates deep into the skin layers to ensure that moisture spreads evenly throughout the entire face. Not only does it hydrate, but it also gently bleaches the skin with vitamin C and tranexamic acid.
OUR TOP #4 PICK - Our fourth pick is one of Japanese women's favorite masks as it preserves their youthful glow. The Hadabisei Krasie 3D Aging Moisturizer Facial Mask uses collagen and castor oil that seeps beneath the skin and stimulate collagen production.
OUR TOP #5 PICK - Designed to bring out obvious brightening benefits to skin, the Hadabisei Whitening Facial Mask is blended with Japanese spring minerals, ceramide, castor oil, and lemon extract to provide an intensive essence treatment that penetrates deep into the core of the skin.
How to Learn From the Best Japanese Ways to Maintain Impeccable Skin?

When you walk into any Japanese drugstore or konbini (Japanese convenience stores), you'll likely be overwhelmed by the variety of face masks displayed on the shelves.
There are face masks for dry skin, oily skin, skin brightening, age defying, acne-prone skin, refreshing and energizing, etc.

But how to find a good Japanese face mask (whether or not you are in Japan)? So should you search for the best Japanese face mask brand, or what?

It's sure easy to get lost, but first of all, you need to know that you can trust Japanese.

That is one of the nations, which is probably most concerned about anything, regarding health and technology. And they are masters of merging these two things!

A good Japanese facial mask is one of the top 10 things to buy in Japan, and that's for many reasons. Japan cosmetics ranking is very high, and so more and more sections with Japanese cosmetics is available on the shelves of Western skincare aisles.
How to Discern a Good Mask From the Rest?

Face masks are thin fabric or plastic sheets that are infused with essences and serums designed to accomplish specific results. These are mostly presented in individually wrapped sachets.
Face masks are extremely popular nowadays because they're very easy to use and they deliver results fast.
By covering the skin with the masks, the fluids or essences contained in the sheets penetrate quickly into the skin, and you get amazing results in just less than an hour.
The effects depend on the kind of the face mask and the ingredients in it.
The trick in finding the best Japanese beauty face mask on the market is to scout for the popular and highly-acclaimed ones.
These masks are already tested and proven by beauty bloggers and even average women.
Do You Know Why You Need to Use a Face Mask?

And so should you use a face mask? Absolutely.
Face masks are one of the safest skin care products that are advisable for use by girls and women.
The best Japanese facial sheet masks can deeply hydrate, tighten, refresh, tone, and minimize the appearance of pores in the skin.
Women love face masks for different reasons. For us, we love face masks because it replicates the feeling of getting pampered in a luxurious spa.
Below are four reasons why you should apply face masks.
1. You Can Do What It Takes to Improve Your Skin for Good

We all know that face masks have excellent cleansing abilities.
When used regularly, face masks can effectively boost the skin's condition.
The effects given off by face masks are ingredient-specific.
For instance, mint-infused face masks stimulate blood to flow into the skin while honey face masks impart moisturizing benefits on the skin.
There are also face masks formulated with collagen that improves the skin's elasticity resulting to in a tight and firm skin.
Some of the best Japanese whitening face masks have vitamin C, tomato extract, and other natural ingredients that treat skin pigmentation.
With all the various compounds out there, face masks seem to have all the solutions for various skin problems.
But the sure thing about all face masks is they will leave the skin supple, smooth, and hydrated after every use.
2. It's Mind Blowing to Know How Your Pores Are the Secret

Face masks can effectively unclog and minimize pores.
Pores enlarge when they become clogged with minute particles of dirt and oils. They tend to accommodate these impurities; thus they become bigger and more noticeable.
Since face masks are adhesives, pore impurities such as whiteheads, blackheads, dirt, and oils naturally adhere to it.
Imagine how great and relaxing it is to get deep-seated dirt in the facial skin sucked up by a face mask after a long day of exposure to pollutants.
Regular use of face masks prevents bacteria from setting long enough in the pores to cause unwanted breakouts and acne.

We have to admit we are totally willing to fill up our Japan must buy bag all the way!
3. And What About the Importance of Deep Cleansing?

Face masks remove all adhering pollutants from the epidermal skin or the skin surface.
Not only do face masks unclog pores in the skin's surface, but they also go beyond the epidermis. They may even remove impurities from the adjacent layers beneath the skin.
Some people even consider using face masks as a skin detoxifier because it doesn't just concentrate on the surface, it goes way beyond.
4. Do You Want to Enjoy a Therapeutic Effect to the Fullest?

We love face masks because they're simply relaxing. In fact, it's therapeutic for us.
We're in love with Japanese products because they're naturally scented. Botanical oils and fruity fragrances are what make the entire process very therapeutic for the mind and body.
Indeed, face masks are amazing products because they improve the skin's condition and feel relaxing at the same time.
Long and exhausting days deserve a face mask session. So go on, warm your tub water, light a scented candle, put a face mask on, and just indulge.
The Best Japanese Face Mask For Boosting Your Good Mood
---
The Hadabisei Super Moist Facial Mask is our top pick on our list because it's designed to hydrate and moisturize the skin during cold weather, especially in the winter season.
A huge number of face masks serves to hydrate the skin, but only a few provide lasting hydration. That's why we picked this particular product.
This excellent mask contains hyaluronic acid, royal jelly, and lemon extract. This intensive trio is packed into a creamy essence that slips on luxuriously to bring real benefits to dry skin.
First off, hyaluronic acid has a lot of benefits, making it one of the most effective skin care ingredients.
Hyaluronic acid is a humectant, meaning it secures moisture from applied substances and from the environment to provide lasting hydration to the skin.
Furthermore, hyaluronic acid strengthens the skin's barrier, smooths skin texture, and tightens the skin.
It also has age-defying properties because it stimulates collagen production, leading to increased elasticity, which contributes to a visible reduction of fine lines and wrinkles.
We're in love with this product because it has royal jelly. Expensive anti-aging creams contain this ingredient due to its miraculous benefits.
Royal jelly doesn't only reduce skin aging signs, but it also heals the skin – acne, scars, inflammation, you name it.
Additionally, it contains antibacterial agents, and it also offers minerals, fatty acids, and vitamins which are all beneficial to the skin's health.
We tried this mask and are happy with its fabulous results.
One of us had sensitive and dry skin, and she found this very hydrating – the moisture even holds up until the next day.
We're also amazed by the generous amount of serum in each mask. Here's a tip: Stuff the used mask in the freezer for a second use.
---
You'll immediately fall in love with the cute and perky packaging of the LuLuLun Rich Moisture Facial Mask without even knowing what it does.
Packaging aside, this mask also works to hydrate dry skin and restore its health.
Similar to the Hadabisei Rich Moisture, this mask also contains hyaluronic acid to secure moisture and royal jelly to defy aging and heal the skin.
Its distinct ingredients include sugar compounds (glycosyl trehalose & glyceryl glucoside), sugar alcohols (hydrogenated starch hydrolysates), yuzu, and sweet marjoram.
Sugar compounds such as trehalose and glyceryl help hydrate the skin with their water-binding properties. Also, sugar alcohols retain moisture, soothe sensitive skin, and prevent irritations.
Yuzu is an interesting ingredient of this mask. It's a type of citrus fruit which has a ton of antioxidants and vitamin C.
Antioxidants fight free radicals that subject the skin to premature aging, while vitamin C lightens the skin and gets rid of acne scars.
Another special ingredient of this mask is sweet marjoram oil. This oil balances the skin tone, whitens the skin, and improves dull complexion.
What we love about this mask is it wears and fits comfortably on the face. We also observed a noticeable reduction in some red spots caused by acne.
---
For instantly bright skin, you might want to try our third pick, the Kose Clear Turn White Facial Mask.
This mask specifically targets acne scars and blemishes while providing much-needed nutrients to the skin. That's why we picked it as one of the best on our roundup.
The beauty serum penetrates deep into the skin layers to ensure that moisture spreads evenly throughout the face.
Loaded with vitamin C, tranexamic acid, collagen, hyaluronic acid, and glycerine, this terrific mask brightens the skin while hydrating it as well.
What makes this mask a crowd favorite is it works to lighten the skin. Vitamin C and tranexamic acid are two highly potent skin bleaching compounds.
Vitamin C can effectively fade away sunspots while tranexamic acid is a strong bleach. Tranexamic acid also reduces skin redness.
On the other hand, collagen boosts skin elasticity while hyaluronic acid and glycerine team up to provide hydration.
This mask is also fragrance, mineral, and alcohol-free which may make it suitable for all skin types, even for those suffering from very sensitive skin.
A great feature of this mask are the flaps found on each eye hole which you can adhere to the skin under your eyes to reduce puffiness and lighten them as well.
We tried this mask for days, and we love the energizing effect it gives. Additionally, we have observed noticeably brighter and firmer skin after a week-long use of this mask.
---
Here comes another Hadabisei mask which is nothing short of spectacular - the Hadabisei Krasie 3D Aging Moisturizer Facial Mask.
This mask uniquely features an innovative shape that fits snuggly on facial curves including the sides of the nose.
Finally, a mask that covers and cleanses the nose's side angles, which most face masks cannot reach.
Among the ingredients of this product are glycerin, castor oil, collagen, and citrus fruit extract.
Glycerin, as we're already familiar with, draws in moisture to keep the skin hydrated. In contrast, castor oil fights acne, fades blemishes, alleviates inflammation, and reduces pigmentation.
Castor oil also penetrates deep into the skin and stimulates collagen production to delay the appearance of fine lines and wrinkles for a youthful glow.
Naturally, we put this mask on to test its claim to reduce the signs of aging.
We used it twice a day (morning and night) for three days, and we noticed fewer lines forming on the forehead when raising the eyebrows.
Another nice thing about this mask is it leaves essence residues which you can freely massage on the face for better absorption.
---
Designed to bring out visible brightening benefits to skin, the Hadabisei Whitening Facial Mask is infused with an intensive essence treatment that rapidly penetrates deep into the skin.
It contains natural minerals extracted from spring water and skin care ingredients such as ceramide, collagen, castor oil, and lemon extract to brighten, tighten, and smooth out rough skin texture.
Sulfur, which is sourced from Japanese spring water, eases irritated skin and protects the skin against environmental toxins.
This mask also has synthetic ceramide in its formula to effectively hold moisture in the skin for longer hours.
It also contains collagen and castor oil to increase the skin's elasticity, and lemon extract to brighten the sun spots and scars.
So far, it delivered great results – it balanced the skin tone, it reduced the appearance of freckles, and it lightens gently without any irritation.
The Bottom Line
Face masks dominate the skincare market. You'll always find the best Japanese face masks displayed on drugstore shelves, online shops, and Asian cosmetics shops.
With a broad range of face masks designed for achieving specific results, it's quite challenging to look for the best given that there's, like, a hundred or more different varieties out there.
Choosing the best one from the bunch, therefore, depends on the fame and positive reviews garnered by certain face mask brands.
With regards to popularity and quality, nothing can rival the Hadabisei Super Moist Facial Mask.
This stellar mask aims to provide intense hydration, defy aging signs, heal, and protect the skin.
It contains hyaluronic acid, which is a potent humectant or moisture absorber designed to lock moisture into the skin for longer hours.
Additionally, hyaluronic acid stimulates collagen production to tighten and keep the skin firm.
Perhaps, this mask's most important ingredient is royal jelly. Royal jelly heals acne and scar-ridden face by injecting antibacterial compounds and beneficial minerals into the skin.
Truly, this mask may improve the skin's overall condition. We're also happy with the abundance of the serum in each mask because the more, the better.