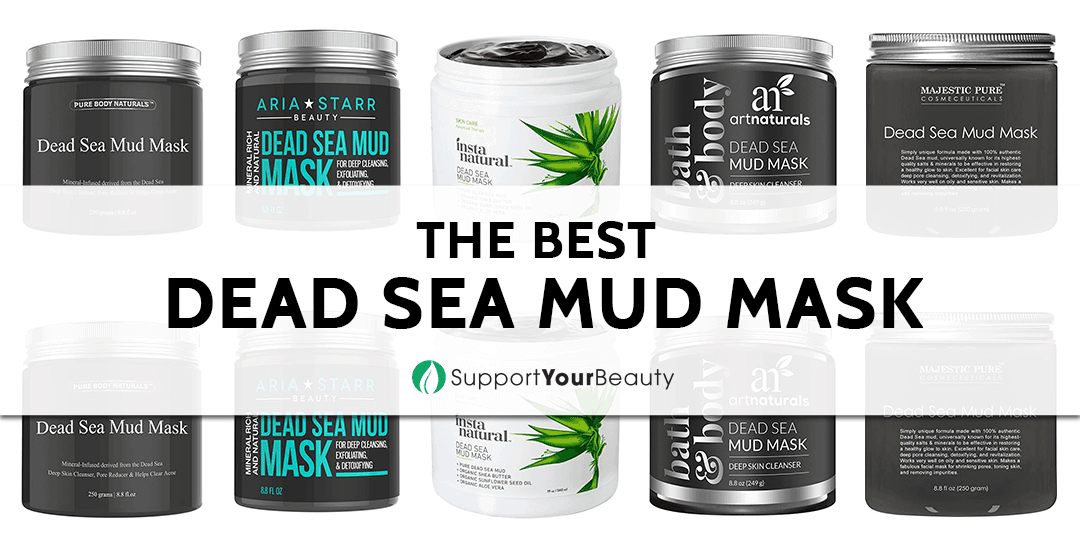 The Best Dead Sea Mud Mask – 2018 Reviews & Top Picks
In line with our goal of providing you with products that will help you get clean and smooth skin, we've rounded up 5 of the best dead sea mud mask products. These face masks made our list thanks to their ability to remove excess oil and dirt from your face, soften your skin, and help improve various skin conditions. We believe these products will be secret weapons in your beauty arsenal.
Some beauty products are heavy on the promises, but low on results.
Every year, it seems like there's always a new "it" ingredient that claims to make skin clearer and smoother but has yet to deliver on anything it promises to do.
Some ingredients are so bizarre that one can't help but raise an eyebrow at them. Placenta and guano, anyone?
However, there remains one simple beauty secret that has been proven to detoxify and improve skin health—Dead Sea mud.
Some who have been lucky enough to go to Israel to indulge in a Dead Sea mud bath have attested to the special mud's skin-friendly properties.
But you don't need to go that far to get your Dead Sea mud fix. Here, we give you our top five best Dead Sea mud masks.
More...
Quick Overview: Our Top Picks for the Best Dead Sea Mud Masks
OUR TOP #1 PICK - one on our top 5 list of the best Dead Sea mud masks is Pure Body Naturals Beauty Dead Sea Mud Mask. This potent mask pulls out excess oils and toxins from the skin while nourishing it with natural plant oils.
OUR TOP #2 PICK - Next up is Aria Starr Beauty Dead Sea Mud Mask. Formulated to fight blackheads and acne, it exfoliates and deep cleanses to give you even-toned and clear skin.
OUR TOP #3 PICK - ArtNaturals Dead Sea Mud Mask is third on our list as it detoxes your skin while moisturizing and revitalizing tired and dull complexions. It may also help diminish the signs of aging, resulting in younger looking skin.
OUR TOP #4 PICK -Taking the fourth spot on our list is Majestic Pure Dead Sea Mud Mask. It's suitable for all skin types, and it can be used as a blackhead remover mask.
OUR TOP #5 PICK - Last, but not the least, is InstaNatural Dead Sea Mud Mask. This mineral-rich mask contains organic ingredients including shea butter and aloe to moisturize and soothe skin.
What is Dead Sea Mud?
Dead Sea mud comes from the Dead Sea, a lake which sits between the West Bank, Israel, and Jordan.
The Dead Sea is the deepest hypersaline lake in the world and is one of the world's saltiest bodies of water.
Scientists have found that the mud found on the banks of the lake contains high levels of sodium, bromides, magnesium, and phosphates.
Further research showed that the Dead Sea mud improves the symptoms of psoriasis, and it can also moisturize skin.
Moreover, it was discovered that it contains acne-fighting ingredients, making this mud a favorite beauty product all over the world.
What Are The Benefits of Dead Sea Mud?
Doctors have prescribed the Dead Sea mud pack therapy as an alternative treatment for certain ailments.
Some who have certain skin disorders such as psoriasis, eczema, and acne turn to Dead Sea mud to control these skin problems, as the mud's high mineral content exfoliates and restores the skin's pH balance.
It is also touted as a good natural treatment to prevent hair loss. The thick goop is also said to improve the appearance of cellulite as it stimulates circulation and flushes toxins out through the pores.
Moreover, researchers from Ben Gurion University found that patients who used Dead Sea mud compress had less knee pain from osteoarthritis.
As a facial mask, Dead Sea mud may improve the skin's elasticity, reduce the size of pores, and minimize wrinkles and lines.
It may also freshen skin and keep it clear with continued use.
How To Use and Remove a Dead Sea Mud Mask
If you've never used a Dead Sea mud mask before—or any other mud mask for that matter—don't worry. This thick, dark, pudding-like substance is easier to use than you think.
If you're a purist, you're probably thinking of getting a plane ticket to Israel or Jordan and rolling around the banks of the Dead Sea every day to get clean, fresh skin.
That's one way to do it. But if you're looking to save time and money, consider using a Dead Sea mud mask in the comforts of your home.
There are lots of Dead Sea mud masks available on the market, but you have to make sure that those jars actually contain the real thing, as some are just clay masks labeled "Dead Sea mud."
Next, prepare to get messy. You'll be surprised at how it can stain anything.
First, wear something that you don't mind getting mud on. An old t-shirt will do.
Next, pull back your hair and wash your face. The Dead Sea mud works better on a clean face.
Apply a thin coat of the mask on your skin, taking care to avoid the eye area, nostrils, and lips. Let the mask dry, and let it sit for about 15 to 20 minutes.
Wash it off with lukewarm water. You can also get the mud mask off by gently wiping it away with a wet washcloth.
Product Reviews: Our Top 5 Best Dead Sea Mud Masks
---
This product is our number one pick on our list of the best Dead Sea mud masks as this multitasker delivers a lot of benefits.
Apart from minimizing pores, reducing wrinkles, and improving your complexion, it may also pull out toxins from the skin and heal your acne, blackheads, and acne scars.
In addition to Dead Sea mud, this mask contains kaolin clay, shea butter, and sunflower oil.
Kaolin is a white clay that reduces the oiliness of the skin. It's also a gentle facial clay, so it's less likely to irritate sensitive skin.
Shea butter has fatty acids and vitamins that nourish and moisturize the skin. It also softens and strengthens the skin, which may lead to fewer wrinkles over time.
Meanwhile, sunflower oil is high in vitamins A, C, D, and E. It also helps skin retain moisture and is an excellent antioxidant.
We applied the thin, dark gray mud on our face with a mask brush, and we liked how it didn't have a strong scent.
Because the mud mask's consistency is quite thin, we had to apply several layers of it to get it to cover our skin completely.
After rinsing it off with lukewarm water, our skin looked clean and soft. Our face felt a bit tight though, so we followed up the treatment with some moisturizer.
---
Next on our list of the best Dead Sea mud masks is this professional-grade formula that fights acne and blackheads while moisturizing skin.
Aria Starr Beauty Dead Sea Mask contains the highest quality Dead Sea mud, which stimulates circulation and helps to keep skin clear.
It also contains aloe vera and jojoba oil, long used as natural healing and beautifying agents.
Aloe vera has been used as a natural moisturizer and healing agent for centuries, and it is often used to heal scrapes, cuts, and wounds.
As an ingredient of this mask, it may help improve acne and even hydrate skin.
Jojoba oil has antibacterial properties, which may help control acne. It also soothes irritated skin and fights fungi and infections.
This Dead Sea mud mask has a soft floral scent, and the gray mud felt cold on our skin upon application.
After 15 minutes, we rinsed it off, and it our face felt incredibly soft. However, the mask left a slight film on our skin.
---
The third mask on our list is one of our favorites because it's formulated to work on skin problems beyond the usual oiliness or dryness.
ArtNaturals Dead Sea Mud Mask contains Dead Sea mud, along with ingredients that may improve other skin conditions such as eczema, dermatitis, psoriasis, and even cellulite.
Shea butter, sunflower oil, and kaolin clay work together to address these skin problems.
Kaolin coaxes toxins out of the skin, while shea butter stimulates collagen renewal.
Sunflower oil contains linoleic acid, which may be useful in decreasing skin inflammation.
The mud mask has a thick and very wet consistency, and it was easy to spread the greenish-gray mask all over our face and neck with our fingers.
After a few minutes, our skin started to feel a tingling sensation that was not unpleasant at all.
We loved how it reduced our facial redness, and our pores looked thoroughly clean.
This product may or may not work for very dry skin, but if you have this skin type, we suggest leaving the Dead Sea mud mask on for less than 10 minutes and applying a rich moisturizer after your beauty treatment.
---
Making it to the fourth spot on our list is a Dead Sea mud mask that is suitable for all skin type, and aside from being a facial mask, it may even be used to lessen aches and pains.
Majestic Pure Natural Dead Sea Mud Mask contains pure Dead Sea mud, which has a high concentration of salts and minerals that remove impurities from the skin.
When used as a full body mask, this mud mask may even help address aching muscles and joints.
It contains calendula oil, which is an excellent moisturizer for dry or chapped skin. It's also great for reducing pain and inflammation.
This product also has the moisturizing properties of sunflower oil and shea butter, while kaolin clay pulls out dirt and impurities from the skin.
We love this mask because out of all the products on this list, this one can be used when you're in a hurry because you only need to let it dry for five minutes.
It has an earthy smell and a dark gray color, and this mask's consistency is thicker than the other products that were mentioned above.
It imparted a cooling sensation, and after we had rinsed the mask off, our skin felt toned and tight, and the lone pimple on our chin even seemed to be less swollen.
The cooling sensation may be too much for those with sensitive skin or rosacea, and this product shouldn't be used during pregnancy.
---
Last but definitely not the least on our roundup of the best Dead Sea mud masks is InstaNatural Dead Sea Mud Mask.
This natural and organic mask won our hearts as it's suitable for oily and sensitive skin.
It also contains no parabens, sulfates, mineral oils, or synthetic dyes which may potentially harm your skin.
Dead Sea mud absorbs excess oil and dirt from the face, while calendula oil and hickory bark extract soothe and purify the skin.
The mask also has moisturizing properties as it contains jojoba oil, organic shea butter, and aloe vera.
The mud mask has a charcoal gray color and a thin consistency. We applied a thin layer on our face, and It felt cold upon application.
Patches of skin showed through the mask as it's very thin, but we remedied that by applying more mud on those patches.
After 10 minutes, we rinsed off the mask, and our skin felt a little dry. It didn't get rid of our facial redness, but it did make our pores look smaller.
The Bottom Line
For its ability to deliver multiple benefits to various skin types, our top pick on this roundup of the best Dead Sea mud masks is Pure Body Naturals Beauty Dead Sea Mud Mask.
It draws out dirt and toxins and leaves skin smooth and clear. With continued use, it may even minimize fine lines and wrinkles.
This rich, dark mud also nourishes and moisturizes skin, and it's not too harsh even on sensitive complexions.
This Dead Sea mud mask, along with the other products on this list, may give you clean and toned skin -- and you don't even have to make the trip to the Dead Sea for it.