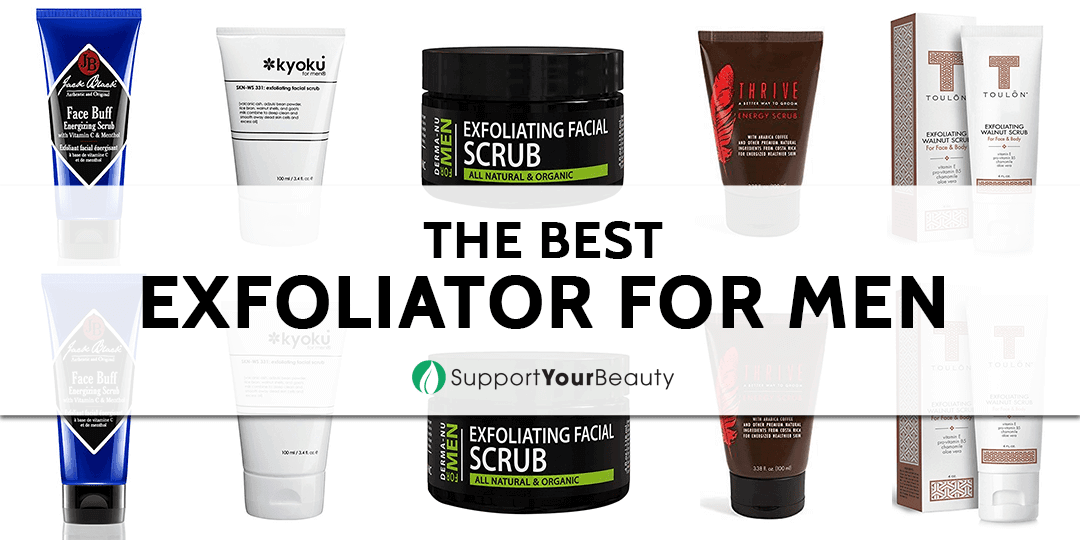 The Best Exfoliator For Men – 2018 Reviews & Top Picks
Learn how to maintain a healthy skin regardless of the gender. How to find the best exfoliator for men? We have all the info you'll ever need!

Exfoliation is important for everyone, not just women. When dead skin cells remain on the surface of the skin, pores can easily be clogged. Since men aren't immune to acne or dead skin, men should be exfoliating, as well.
To learn more about exfoliating and the best exfoliators for men, continue reading. We have gathered the top five best exfoliators and have tips for keeping your skin healthy and fresh.​
More...
Quick Overview: Our Top Picks for the Best Exfoliators for Men
OUR TOP #1 PICK - Number one on our list of best exfoliators for men is Jack Black Face Buff Energizing Scrub. This facial exfoliator will gently remove dead skin, as well as clean deep down into your pores to remove dirt and oil. It is a great product to use before shaving.
OUR TOP #2 PICK - The second product on our list is Kyoku for Men Exfoliating Facial Scrub, because it uses Japanese Adzuki bean powder to exfoliate skin, while volcanic ash removes oils and toxins from your skin. This exfoliator also helps curb excess oil production, prevent wrinkles and heal blemishes. Moreover, it contains vitamins that nourish skin.
OUR TOP #3 PICK - Toulon's Exfoliating Walnut Polish made the list due to its high-quality ingredients. With aloe vera, vitamin E, chamomile, and walnut, this product will very gently exfoliate skin at the micro level, while helping to improve acne breakouts. Another reason this product made our list is that it helps prevent wrinkles.
OUR TOP #4 PICK - Fourth on our list is Thrive Energy Scrub, because of its natural and vegan-friendly properties. It doesn't contain animal products and is never tested on animals. We also love that this product contains coffee grounds that help energize skin, without causing irritation or dryness.
OUR TOP #5 PICK - The last product on our list is Derma-Nu for Men Exfoliating Facial Scrub. This exfoliating scrub will keep skin smooth by using jojoba beads to remove dead skin cells. It is also completely natural and mostly organic, which makes it safe for your skin.
Why Do Men Need to Exfoliate?
Everyone should exfoliate their skin; it keeps dead skin cells from clogging pores and creating acne.
It also will prevent skin cells from gathering on the surface of the skin in uneven patches which will manifest in dry patches of skin. Getting rid of dead skin cells will lead to better, healthier-looking skin.
Since new skin cells are made in the lowest level of the skin and migrate to the surface level, it is important that you remove the outer layer of skin from time to time to allow the younger skin to reach the surface of the skin.
Exfoliating is especially important for men because it exposes the follicles of your hair, which means that you can get a better, closer shave.​
Plus, using warm water during the exfoliation process can open pores to prevent the razor from missing ingrown hairs during the shaving process.
If you have dry skin, exfoliation is crucial, because it will help remove the dead skin cells that are sitting on the surface of the skin.
Not only will this help improve the look of your skin, but it will also prevent the problem from worsening or causing acne.
If the exfoliator doesn't contain any ingredients that will help moisturize skin, you will also want to use a moisturizer to prevent further issues.
Those with oily skin may also benefit from a good exfoliant.​
Exfoliation will help get rid of dead skin and control the production of oil. Overall, this will lead to smoother skin with a clearer skin tone.
You may want to consider exfoliating your skin two to three times a week. If you have thin, sensitive skin, you may want to test out skin exfoliation and see how many times a week you can safely exfoliate your skin.
Regardless of your skin type, be sure you don't-over exfoliate, because that can lead to dry, irritated, sensitive skin.
A couple of quick tips for exfoliating: cleanse your skin before you exfoliate and moisturize after. You may want to consider using a toner before you moisturize to get thoroughly clean and refreshed skin.
How to Choose the Best Exfoliator for Men?​
To choose the best exfoliator for you, you should first consider your skin type.
Certain ingredients tend to be more helpful for dry skin, while others are better for oily or normal skin. Plus, sensitive skin may need less exfoliation with gentler ingredients.
While aloe vera is a great product for every skin type, not all ingredients are similarly compatible or beneficial.
If you have sensitive skin, you may want to avoid products that exfoliate using harsh scrubbers, such as walnut shell.
Harsh ingredients such as alcohol may be problematic for sensitive skin, as well as artificial colors, fragrances, and preservatives.
Those with dry skin may want to avoid products with alcohol, as it is known to cause dryness.
Glycolic acid is good for dry skin because it is a gentle exfoliator that helps hydrate skin and keeps it that way all day.​
If you have oily skin, find a product that contains coconut or jojoba oil to moisturize skin, without making it greasy or causing excess oil production.
You may also want to consider a product that has tea tree oil as it helps zap acne and soothe skin.​
Product Reviews: Our Top 5 Best Exfoliators for Men
---
Jack Black Face Buff Energizing Scrub topped our list of the best five exfoliators for men because it uses bamboo powder to gently exfoliate skin while making sure that all the gunk deep inside pores is cleaned out.
Plus, the use of bamboo powder is much more eco-friendly than the plastic micro-beads that are used in many scrubs.
Another reason to love this scrub is that it has anti-aging benefits due to the vitamin C and licorice extract in it.
These ingredients help tone and firm skin, as well as make wrinkles disappear to make the surface of the skin appear smoother and younger.
This product is both paraben- and colorant-free, as well as cruelty-free because it is never tested on animals, so you won't feel guilty about using it.
Another reason to love this scrub is that it may help prepare your skin for shaving.
This scrub will allow your razor to get closer to your skin for a better shave, and it prevents ingrown hairs because it opens up pores before shaving.
---
The next exfoliator on our list is Kyoku for Men's Exfoliating Facial Scrub due to its volcanic ash, which helps draw toxins and excess oil in the skin to the surface so it can be washed away more quickly.
This exfoliator may help make skin look and feel healthier as it gently removes dead skin cells and ingrown hairs with Japanese Adzuki bean powder.
This exfoliant also helps get rid of blackheads that make pores look large. This powder is a gentle exfoliator that is known for not causing damage to the skin.
While these ingredients fight acne and dry skin, rice bran, which has vitamins A and E, works to keep wrinkles at bay.
After using this product, we have found that it is suitable for all skin types, and it is very easy to use.
---
The Exfoliating Walnut Polish from Toulon came in third on our list of the best exfoliators for men as it uses natural walnut shells as an exfoliating agent that will remove dry skin from your face.
While walnut shells are a good natural exfoliating agent, they can be a little abrasive, especially for those with sensitive skin.
With vitamins E and B5, as well as chamomile and cucumber, your skin will get a dose of vitamins, and any redness and irritation will be soothed.
Plus, these ingredients also help keep skin hydrated.
We love that this exfoliator helps rid the skin of blackheads and other acne by cleansing your skin deep below the surface with vitamin C and hyaluronic acid.
Another reason why we like this product is that it is paraben-, gluten-, fragrance- and cruelty-free, as this exfoliator is never tested on animals.
---
Thrive Energy Scrub is the fourth exfoliating product on our list because it contains coffee grounds to liven up the skin and protect it from irritation, but it won't dry it out with harsh chemicals.
Thrive's Energy Scrub contains Costa Rican plant oils that help keep skin hydrated. There are different oils in this product, including grapefruit, orange, lemon, star anise, and clove.
Unfortunately, the clove and anise are very strong so that the smell can be a little overwhelming.
Fortunately, there are no artificial colors or fragrances in this product, because the oils give the scrub all it needs in the scent and coloration department.
We also love that this exfoliator is completely natural and adheres to strict quality standards when it comes to environmental impact and safety.
It is also both vegan and gluten-free, as well as GMO-free. This exfoliator is also never tested on animals.
---
Last on our list of the best exfoliators for men is Derma-Nu for Men Exfoliating Facial Scrub.
With 71% organic ingredients, this scrub is gentle enough to use on sensitive skin but tough enough to remove dead skin cells and prevent ingrown hairs.
We're big fans of this product because it doesn't contain a lot of the harmful toxins and chemicals that some other exfoliators have to remove dead skin. It also doesn't contain the preservatives that are found in similar products.
This exfoliator contains jojoba beads that naturally remove dead skin cells along with the pumice in the formula.
After exfoliating, the plant oils may help nourish and moisturize even the driest skin.
The Bottom Line
Our number one pick for the best facial exfoliator for men is Jack Black Face Buff Energizing Scrub, which contains bamboo powder to gently, but effectively slough away dead skin cells on the face without causing any further damage to skin.
We also love that it may help both aging and acne-prone skin look healthy. Ingredients like vitamin C nourishes skin and keep it looking fresh.
Every product on this list was tested and selected as products that may help remove dry, dead skin and provide additional skin benefits.​