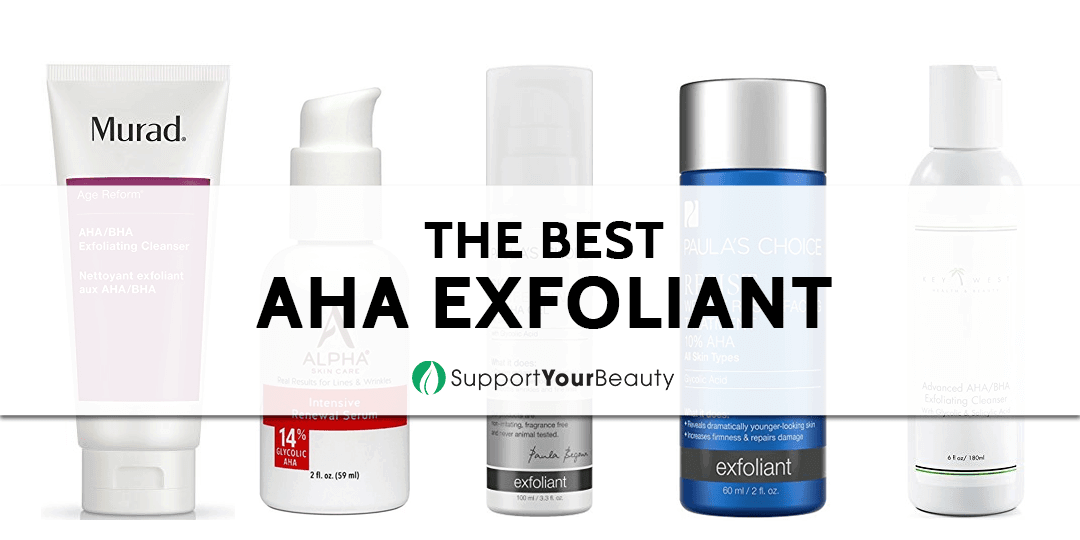 The Best AHA Exfoliant – 2018 Reviews & Top Picks
In order to help you make way for a soft, young and refreshed skin, we've composed a list of the best AHA exfoliant. These products made our list because of their effectiveness in fighting acne and the signs of aging. We believe these products will be your skin's new best friends.
AHA stands for Alpha hydroxy acid. It is widely used in anti-aging products. While it works great for exfoliating, it may help fill in fine lines and wrinkles.
We think AHAs are some of the best exfoliators around. They are gentler than sugar or salt scrubs.
You can find them in many beauty products. Let's take a good look at the top choices for Best AHA Exfoliants.
More...
Quick Overview: Our Top Picks for the Best AHA Exfoliant
OUR TOP #1 PICK - Our number one option is Murad AHA/BHA Exfoliating Cleanser. It combines glycolic, lactic and salicylic acid. These three ingredients may help exfoliate and hydrate skin. Meanwhile, they can treat acne and diminish wrinkles.
OUR TOP #2 PICK - Second on our list is Alpha Skin Care Intensive Renewal Serum. Glycolic acid is 14 percent of its content. This product may boost the production of collagen and make skin look younger and smoother. It is also fragrance-free so that we can be less prone to irritation on sensitive skin.
OUR TOP #3 PICK - Paula's Choice Skin Perfecting 8% AHA Gel is our third choice. It contains eight percent glycolic acid. The soothing botanicals of its formula are also valuable. We selected this gel for its light character that can prevent wrinkles and fine lines.
OUR TOP #4 PICK - Number four on our list is Paula's Choice Resist Weekly Resurfacing Treatment. We chose this product because it targets dry skin. It contains glycolic acid to help exfoliate and make you look younger and fresher.
OUR TOP #5 PICK - Rounding out our list is Advanced AHA/BHA Exfoliating Cleanser. Glycolic and salicylic acid are the main ingredients of its formula. These may be beneficial enough for treating acne.
What are AHAs?
Many of the food products we consume daily, contain Alpha Hydroxy Acids.
They are used in the beauty industry to prevent the signs of aging. To exfoliate, AHAs remove the top layers of dead skin cells.
Thus, a new healthy top can be formed.
AHAs may dissolve what is already unnecessary. We can get no more dull skin that causes acne.
As a result, the skin can look brighter and smoother. You can kiss wrinkles goodbye by boosting the production of elastin and collagen.
The most common AHAs include citric acid, glycolic acid, malic acid, lactic acid and tartaric acid.
Citric acid is derived from citrus fruits. Oranges and lemons are abundant in it. Malic acid is found in apples, while tartaric acid is found in grapes.
Glycolic acid comes from sugar cane. Sour milk is where lactic acid exists. Surprisingly, these acids not only exfoliate skin, but they also help to keep it hydrated.
Often, AHAs are used to treat acne and the signs of aging. They are extremely versatile.
Since these are great exfoliating ingredients, they can treat dark spots and melasma. They can even remove pesky blackheads.
While each of the AHAs listed are similar, they do have differences. Their concentration may vary, as well as their pH levels.
The percentages of AHAs in the content can significantly affect how well and how quickly they work.
Advice for Finding an AHA Exfoliant
We suggest you consider a product that will meet your specific needs. In our opinion, AHAs are great for the exfoliation of skin and helping fight the signs of aging.
But you may want to look for a product that contains other ingredients to further your cause.
If you want to fight the aging effect, you may want to look for a product that contains hyaluronic acid or retinol. Surprisingly, Hyaluronic acid is helpful for people with dark spots, too.
Green tea and Aloe vera are also good ingredients for people who wish a younger looking skin. Aloe vera is effective for treating acne and soothing irritated skin.
For people who want to treat acne, consider a product that contains salicylic acid.
Such a product may be enriched with oils like jojoba and olive oil. These can help hydrate the skin without clogging pores.
Chamomile is another ingredient that helps soothe red, irritated skin. Along with Green tea and Aloe vera, it may nourish you with vitamins and minerals.
Willow bark and licorice root extracts can help prevent irritation.
The main thing to remember is that you need to keep the levels of moisturization high. We encourage you to choose your beauty arsenal accordingly.
Product Reviews: Our Top 5 Best AHA Exfoliants
---
This is the number one on our list of best AHA exfoliants. It has the ability to clean, exfoliate and smooth out skin.
With glycolic acid and jojoba oil, this product can get rid of the dead and dry skin. Then it can be replaced with a new soft, and smooth layer.
When we tested the products, this one became our favorite due to its success with combination skin. It can help control oil production in certain areas of the skin. Meanwhile, it can manage to hydrate the dry portions.
This cleanser contains Lactic, Glycolic and Salicylic acids. These help exfoliate dry skin while battling acne and wrinkles.
It is made to fight different skin issues all while being gentle.
We liked that this cleanser was tested by dermatologists. It is referred as suitable to use daily on all skin types. Unfortunately, however, this product isn't without flaws.
It may lead to dryness and breakouts for some people. These issues are most likely to occur on those with extra sensitive skin.
---
We listed this serum second because of its level of glycolic acid. Of all the products on this list, this one had the highest.
14 percent glycolic acid can equal a powerful treatment. Collagen production can be boosted.. This process can assist the skin look younger from the inside out. So long to the nasty wrinkles.
It doesn't contain any oils, artificial fragrances or parabens. The chances of clogged pores and irritation are lowered to the minimum.
We like the smoothness skin feeling. We love when it's so nice to the touch.
---
Third on our list is a gel with light and gentle formula. It is hydrating to dry, irritated skin. We've got eight percent glycolic acid and different antioxidants from a variety of plant extracts.
It contains chamomile and aloe vera, both of which are known for soothing and calming damaged skin. They are also both great at hydrating.
In addition to these two ingredients comes Green tea. Its nutrients may leave skin healthy at a cellular level. We all agree that this is the most hydrating of all the AHA exfoliants on this list.
This gel is gentle enough to be used twice a day. You can include it to the regular cleansing and toning activities.
We advise you to moisturize afterward to prevent over-drying skin.
---
Number four on our list is Paula's Choice Resist Weekly Resurfacing Treatment. We like that it is tough, but doesn't irritate or damage skin.
It can help to reduce the appearance of wrinkles and dark spots. This can contribute to a youthful appearance.
With 10 percent glycolic acid, this treatment helps zap fine lines. It can make skin look smoother and healthier. The antioxidants may also contribute to keep skin fresh.
We love that this product doesn't contain artificial fragrance and it isn't tested on animals. We also like that the formula was proven to be non-irritating in clinical trials.
It was created specifically for normal to dry skin. It is not suitable to apply daily. Every other day is the most often it should be used.
If there is sensitivity, you may want to drop it to a once a week application.
---
We chose this product because it contains both glycolic and salicylic acid. Both of these acids can help exfoliate the skin. They may also contribute to clear acne and reduce the appearance of wrinkles.
We liked that this product can address a variety of different skin issues. These include, but are not limited to dark spots, wrinkles, fine lines, and acne.
This cleanser contains Jojoba oil, Olive oil, and Tea tree oil. All of these ingredients can help hydrate skin. At the same time, they may provide valuable nutrients.
Lastly, we like the gentleness of this product. With three-quarters of the ingredients being organic, it is less likely to irritate.
Unfortunately, it does contain artificial fragrance.
The Bottom Line
Our number one pick for the best AHA exfoliant is Murad AHA/BHA Exfoliating Cleanser.
We selected this product because it contains Glycolic, Lactic and Salicylic acids. It may provide us with proper exfoliation. Moreover, it can prevent acne and reduce the appearance of wrinkles, all while hydrating skin.
Each exfoliant on this list is a great option for people who want to achieve a youthful appearance. Thus, your skin can become healthier.
We recommend any of these AHA exfoliants in order to slough off dead cells. This is the only way to make place for a new layer.
Share your impressions with us in the comments section.