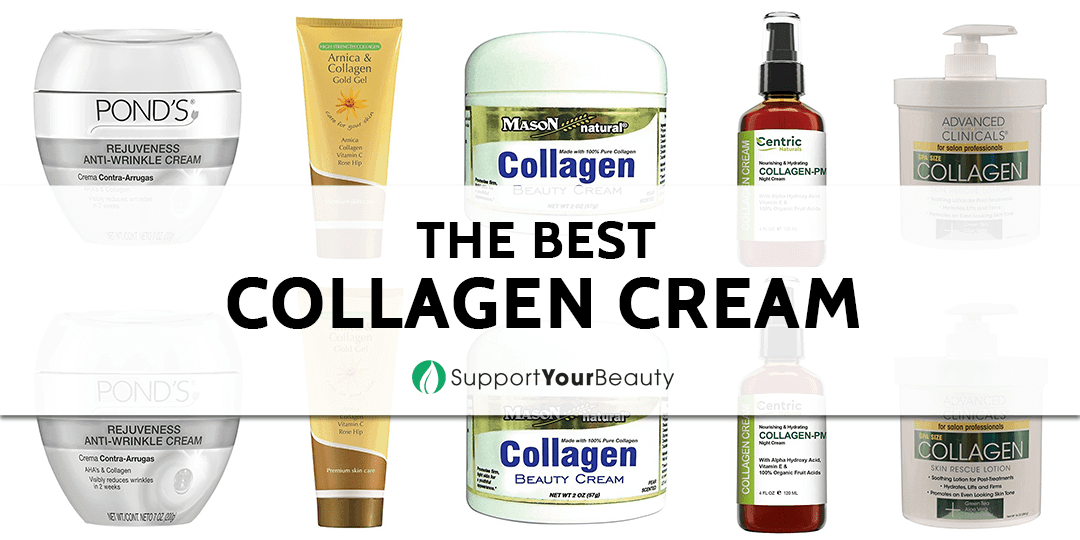 The Best Collagen Cream – 2018 Reviews & Top Picks
We want you to know the genuine truth about collagen. Don't settle for anything but the best collagen cream. Read on and make a step ahead!

Nowadays, when people are mostly attuned to taking care of their bodies, skin, and hair, many ingredients that we've never heard of before have become household names.
Now, we know what TCA (trichloroacetic) peels are, what alpha hydroxy acids (AHAs) can do, and we have even heard about the different proteins and molecules in our bodies and what magic they can do to our skin. For example, does glutathione ring a bell?
Collagen is another of those natural body proteins being used widely in skin care products on the market.
When we say widely available, we mean it. Collagen is becoming a common ingredient in skin care products, and it comes in many forms such as serums and moisturizers.
Its popularity can now cause you confusion. Which collagen product should I use and in which form should I get it?
Worry not, we will give you our top five picks for the best collagen creams. Let's take a look.​
More...
Quick Overview: Our Top Picks for the Best Collagen Cream
OUR TOP #1 PICK - For the best collagen cream, our top pick is Pond's Rejuveness Anti-wrinkle Cream. The formula of this product is mild enough that it can be used daily.
OUR TOP #2 PICK - The second on our list is Mason Natural Vitamins Collagen Beauty Cream. Infused with 100% collagen, this cream's main goal is to give you firm and youthful skin.
OUR TOP #3 PICK - Coming in at number three is Advanced Clinicals Collagen Skin Rescue Lotions. This product comes with a built-in pump on its lid, helping you maximize the product until the very last squeeze.
OUR TOP #4 PICK - In at number four is Snowden Arnica & Collagen Gold Gel. This gel is combined with arnica and may help with issues regarding skin discolorations (lightening up those bruises you get from randoms and uncalled for bumps, for example).
OUR TOP #5 PICK - And in at fifth place is Centric Naturals Collagen Night Cream. This night cream comes with a spray type lid - a bottle will go a long way with all those sprays.
What is Collagen?
Collagen is a naturally occurring protein in our bodies, and it works to keep our skin supple and youthful. In a way, we can say that collagen is the anti-wrinkle protein.
The skin is structured in such a way that it is resilient and elastic - kind of like a rubber band that always reverts to its original form, your skin should also do so once pinched. Collagen is responsible for that elasticity.​
We should also be thanking collagen for its ability to smooth fine lines and wrinkles, but then again, we all know that at one point we will get the lines.
At the age of 20, this beautiful protein starts depleting. This is the age when not only life becomes more serious but your skin literally mirrors your stress.​
Our skin is 80% collagen, but at a certain age, our body will just stop producing it. At the age of 20, you lose at least 1.8%, and 10 years later you lose up to 20-25%.
Why Is Collagen Necessary?
By now you already have an idea regarding the benefits of collagen to your skin - but your skin isn't the only part of your body that will benefit from the collagen.
Collagen can also help in healing your bones and wounds. As it has aspirin-like properties, it can even aid in the prevention of stroke and heart attack as well.
You are sure to have noticed that as you age, you're not as agile as you used to be and even your joints seem to be "creaky."
The loss of collagen can result in painful or even inflamed joints, and gradually the deterioration of your bones. Conditions such as osteoporosis can also be a result of this loss.​
Calcium, after all, isn't the only thing that your bones needs, collagen is essential as well. For example, in osteoporosis, collagen stimulates osteoblasts, or the bone-creating cells, in your body.
Apart from being beneficial to your bones, collagen also helps to keep your hair, nails, teeth and gums healthy.
What Can Collagen Do As Part Of Your Skincare Routine?​
As part of your skincare routine, collagen intake or application can help "hold" your skin together.
Since collagen is considered the structuring net of your skin, having collagen as part of your skincare routine may help you retain the natural elasticity and the suppleness of your skin even as you grow older.
Aside from keeping your skin's elasticity, collagen may also do wonders in improving your skin tone.​
Substances that make up collagen, glycine and hydroxyproline for example, can keep your veins and even small arteries from appearing and help you maintain a youthful looking complexion.
Collagen can also help to moisturize your skin naturally.
Skin dryness is common, and there are a lot of factors that can contribute to it. Collagen loss is one of them.
Having collagen in your skincare routine can replenish the missing amino acids your skin needs so that it will stay moisturized.
Product Reviews: Our Top 5 Best Collagen Cream​
---
The first on our list of the best collagen creams is a cream with the combined wonders of alpha hydroxy acid or AHA and collagen.
Pond's Rejuveness is not only an anti-wrinkle cream but a moisturizer and an exfoliant as well. Its 3-in-1 benefits is what we liked the most about it.
This hypoallergenic cream is formulated with collagen, and therefore its first and foremost benefit is as an anti-aging cream.
The collagen in this cream may help in reducing fine lines and wrinkles - the very visible signs of one's aging skin.
As this cream is also created with AHA, your skin tone may also even out or lighten. AHA is a known exfoliant, and we all know what a good exfoliation does to one's skin.
Exfoliating can encourage your skin cells to produce new and healthy ones to replace the dead and wrinkled cells you've just exfoliated.
The new and healthy replacement cells are free from the blemishes of the former, making your skin look smooth and youthful.
This cream also has vitamin E in it. Vitamin E is an excellent antioxidant, and therefore it can fight the damage brought about by free radicals. Such damage includes premature aging and even dry and crepey skin.
Aside from being an antioxidant, vitamin E is also a good moisturizer, and this product may help you maintain an overall healthy skin condition.
---
The next product on our list of the best collagen creams is a beauty product that is infused with 100% collagen.
This cream may work even for people with sensitive skin as it has a mild formula. It works best as an everyday moisturizer, and in fact, it is recommended that you use it twice a day, in the morning and evening, for optimum hydration.
What we liked the most about this product is that it has a nice, thick consistency, yet it is absorbed well by the skin.
It does not leave a "heavy" feeling, similar to the feel you get when you put on a mask pack for instance.
It can also be applied to the neck and body for overall moisturizing. As it has a mild formula, it didn't sting when we used it.
Its smell wasn't too overpowering - in fact, it was just a hint of a juicy pear scent. The light fragrance also didn't have any adverse effects on the skin.
---
The next product on our list comes with a pump - which we adored!
The pump-type lid on this product ensured that we could maximize the lotion as every pump dispenses just enough product for our face.
This product works best as an anti-aging cream as it's primary ingredient is collagen. It aims to tighten sagging skin and eliminate fine lines and wrinkles.
Aside from using it on your face (those puffy bags under your eyes included!), it can also be used all over your body - in fact, it may work well as a massage lotion as well.
Collagen is its main ingredient, but it also includes green tea, aloe vera, and chamomile.
Green tea is another known antioxidant, and with the combination of collagen, these two ingredients may help delay the very visible signs of aging skin.
As green tea is also antibacterial, acne issues may also be addressed.
Aloe vera is known for its anti-inflammatory properties - it can be used to reduce the redness coming from your acne and can even help soothe swelling (insect bites or acne) on your skin.
Chamomile is also antibacterial and anti-inflammatory and even antiseptic. Aside from acne, chamomile may treat inflammation, dermatitis, and eczema.
We also liked that this product was mild enough to be used daily and with that pump, nothing goes to waste.
---
The rather unusual combination of arnica and collagen is highlighted in our next product. This gel is mild enough that it can be used several times a day - and no, you won't smell like arnica or collagen (whatever the scent of collagen might be) as this gel is unscented.
Arnica is mostly used as a pain reliever as it has natural properties that soothe muscle aches, heal wounds and reduce inflammations.
It is toxic when ingested pure (did we tell you it is also known as wolfsbane?), but if diluted or applied topically, it does wonders. Arnica may also help discolorations fade fast (bruises, for example).
The second ingredient in this gel is collagen. It is mainly used to tighten sagging skin, smooth out fine lines and wrinkles, and maintain healthy and young-looking skin.
Vitamin C is also an ingredient in this gel. It is an antioxidant and may help in fighting the damages done by free radicals, including the visible signs of aging skin.
It also helps protect and rejuvenate skin cells, and when your cells are healthy inside, they show on the outside.
We liked how this gel was non-sticky and how easily our skin absorbed it. Using it several times a day wasn't a problem for us as it is lightweight and unscented.
---
Fifth on our list is another product that we can maximize as it comes in a bottle with a pump.
This night cream uses collagen as its main ingredient, and its number one aim is to help delay the visible signs of aging on your skin.
This cream can be used not only for your face, but can also be applied to stretch marks, the entire body, and even on your scars.
The collagen in this cream may help smooth the lines and wrinkles and tighten sagging skin, giving you smooth, plump and younger-looking skin. This night cream may even be applied to your hair.
As collagen has an amino acid in it that can help reduce a compound responsible for hair loss, applying this collagen product to your hair and scalp may reduce chances of getting unsightly bald spots.
It may also help your hair attain a natural glow and bounce as the antioxidant in collagen can fight off dullness - an effect of free radical damage.
This cream can also be used as a moisturizer, and as it is lightweight, you can sleep with a light heart and even with a light - but moisturized - face.
The Bottom Line
Our top pick for the best collagen cream is Pond's Rejuveness Anti-wrinkle Cream because its formula is suitable for various skin types and it can be used daily.
As the product is combined with AHA, premature aging is not the only skin issue that may be addressed - having an even and fairer complexion may also be a possibility as AHAs are good exfoliators.
This cream also has vitamin E as an ingredient, and aside from anti-aging and exfoliation, this product may also be of use to you as a moisturizer.
Basically, the 3-in-1 benefits of this product is the main reason why it bested our rankings for the top 5 best collagen cream.
We highly recommend this, as well as the remaining four if you're looking for a collagen cream that works.​