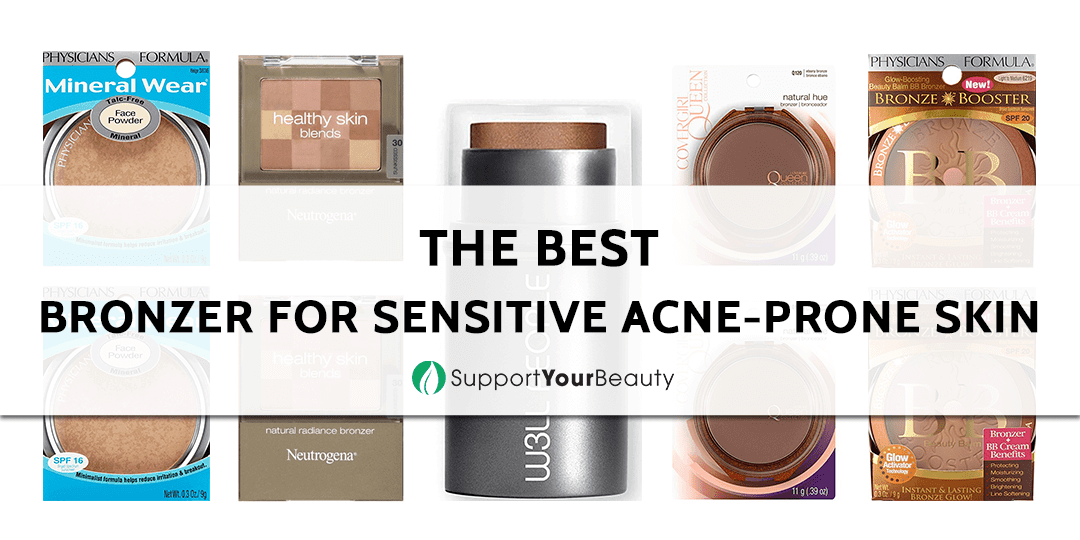 The Best Bronzer for Sensitive Acne Prone Skin – 2018 Reviews & Top Picks
In order to help you release your inner radiance, we've gathered and reviewed the best bronzer for sensitive acne-prone skin. These products were carefully evaluated based on their active ingredients that can help you prevent breakouts while contributing to a natural glow. We believe these products are the best on the market that will fit your skincare needs.
Bronzers are a must-have in every makeup bag. But for those with sensitive, acne-prone skin, it is just one more product that may clog their pores and cause them to break out.
Fortunately, the cosmetic industry is catching up with today's organic and mineral trend.
Of course, as your go-to beauty gurus, we tested out dozens of bronzers and deeply inspected their effects and content.
We want to share with you our list of the top five best bronzers for sensitive acne-prone skin.
More...
Quick Overview: Our Top Picks for the Best Bronzer for Sensitive Acne-Prone Skin
OUR TOP #1 PICK - For this category, the clear winner is the Physician's Formula Mineral Face Bronzer. We highly approve that it is talc-free and non-comedogenic. That lessens the chances of irritation or inflammation. These two major benefits place this lightweight bronzer at the top of our carefully-curated list.
OUR TOP #2 PICK - The next product on our list is the Covergirl Queen Natural Hue Mineral Bronzer. We like that the hypoallergenic formulation can make it suitable for all skin types, including sensitive skin. We also notice it can provide enough pigmentation for buildable coverage and use.
OUR TOP #3 PICK - Neutrogena Healthy Skin Blends Natural Radiance Bronzer is the third product on our list. We love the presence of Aloe Vera Extract which is well-known for its antiseptic and soothing properties. The added Sorbic Acid can help to prevent and retard the reproduction of harmful microorganisms.
OUR TOP #4 PICK - Our fourth choice is the W3ll People All Natural Bio Bronzer Stick. We fell in love with the convenience of the applicator. It is easy to carry around and do minor touches whenever we wish. The inclusion of Aloe Vera extract can help to calm irritation and lessen the chances of inflammation.
OUR TOP #5 PICK - Lastly, we have the Physicians Formula Bronze Booster Glow-Boosting BB Bronzer. At first, we noticed the combination of Titanium Dioxide and Mucuna Pruriens Seed extract. The Titanium Dioxide can help for preventing UVA/UVB radiation. On the other hand, the Mucuna Pruriens extract is well-known for its anti-inflammatory and antioxidant properties.
Brief History of the Tanning Trend
Tanned skin was not always the trend. If you've seen The Great Gatsby or any film set in the roaring 20s, pale skin was all the rage in that era, including the decades before that.
So how did bronzers and tanning lotions become some of the most covetable items in cosmetic history? Blame Chanel. Yes, that Chanel.
As the legend says, Coco Chanel was on her way to Cannes in a yacht and spent quite some time under the sun which transformed her once pale skin into a glowing tan shade (source).
When she returned from her trip in 1923, people were in awe.
Moreover, we are eager to share with you our knowledge on the ingredients that you should be looking for or steering clear away.
Ingredients and Labels
Reading the ingredients list of skin care and makeup products can be quite dizzying. All those scientific terms and names can be a bit confusing.
Our mission is to guide you sort through the maze in order to find the most suitable product for your needs.
Our best advice when it comes to sensitive skin is to go natural or mineral. More often than not, these conditions are can be triggered by harsh chemicals.
You might want to look for labels such as "talc-free," "paraben-free," "fragrance-free," and "hypoallergenic".
Talc can often be found in many bronzers and other powder makeup products. That mineral sometimes has rough edges that can damage the skin or irritate it (source).
Next up, parabens. You've probably seen the "paraben-free" label on many products, but what is it and why it can bad for you?
Parabens are used as preservatives so that you can enjoy using your product for longer than its typical shelf-life (source).
But while it is effective for longevity purposes, it is important to remember that parabens can disrupt hormone function. Another label to look for is "fragrance-free".
Some people are less sensitive to smell than others, but the ingredient of the fragrance itself may be too counterproductive for people with sensitive skin (source).
Of course, scents are a matter of personal preference. So if you want some fragrance to go with your bronzer, it is your choice.
However, we recommend going for unscented products to prevent any irritation or inflammation.
An alternative for artificial fragrance is to search for organic ingredients that have a natural scent to them, such as extracts of fruits, flowers, plants, etc.
Lastly, check for the "hypoallergenic" label.
Such skincare and makeup products are considered to be less harmful to those with sensitive skin (source). Although, there is no regulation set by the FDA when it comes to this label.
We are all unique, so even though the formulation of a product is referred to as suitable for all skin types, you still have to be on the watch.
Check for ingredients that might not be the best match for your particular case.
Tips and Tricks on Using a Bronzer
You can try many ways to take advantage of a bronzer. First, you can use it to contour your face (source).
One easy trick makeup artists recommend is to brush your bronzer along the side of your face, following a number "3" shape.
That starts at the top center of your forehead then curves down to your cheekbones. After, you should sweep the brush back up and form another curve down to your jawline.
You should blend the bronzer up to your hairline to ensure a natural blend and prevent awkward, harsh lines.
A shimmery bronzer could also double as a highlighter to give you a natural glow.
You can brush it along the top of your cheekbones, nose bridge, and even on your cupid's bow (or the curve in the center of your upper lip).
Product Reviews: Our Top 5 Choices of the Best Bronzer for Sensitive Acne-Prone Skin
---
Our top choice is the Physician's Formula Mineral Face Bronzer.
It became our favorite product because we approve the hypoallergenic formulation. Furthermore, it is free from both talk and fragrance which can minimize the chance of irritation.
Another significant trait is that it is non-comedogenic. That is especially important when it comes to acne-prone skin, as clogged pores are the primary source of inflammation and breakouts.
We loved the matte, natural-looking contour we achieve after applying it. There is yet another feature that makes it easy to use. That is the inclusion of a built-in kabuki brush and mirror.
It also contains SPF16 and Titanium Dioxide. While the amount of SPF can be enough for everyday use, it is not advisable to use this bronzer as your primary sunscreen.
This bronzer is rich in Vitamins A and E. The latter is a powerful antioxidant that keeps the skin away from free radical damage.
However, there is one more thing we need to note. If you have a particularly dry skin, we recommend you to apply a moisturizer underneath for best results.
---
The second product on our list is the Covergirl Queen Natural Hue Mineral Bronzer.
We noticed that this product could benefit those who have a dark complexion, unlike the winner for our compilation which can be better suited for fair skin tones.
It also contains Titanium Dioxide, which is a common ingredient found in many sunscreens. It helps to provide a natural protection from harsh ultraviolet rays.
Another compound that caught our attention is Dimethicone. That is a type of silicone which is widely used in many skincare and beauty cosmetics.
It aids to improve the texture of products and is responsible for that smooth, gliding feeling.
Also, it can serve to prevent mild skin irritations and can lock in moisture.
When we tested it out, we love that the product easily applies onto the skin. Furthermore, we found out that it is quite heavily pigmented.
So if you want a light contour, make sure to use just a small amount or use these bronzers for fair skin. One thing we noted was that it contains some shimmer, which may not suit everyone.
---
Our third best bronzer for sensitive acne-prone skin is the Neutrogena Healthy Skin Blends Natural Radiance Bronzer.
As mentioned, Titanium Dioxide is a natural sunscreen that helps to keep our skin from sun damage.
Dimethicone aids in smoothing the texture of the skin. Since it is a type of silicone, it can create a thin protective barrier over the surface of the skin.
That can help to block pollutants on the outside, while also helping to retain moisture on the inside to improve the water balance.
Aloe Vera Leaf Extract also provides ample hydration. That is necessary since rough, dry powder may irritate the skin and cause breakouts.
Ultramarines and Iron Oxides are both colorants approved by the FDA.
Ultramarines are synthetic pigments which contain several colors (blue, red, green, pink, and violet). Iron Oxides are considered non-toxic and non-irritating colorants.
After much testing, this product gave us a healthy glow that looks natural. The lightweight powder also did not irritate the skin or cause breakouts.
One downside was that this product contains talc and parabens, which may be harmful. Although personally, we experienced no inflammation.
---
The W3II People All Natural Bio Bronzer Stick spots our fourth position.
At first, we were impressed that it is free from any chemicals and is all-natural, vegan, cruelty-free, and non-GMO.
Furthermore, we were in awe when checking its list of ingredients.
We highly approve the combination of Beeswax, Castor Seed Oil, Jojoba Oil, Aloe Vera Leaf Extract, Olive Oil, Green Tea Oil, Safflower Oil, Chamomile, Titanium Dioxide, and Iron Oxides.
Because of its organic compounds, it can help to even out the skin tone, soothe irritation, prevent breakouts, and correct redness (even Rosacea).
We were excited to test this product, and so after a day of evaluating, we loved the lightweight formula and the natural, satin finish.
The creamy, toxic-free texture spreads easily on the skin and is easy to blend and build to the coverage and color we desire.
Because it is a cream stick, we were worried about any sticky feeling. But at the end of the day, it felt as smooth and fresh as it did in the morning.
---
Our last pick for the best bronzer for sensitive acne-prone skin is the Physicians Formula Bronze Booster Glow-Boosting BB Bronzer.
It makes use of Titanium Dioxide as its active ingredient. Research shows that Titanium Dioxide is well-tolerated by the skin, but it can still cause mild irritation to some.
On the other hand, the possible benefits related to its topical use are significantly more than any adverse reactions.
It aids is reflecting the damaging rays, which are always present, even during the winter season.
For people with sensitive and acne-prone skin, it is almost imperative to double the protection against the damaging effects of the sun.
We also detected the presence of an unusual botanical compound, namely Mucuna Pruriens Seed extract.
It is also known as the Velvet Bean. In Chinese herbal system, it is called the Yang and Jing herb.
The Velvet Bean is acknowledged as a powerful adaptogen which is one of the highest natural sources of a unique amino acid.
Upon testing the product, we were delighted that there were no orange tints but rather a radiant sun-kissed glow.
The Bottom Line
For our list of the best bronzer for sensitive acne-prone skin, our clear winner is the Physician's Formula Mineral Face Bronzer.
The talc-free, lightweight formula is very gentle on our easily irritated skin. We also love the natural, matte finish.
Retinyl Palmitate, known as Vitamin A, it is amongst the most potent ingredients for treating acne. On the other hand, we have Titanium Dioxide to shelter the skin from UVA/UVB damage.
Upon trying it out, we like that it did not become cakey. In fact, the powder was breathable enough for whole-day use.
We were not even excited to wash the bronzer off at the end of the day as it did not feel sticky or oily.
We believe that all the other picks on our list were also just as good. Of course, each product is closely inspected and heavily tested so that you, our readers, get the best advice you deserve.
If you have oily skin, you can check out these high-quality bronzers as they can provide much better results.