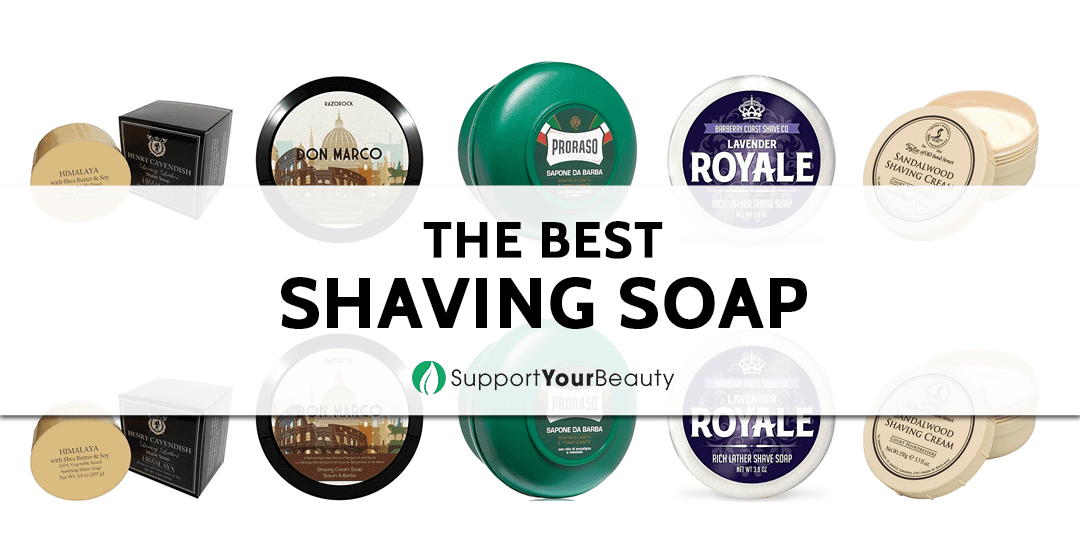 The Best Shaving Soap – 2018 Reviews & Top Picks
To continue your beauty regimen, we have created a list of the best shaving soap products. After many hours of research, we have provided you the top shaving soaps on the market. We believe these products will make your skin feel soft and smooth, younger looking and refreshed.
If you want to have a comfortable and close shave, then it is important to pay attention to products you are using.
It does not only require finding the best razor but also quality shaving brush and the most important are the best shaving soaps.
The thought of having a great shave and a decent shave is different when we talk about the type of shaving soap you use.
The idea of using soap as a part of your shaving regimen might be new to you. Therefore, you must take the time to know more the importance of having them.
Shaving soap is far different from an ordinary soap.
There are several moisturizing ingredients added to shaving soap these modern days that exfoliates the skin and softens the hair, making it more comfortable before you shave and building a protective cushion against the blade that protects the skin.
The smoother close shave is the end result of the process. Shaving soap is best when used with a quality brush to produce creamy and thick lather.
Ordinary soap could strip the moisture of the skin, thus leaving it tight and dehydrated.
More...
Quick Overview: Our Top Picks for Best Shaving Soap
OUR TOP #1 PICK - The Henry Cavendish Himalaya Shaving Soap performs exceedingly well for a change because it contains Shea butter that leaves a smooth and rich texture on the skin.
OUR TOP #2 PICK - The clear benefit of using this Proraso Shaving Soap is that you are able to greatly alleviate skin irritation through it even with sensitive skin that is easily inflammable.
OUR TOP #3 PICK - Taylor Old Bond Street Sandalwood Shaving Soap has a woody sandalwood as well as cedar smell, providing a nice scent. The scent is a mixed of a bit of rose, rosemary, jasmine, and lavender making the smell more refreshing and unique.
OUR TOP #4 PICK - RazoRock Famiglia Shaving Bergamot Neroli is an Italian shaving soap that uses the new Super Tallow recipe that includes tallow, aloe vera, shea butter, lanolin, and argan oil. The combination of these ingredients provides excellent moisturizing properties even after the shave.
OUR TOP #5 PICK - Lavender Royale Shaving Lavender Essential provides an excellent cushion and glide whether you are using Straight Razor, Cartridge Razors, or Double Edge Razor.
How to Choose Essential Quality Shaving Soap?
Why are shaving soaps so essential? As with all the shaving gear you have, the soap you choose can have a huge effect on your shave.
Best shaving soap will prep skin for the razor when combined with a quality shaving brush.
The shaving soap will hydrate the skin by getting rid of oil from whiskers where water reaches the stubble - closer shave result.
You are most likely to encounter less irritation, razor burns, razor bumps and ingrown hairs.
Factors to Consider When Choosing Best Shaving Soaps?
Though there are more to look for in the best shaving soap, there are main important factors to consider when choosing for the soap.
1. Hardness
Variations of shaving soaps differ in hardness. It is true that the harder the shaving soap, the longer it takes to prepare and create shaving lather.
We want to spend less time in shaving then probably we prefer a softer soap.
Numbers of cream-soaps are found in the market that doesn't require soaking. Cream-soaps are also known as "croaps," this is because the evenness of the shaving soap is close to a deep cream.
Another kind of shaving soap is triple-milled soap, known to be the hardest soaps yet provide the finest lather.
Triple-milled soaps for shaving last longer compared to croaps and semi-hard soaps for shaving.
Between these shaving soaps are the semi-hard shaving soaps. This kind of shaving soaps compromises between croaps and triple-milled shaving soaps.
2. Ingredients
Together with the softness or hardness of the soap, you'll also need to consider the ingredients used in shaving soaps.
Usually, shaving soaps are made from the tallow.
Tallow is a kind of rendered fat or animal that provides a comfortable and consistent shave. Other options also include glycerin and oil-based shaving soaps.
As tallow is the habitual option, still a lot of oil-based soaps are tested and proven to be quality. Oils like olive oil, palm, and coconut are frequently used.
A number of these modern shaving soaps compete with the top shaving soaps that are made out of tallow.
Glycerin based shaving soaps are also another option where most men agree that this is a second-rate choice.
Premium shaving soap from glycerin based-soap is very rare.
3. Scent
Some are sensitive to a certain perfume, some are not, while some prefer a man's scent.
Whatever scent you go for, see to it that it makes your shaving regimen better and comfortable.
4. Size and Design
Shaving soaps vary in sizes and designs. Some shaving soaps come with a handle while some do not. Those with the handles make it effortless to hold during wet shaving.
Also, see to it whether the product is for shaving only or for multipurpose use. When choosing for the sizes, a bigger one can save a lot while smaller one is best when traveling.
5. Availability
It is useless to buy a soap that does not lather easily. Premium and best shaving soap is one that lathers quickly after just quite a few swirls in the bowl.
Additionally, it must also be simple to fill on the brush.
Another thing is to consider the cushioning and slickness of the shaving soap.
These factors may be of little importance, but they avoid razors to dig deeper into the skin.
Product Reviews: Our Top 5 Best Shaving Soaps
---
The Henry Cavendish Himalaya Shaving Soap is one of the best American shaving soaps for many reasons.
This shaving soap provides quality lubrication for slick and comfortable shaves, as well as creates added cushion for the skin not to make way for the extra effort.
Unlike many shaving soaps that dry out, Henry Cavendish lather is long lasting. You can have few more passes with just one application of cream layer.
Henry Cavendish Shaving Soap of Himalaya contains shea butter that provides a smooth and rich texture on the skin.
There may be many shea butter products that end up on burning the skin. However, Henry Cavendish shaving soaps perform best for a change.
We've tested this product and found that it didn't cause skin irritation.
The size of this soap is bigger than the regular soap; therefore get a bigger shaving bowl for this. You might not know, but this shaving soap has all the natural ingredients added into it.
---
The Proraso soap is meant for sensitive skin which surprisingly works up a clean lather to make the skin ready for clean shaves.
This soap contains eucalyptus menthol that works together to soothe the skin and creates a tingly feeling.
The best benefit of using this soap is that it contains ingredients such as eucalyptus and menthol best alleviate skin irritation through it.
All the soft shaves with no any skin irritation are now possible. The method of using this shaving soap is simple that other shaving soaps available out there.
You just need to follow the typical wet shave routine and apply on a damp skin using shave brush.
---
Taylor Old Bond Street Sandalwood Shaving Soap is from England and is one of the most well-known brands in shaving soaps.
This shaving soap contains a little amount glycerin with palm oil to lubricate the skin.
It is also pretty sweet for a shaving bowl as it is simply easy to create lather with the brush.
The best thing about this shaving soap is the nice scent because it contains woody sandalwood as well as a cedar smell to it.
They also combined a bit of lavender, rose, jasmine, and rosemary to create a refreshing and unique scent.
You will get enough thickness of texture from this shaving soap on your face. Other shaving soaps, like Proraso shaving soap, have a very thin formula.
Personally, I prefer the thick type myself because I think it helps the razor slide over my face better. However, that's only my take on it since I used both brands.
---
RazoRock Famiglia Shaving Bergamot Neroli is an Italian shaving soap that uses the new Super Tallow recipe that includes tallow, aloe vera, shea butter, argan oil with lanolin.
The combination of these ingredients creates an excellent moisturizing property even after your shave.
It does not require applying an after-shave after using this shaving soap. The soft consistency of this product makes it easy to load and doesn't need to create a lot of lather.
The scent of this shaving soap is described by men as "traditional Italian scent."
There is also a hint of orange, lemon, citrus, and bergamot complemented by the earthy scents.
---
The version of this classic scent is not too flowery, but a masculine scent type and cleans with a bit of herbaceous note.
This shaving soap is perfect to use when layering various kind of scents in your own grooming habit.
Ingredients of this soap include glycerin, shea butter, and coconut oil that make the skin feeling smooth and moisturized.
The soap does not irritate or dries out the skin, unlike many shaving soaps do.
No harmful or harsh chemicals and no artificial color, as well as good, safe and healthy for the skin, are only a few of these benefits Lavender Royale shaving soap can give.
The Bottom Line
Henry Cavendish Himalaya Shaving Soap is the top choice among other products, owing to its 'all natural' ingredients.
There are no ingredients in this product with a bad reputation that could aggravate the skin or cause irritation.
One of the primary ingredients of this product is shea butter that promotes a smooth finish. The fragrance is not really stronger but lingers for a period of time.
And unlike most of its competitors, Henry Cavendish Shaving Soap of Himalaya lasts for a number of passes with no dryness.
Good shaving multiplies the happiness of wet shaving. Go for one that is comfortable and works with your personal shaving routine.