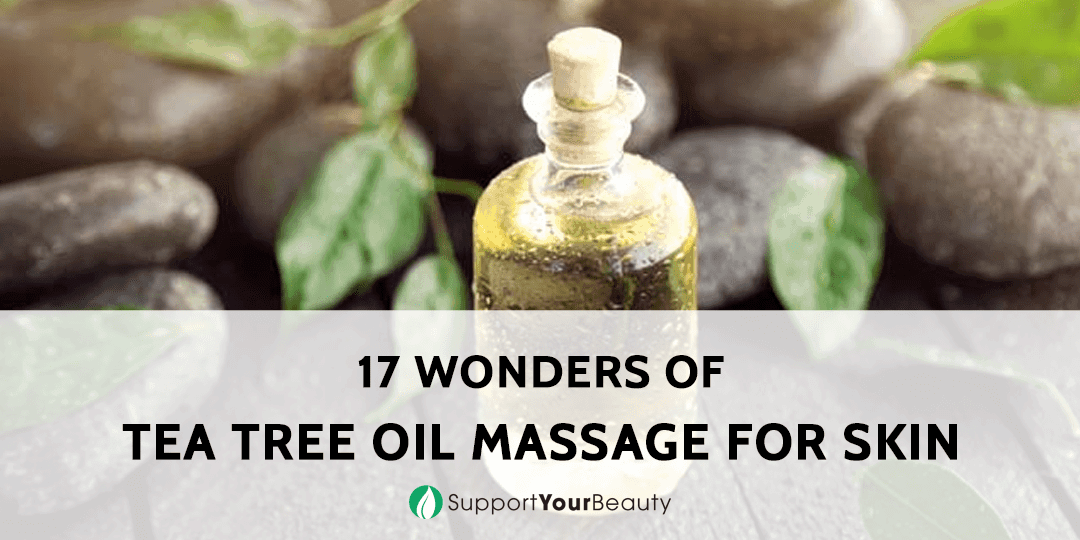 17 Wonders of Tea Tree Oil Massage for Skin
This is a guest post by Sara, who is a psychologist by profession, and she loves massage therapies. She enjoys home-based work and traveling. She is obsessed with massage chair therapies and other relaxing techniques. She published a post on the top yoga blogs you can find.
Essential oils are known to possess a lot of skincare, hair care and health benefits; each essential oil has its own speciality for which it is best known for and used to target certain problematic conditions.
Tea Tree Oil is one of those essential oils which tackle more than one skin problem and is known to perform really well for a lot of different skin types.
Tea Tree Oil is a very potent essential oil, so there is no need to use it in excessive quantities; it is best recommended to be used as a diluted mixture along with carrier oil instead of using it directly on the skin.
Tea Tree Oil massages have proven to be quite beneficial for the skin without any side effects, which is a very important thing to note as some people have quite a sensitive skin that, is prone to reactions.
All you have to do in order to benefit from a Tea Tree Oil massage is to sit in a massage chair, relax and let the massager do his or her job; you can also just do it at home by yourself since there is not a lot of effort involved in the entire process.
The top benefits of using Tea Tree Oil for the skin are:
More...
1. A cure for Eczema
Eczema is a skin condition which causes inflammation and irritation in the skin; it also results in the skin being dry on some occasions.
Most people resort to medicines or gels that are full of chemicals and other elements which could lead to reactions on the skin.
The easiest way to cure eczema is to get a gentle, Tea Tree Oil massage. Either you could go online and find a concoction including Tea Tree Oil to massage your skin yourself, or you could choose to go to a professional massager.
The benefit of going to a professional skin massager is that he or she would know how to deal with the skin condition, focus on certain pressure points and massage in such a way which is effective for getting rid of eczema.
It is important to note that skin conditions like eczema do not get cured overnight with a single use. For anything to be effective, it has to be done with consistency and dedication.
Once you start with the Tea Tree Oil massage for the skin, it is pertinent that you continue with it for a while until you start noticing changes and the skin condition heals eventually.
2. Get rid of acne
Tea Tree Oil is especially recommended for oily skin, and further categorizing oily skin, it works wonders for the blemished or acne prone skin.
There have been several people who have reviewed Tea Tree Oil positively for curing acne or skin blemishes, so it is a tried and tested solution for skin which has a lot of acne and scarring.
Acne is a very difficult skin condition to cure; the skin gets a lot of clusters of pimples on the face often and some of those can be blistering spots as well.
While regular pimples can be gotten rid of by removing them and cleaning the spot, doing the same for acne spots results in wounds on the skin.
Some of those wounds become scars and it is near impossible to remove scars left by acne blisters. Acne is a severe condition which is most likely caused due to some infection by bacteria.
In order to free your skin from acne, the skin needs to be massaged with the Tea Tree Oil but gently on the target areas.
The Tea Tree Oil reduces the bumps on the skin and abates the irritation which can help to deal with this condition in a better way.
3. Dry and dead skin no more!
Generally, Tea Tree Oil has earned its reputation as the best natural treatment for oily skin, to the extent that people with drier skin do not even think of using this oil as a solution for their skin problems.
But surprisingly enough, it works wonders for dry skin as well; however, there is a definitely added requirement of mixing this oil with a carrier oil such as almond oil.
The most commonly recommended method of using Tea Tree Oil to get rid of dead skin or dryness is to use a mixture of Tea Tree Oil and almond oil, massage into the skin using circular motions for a few minutes.
Before washing the face, or taking a shower, keep the oil on the face for around fifteen to twenty minutes.
Using this method for your skin consistently will definitely give you visible results and you will notice a healthier, much softer skin than before.
Tea Tree Oil is the best remedy for dry skin, especially dry, acne prone and sensitive skin. The reason for that is it does not require any artificial chemicals to be used on your skin or harmful dyes which can have negative effects on the skin down the line.
4. Burn marks
There is a generally accepted perception about acne scars and burn marks: they can never be cured.
That is where the benefits of using Tea Tree Oil come in handy and it is vital that everyone is made aware of how useful natural curing methods are compared to using chemical based medicines.
Applying diluted Tea Tree Oil daily to the targeted burn marks or acne scars will eventually help to get rid of them but it will take a longer period of time since it is a natural way of going about it, after all.
Furthermore, this is also a really effective remedy to get rid of the pain or irritation that is being caused by a burn mark.
5. Chickenpox treatment
Chickenpox is a viral skin condition which results in irritable sores all over the body and the scariest part about it is that this condition is highly contagious.
This is quite an uncommon treatment for chickenpox; using Tea Tree Oil. Diluting Tea Tree Oil with olive oil and then applying the chicken pox markings or sores helps to reduce not only the itchiness and irritation but also gets rid of the marks left on the skin.
More often than not, no matter how careful you are during chicken pox, scratching can leave markings on the skins which just do not go away, no matter what remedies you try.
However, it is good to know that there is a way to get rid of those markings without any worries!
The Bottom Line
While Tea Tree Oil has a lot of benefits for the skin, there are certain things which need to be kept in mind before using it on the skin on a regular basis.
Tea Tree Oil is quite strong and can dry out the skin if not used as directed. It should not be used on its own directly on the skin and is recommended to be used in very minimal quantities to avoid any sort of a negative effect on it on the skin.
But using this remedy with the right quantities has obvious results and has been proved to be quite effective for a lot of different skin conditions.