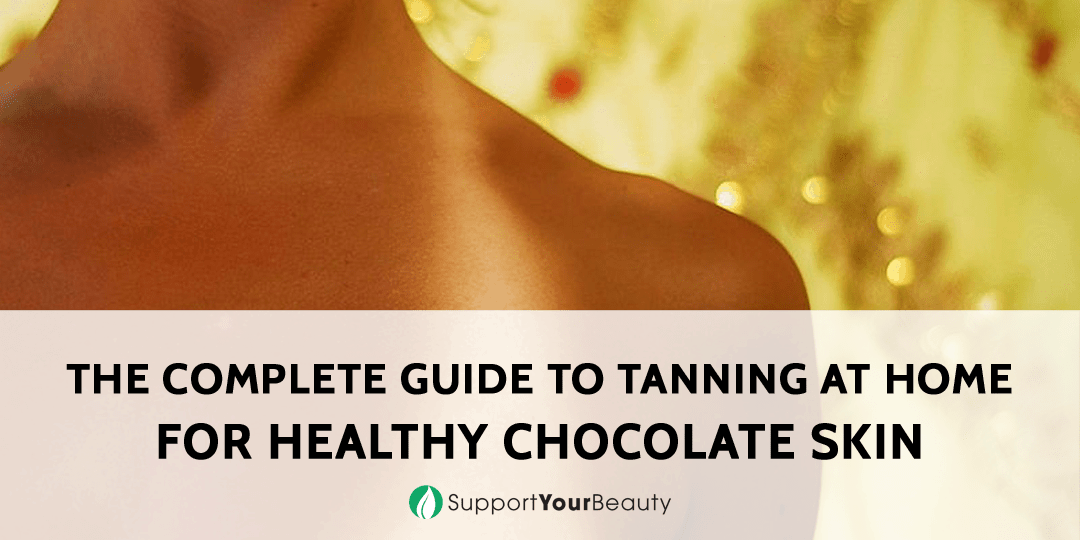 Tanning at Home – What You Should Know About Healthy Chocolate Skin
Even though the beginning of spring brought along some unpleasant weather with it, the sun is finally here to stay.
And with summer getting closer and closer, many of us are dreaming of achieving that perfect bronzed glow.
Nevertheless, spending time in the sun is detrimental to skin health. So, how can we get the chocolate look without the disadvantages?
How to Tan at Home
Hadley King, M.D., a New York City dermatologist, is a firm believer that there is no such thing as a healthy suntan.
The UV rays in sunlight damage the skin's DNA permanently, which can lead to the development of melanoma later in life.
For this reason, more and more people from all over the world resort to getting fake tans.
Luckily, you don't have to be a professional to look sun-kissed.
According to Sound Body Life's article on homemade tanning oils, getting a bit of color on your skin at home is completely possible with the right approach.
Here are the five essential steps through which you can achieve gorgeous and healthy bronzed look without having to spend time in UV rays.
1. Exfoliate
The first thing that Cosmopolitan Magazine recommends that you do to achieve flawless caramel or chocolate skin at home is to exfoliate.
Dead skin flakes and other impurities lead to a splotchy application, which is why they should be removed the day before you apply the product.
This creates a clean and smooth canvas for the self-tanner to adhere to.
To achieve the best possible results, use an oil-free exfoliant.
Oils usually linger on the skin and create a barrier between it and other products, which will make your tan look streaky and fake from a mile away.
When the epidermis is freshly polished, your lotion of choice has a chance to seep into it evenly, and you will look like a perfectly bronzed goddess in no time at all.
2. Shave
When it comes to luscious caramel skin that has a glow for days, there is no look more iconic than that of the ravishingly beautiful Victoria's Secret Angels.
And fortunately for us, that level of perfection is easy to achieve. According to Kristyn Pradas, their tanning expert, Victoria's secret, in this case, is shaving the legs and arms 24 hours before the actual product application.
The best tool to use is a new razor so that you ensure a close shave that leaves the surface silky and bump-free.
This will also further exfoliate the skin and prepare it for the tanning session.
If you've got the time, waxing is also a viable option. Just make sure to leave enough time for the pores to recover, because it can irritate the skin far beyond a razor burn.
3. Moisturize
The next step in prepping the skin for tanning at home is applying a nourishing moisturizer.
This is especially necessary for problem areas such as breakouts or dry patches because it prevents the product from clinging to these spots and accentuating their unpleasant appearance.
Depending on your skin type and its needs, you can choose a variety of products for this.
A thicker cream is recommended when you have a lot of dryness to take care of.
But if your complexion is naturally oily, a lighter water-based gel or lotion is the preferred choice.
Furthermore, don't forget to apply a thicker layer on the knees, elbows, knuckles, feet, and hands because these areas usually develop darker.
4. Pick Lotion
After your skin has been aptly prepared for the tanning process, it's time to pick your lotion of choice.
Fortunately, there is a wide array on the market. For an effective alternative that won't break the bank, try the Ocean Potion Ever Glow Xtreme Self Tanning Lotion. It provides an even formula that absorbs quickly into the skin.
And if you want a premium product, Guerlain Terracotta Sunless Heavenly Bronzing Mist is a luxury option that will leave you feeling pampered.
Nevertheless, the classic choice will always be represented by products from the renowned St Tropez line, which are some of the most popular self-tanners in the world used by models, celebrities and influencers.
5. Use Mitts
The final step in achieving the ideal at-home faux bronze is to use reliable tanning mitts.
This provides an even application and prevents your hands from being darker than the rest of your body or turning downright orange.
Always apply a small amount of product in a thin layer on the flatter areas of the body and use the excess on the mitt for the joints.
Some brand name self-tanners come with their own mitt as a package deal, but you can also purchase yours separately if you choose a product that doesn't offer one.
Final Thoughts
Unfortunately, achieving a healthy tan in the sun is simply not possible.
Fortunately, the same look can be emulated at home by using the appropriate regimen.
Exfoliating, shaving, and moisturizing are important steps for prepping the skin.
All that's left afterward is to pick your product and apply it with a mitt for a silky smooth look.