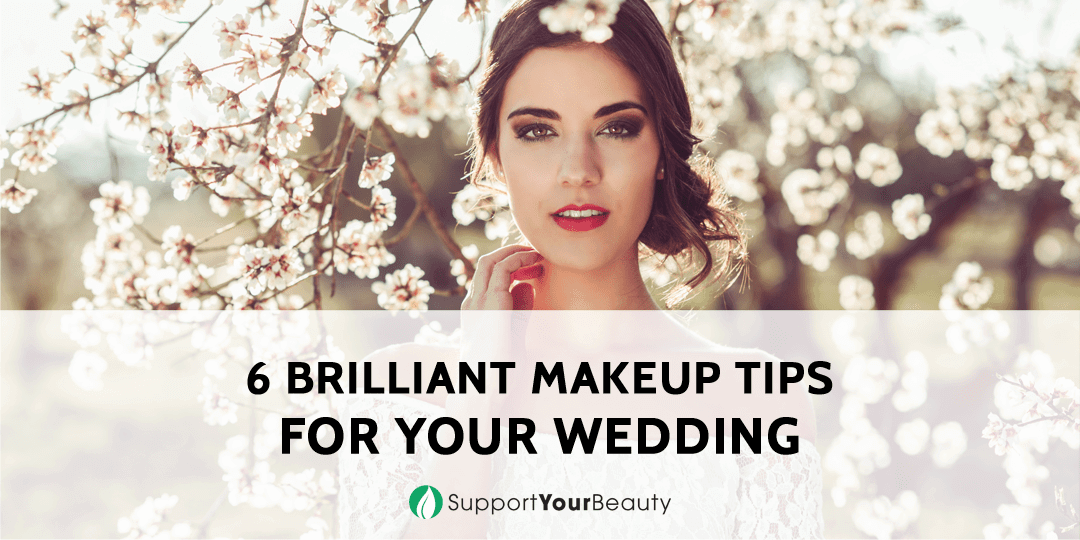 6 Brilliant Makeup Tips For Your Wedding
Ilse Frank is the mother of two little boys and is an amazing wedding planner. She is obsessed with wedding traditions and all the customs. She regularly posts at Temploola.
Makeup is an essential item and has a vital importance in every woman's life. It has become a mean of judging someone's beauty in current times.
It enhances your looks and makes you stand with confidence in the society. It has become a part of every woman's life no matter she is a student, working-woman or a housewife.
Without it, you feel incomplete, therefore, prefer to apply it no matter you have to go somewhere or have to stay at home.
It has a significant impact on our daily lives and in such circumstances talking about the makeover for your wedding which is the most important day of every girl's life then it has utmost importance.
It is specifically your day when you should look not only different but also beautiful than everyone else.
Therefore, you should be very careful and cautious regarding the product, its quality and how you are using it because any poor quality product or the wrong direction of applying can worsen your day.
To help you in this following are the six smart makeup tips that can help you in improving your looks on your big day:
1. Makeup bag
It is a day when the time seems to be rushing. One is so nervous on the wedding day that cannot even find the things that are present just in front.
Therefore you should make sure that you act sensibly and do all the essential stuff beforehand. The dress, sandals, and jewellery should be checked and kept in the proper and safe place.
Along with that all the necessary makeup items that include primer, foundation, blush on, lipstick, eyeliner, mascara and lip gloss should be kept in a bag in the cupboard where you can find it easily.
This will help you to stay calm in regards to the preparation of your wedding. A mirror and a comb must also be kept in your makeup bag you are preparing for your wedding.
2. Use of face wash and Primer
In the modern time, the trend of using the soap to wash your face has been changed. Now instead people prefer to use face wash.
It is skin friendly. The face wash is a cream type material used for the cleansing of the skin. With the regular use of face wash, you can achieve an oil-free and pimple free clean skin.
A clean skin looks much farther and brighter. While buying the makeup products for your wedding, you should not forget to buy a face wash for yourself.
You should make sure that it is made up of natural products and does not have many chemicals in it.
To avoid any skin disease or irritation you should buy one of good quality. It gives you fresh essence. While buying one you should make sure that you get one that is according to your skin type.
One of the most primary products of the makeover is the primer. Therefore you should not forget to keep it in your kit.
It is an essential as it not only refines your face for the foundation to be applied but also makes your skin look fresh. It adjusts the makeup according to your skin type (source).
One of its most prominent function is that it acts as a barrier between the makeup products and the layer of the skin.
People mostly ignore it, but it is a must item that should be applied before applying anything else. It can also be sprayed on the face after the complete makeover for it to last long.
3. The foundation
You should make sure that your skin looks fresh and fair on your wedding day for which you should use the white powder.
It is readily available and helps to improve the fairness of your skin. It is however recommended that to avoid the spots the powder should be removed.
It also helps in disappearing the dark spots from the skin which can make you look ugly and can destroy your whole bridal look.
Another essential item is the foundation. It must be kept along with you in your bag for your wedding day. It adds the glow to your face (source).
It brightens up your complexion. It must be applied properly and should be blended appropriately so that, matches your skin tone.
4. Blush on and compact powder
You make sure that you look gorgeous and classy on your wedding day for which you do every possible thing.
While preparing your makeup kit an essential item that must be kept in it is the blush on. It enhances your features and has no harmful effect on any skin.
It is friendly to use, and it makes your face look healthy, fresh and bright.
Blush on helps you gain the glow and the shine of your skin to make it agleam but precautions are very necessary as any harmful material when rubbed with the brush upon your skin can cause irritation and can cause a more bitter problem like erosion, pimples, and spots.
Compact powder, on the other hand, can be used every day. It is easy to carry. The main purpose of the compact powder is to seal the makeup. It is pigmented and locks in the makeup.
There are different shades of compact powder available in the market, but you should be careful while selecting one for yourself.
It should be according to your skin type. If the powder is lighter or darker than your skin tone, then it can affect your look and can make you look horrible on your day.
5. Eye Makeover
This includes eyeshade, eyeliner, and mascara. They all are the must products that you should have on your wedding day.
They help to add more charm to your beautiful looks. Eyeliner makes you look glamorous and is used to define your eyes while the eyeshade makes your eyes look prominent.
Eyeshades are applied to the upper eyelid or to the part near the skin to change skin coloration.
While the mascara is used to enhance the beauty of your lashes. It alters the way your eyes look and can make them appear wider.
Mascaras are all-in-one, as it increases the length, gives volume and a nice upward curl to your lashes.
But before buying any of these products you should make sure that they are of good quality as eyes are the most sensitive part of our body and any harmful product can affect and harm them.
6. Lipstick
The makeover is incomplete without the lipstick. It is an important product that is used daily. It makes you look beautiful and young.
When you are buying it for your wedding day, then the shade of the lipstick must be chosen wisely according to the dress. Along with that the type and time of the event must also be kept in your mind.
If it is a daytime wedding, then light shades would work out correctly, but if the function is taking place at night, then any bold colour can be an excellent choice.
Before applying the lipstick, you must coat your lips with a tissue paper for it to look more attractive and to last long.