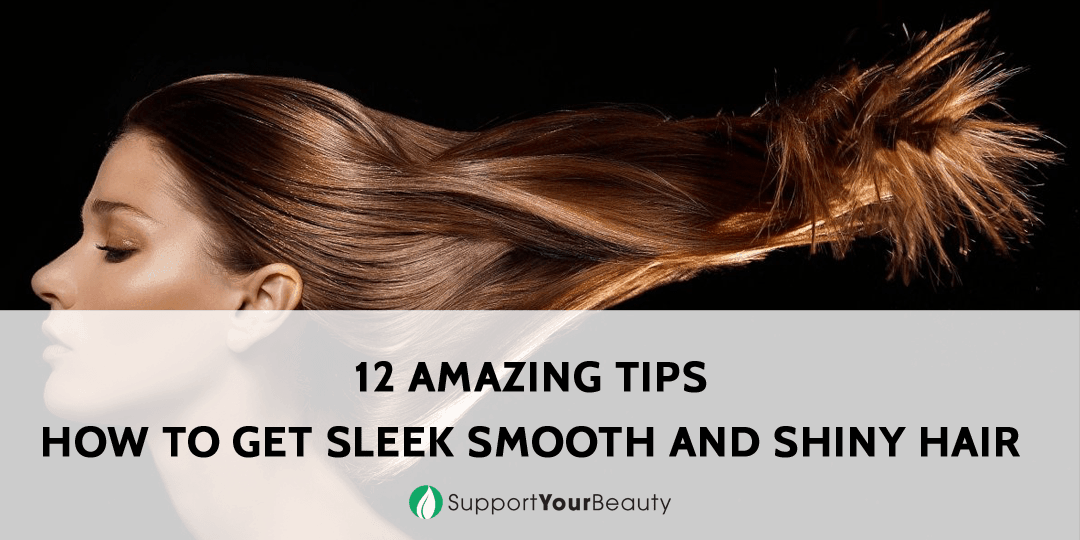 12 Amazing Tips on How to Get Sleek Smooth and Shiny Hair
A lot of women have been made to believe that getting sleek, smooth, and shiny hair can only be achieved by visiting a salon and therefore expensive.
That is not true...
Of course, the salons must market themselves like any other business and must portray themselves as the only sure way to great hair looks.
While they still make it possible, investing in different tested ways can equally yield that glossy effect.
Below are some tips on how you can achieve the sleek, smooth and shiny hair. Read On!
1. Purchase A Smoothing Serum
Are you one of those with dry hair naturally? Well, it should not worry you as smoothing serum gets you sorted.
On the other hand, if you desire to have a sleek hair, you should consider investing in the best smoothing serum. You can purchase serums containing Argan and Moroccan oil for desirable results.
Avoid serums with high alcoholic content - Alcohol will make your hair dry. If you use the right smoothing serums, you're sure to reap results- a super smooth hair.
2. Make Use a Towel to Dry Your Hair and Then Allow It to Air Dry
If you have been coming out from the bathroom without lightly drying your hair, you are missing it.
Instead, gently wipe your hair using a towel, allow it to air dry and then blow-dry it.
Get this right- blow-drying your hair when it is still wet can damage it.
3. Flat Iron Your Hair
You can use a flat iron to make your hair straight. Do you have a long hair that you want to appear glossy?
Alright, flat-ironing makes your ruffled hair cuticles lie flat, something which creates more surface area for light reflection. When flat ironing your hair, make sure that:
You do not iron a section more than thrice
Use ceramic plates which prevents excessive heat
You dry your hair before you start ironing
Use heat setting suits your hair. People with damaged hair should use a temperature of 300-350 degrees. 300-400 degrees should be for normal hair, but if you have a coarse hair, set your iron at 400 degrees. This way, you will get results.
4. Use Ice-cold Water to Wash Your Hair
Have you ever wondered why your hair keeps dry despite efforts to make it soft?
Avoiding the hot shower may be the only enemy to your beautiful hair.
If you think your hair deserves that attractive looks, then consider washing it in ice-cold water. Ice-cold water makes your hair lie flat.
Does this sound somewhat scaring?
Sure it is, and if you cannot withstand a cold bath, you may take a shower with warm water and then wash your hair separately using ice-cold water. It will still yield excellent results.
5. Avoid washing Your Hair Every day
Washing your hair every day washes away sebum that is produced to make your hair stay attractive.
Instead, it's recommended that you wash your hair only a few times in a week. Be careful to choose on the washing routine that suits your hair.
6. Use Mashed Avocados and Bananas
You can restore damaged hair by applying a combination of mashed bananas and avocados.
While environmental effects can damage your hair, bananas contain amino acids that are important in protecting the hair from environmental factors.
On the other hand, avocados have vitamin A, B, and oils that are important for the scalp.
7. Use Egg Yolk and Avocados
Applying a mixture of egg yolks and avocados can improve your hair. Egg yolk contains Sulphur that relieves the itchiness of the scalp and makes it sleek.
Blend the avocado and mix it with egg yolk. Apply the mixture all over your hair, including your scalp.
Wait for about 30 minutes then rinse with cold water. You can then choose to shampoo your hair.
However, try to get a gentle cleanser which thoroughly removes dirt and impurities without stripping your strands of the most needed moisture that makes it glossy.
8. Use Aloe Vera Hair Mask
Aloe Vera features natural goodness and a host of beneficial properties which gives your hair the sheen you've always admired.
Purchase 100% Aloe Vera gel from your local shop or supermarket. If you are down financially, you still can have that fabulous hair, since you can use the Aloe Vera from an Aloe Vera plant in your home.
Apply it on your hair and wait for about 30 minutes. Rinse your hair with cold water, and finally shampoo it.
9. Hydrate Yourself
They say water is life. Well, taking eight glasses a day is recommendable for keeping fit and amazingly, your hair growth needs hydration as well.
When your body lacks water, dehydration occurs, which affects your hair growth. But when hair roots are well hydrated, they provide hydration to your hair- this water is responsible for boosting up hair growth.
10. Use Coconut Oil Conditioner
Have you wished for a sleek hair? Coconut oil can assist you with that. Massage a small portion of coconut oil on your scalp and through the ends.
Cover and let it sit for approximately 30 minutes. Apply shampoo and rinse twice to remove all the oil. The results will just amaze you-A sleek hair.
11. Try Castor Oil Deep Conditioner
Mix two teaspoons of castor oil to one egg then massage the mixture into wet hair and your scalp.
Leave it for about 25 minutes later you can rinse it. Just as easy as that! This will restore your hairs natural look.
12. Protect Your Hair When Swimming
Most swimming pools have chlorine which is detrimental to your good hair. Therefore, it is vital to protect your hair from the damaging effects of chlorine by wearing a tight-fitting swimming cap.
After swimming, you can use the swimmer's shampoo to help replace the moisture lost while swimming.
Sleek, smooth, and shiny hair is the wish of every woman. You do not have to spend tons of dollars when you can keep your hair attractive using the above tips.
Kindly note that these are just some tested tips for maintaining your hair. Make use of them and award yourself with that beautiful hair of your dream.