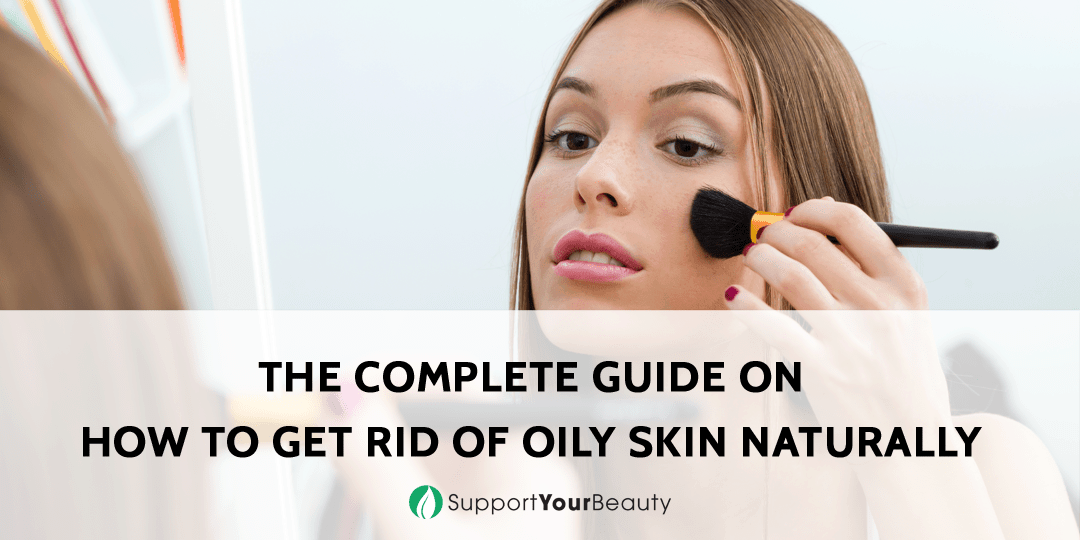 How To Get Rid of Oily Skin Naturally
Living with oily skin can be quite challenging.
Ask anybody who has oily skin and they'll tell you their daily struggles of maintaining shine-free, grease-free skin, especially during summers.
And then there is also the ever-looming threat of pimples, blackheads and grimy skin.
Though greasy skin has got a bad rep, it does come with its share of advantages. People with oily skin are lucky in some ways.
Nature has provided them with natural moisturizers, so they can get away without using moisturizer sometimes unlike people with dry or normal skin.
During winters, oily skin is less prone to dryness which is no less than a boon.
Also, with age, oily skin is less prone towards wrinkling easily and stays younger for longer than other skin types.
Now isn't it like a boon in its own small way?
The biggest disadvantage of oily skin is that the sebum clogs the pores on the skin which results in breakouts.
Also, it makes your face looks constantly shiny and sweaty with the natural glow.
What causes oily skin?
Oily skin is the result of overproduction of sebum from sebaceous or oil glands.
Sebum is an oily secretion from the oil glands which are located right under the skin's surface.
Sebum's role is to waterproof and lubricate the skin (and hair) of humans and other mammals.
Made of triglycerides, and fat-producing cells, sebum keeps the skin from drying out.
Release of too much sebum, however, may lead to greasy skin and clogged pores.
The grime and dead skin cells accumulated on the skin daily, mixed with the natural oil tend to settle into the pores.
This may result in problems like pimples and acne, blackheads, whiteheads and even infections.
It is good to take proper care of oily skin in order to keep it healthy, trouble-free and happy.
While oily skin tends to age better, it does require extra attention and care.
Here are some ways and oily skin remedies to care for oily skin in the best possible way.
How do you get rid of oily skin naturally?
People with oily skin often have shine on their face, and may have to deal with breakouts on a regular basis.
Their skin also experiences larger, more noticeable pores. Try these natural ways to take care for oily skin and keep extra grease in check.
1. Aloe Vera
Yes, Aloe Vera again! It is one stop solution for all skin types. It is highly moisturising without being greasy, that makes it ideal for oily skin.
Aloe Vera is soothing and gentle on the skin and can be used on sensitive kin too without any worries.
Use packed aloe vera gel or just scrape of fresh gel off a fat aloe leaf to use on your skin.
Apply a thin layer of aloe gel on the face, keep it on for 10-20 min and wash off. Use it directly or mix it in homemade face masks.
2. Tomatoes
Tomatoes are slightly acidic in nature and that makes it a great astringent to cut grease from the skin.
Also, being rich on vitamin C and vitamin A, they can brighten dull looking skin if used regularly.
Take a medium sized fresh tomato and blend it. Strain it to separate the juice or you can use the pulp too.
Mix in 1-2 tablespoon of cucumber juice into it and apply this potion on your face to control excessive oiliness.
Wash with tepid water after 20 minutes. You can also apply thin tomato slices on the face for a similar effect.
3. Egg whites
Egg whites are great for controlling oil production in the skin as they are known to shrink pores.
As the pores shrink, the skin is tightened too. Mix egg whites with lemon juice and you have the perfect oil-control potion ready for your skin.
The citric acid found in lemon cuts the grease while the ascorbic acid help maintain youthful skin. The antibacterial property of lemon helps in curbing acne and pimples.
Take separated egg white from 2 eggs and add 1-2 tablespoon of fresh lemon juice into in.
Mix lightly and apply this on your face, concentrating on oily T-zone and on areas with large pores.
Wait for 15 minutes or until it dries on the face and wash away with normal water.
4. Lemon
Lemon is acidic in nature and hence an effective ingredient to combat grease.
No wonder lemon extracts are often found in dish and laundry soaps and detergent.
Take help form the humble lemon to not only remove extra oil from your skin but also to make it brighter as it has high dose of vitamin C.
Mix 2 tablespoonful of lemon juice and dilute it with 1 tablespoon of water.
Soak cotton ball in it and gently dab all over the face. You can also mix lemon juice with 1 tablespoon of honey and apply on the face.
The honey will lock in the moisture while the lemon works to keep the skin oil-free.
5. Clay mask
Clay is your best bet when it comes to absorbing oil from the skin and clearing the pores.
Fuller's Earth or Multani mitti has been used since ages as a remedy for removing extra oil from the skin.
Multani mitti is rich in natural minerals which nourishes the skin making it brighter and softer while its high absorbent quality saps away oil from the skin.
French green clay also works in a similar fashion, absorbing oil from the skin and tightening the pores.
Prep a face mask by making a paste out of fuller's earth and water plus rose water. Cover your face with it and let dry for 30 minutes.
Wipe it off with a damp cloth and wash your face gently. Pat dry to see the oil disappear from your skin leaving it soft and smooth.
6. Makeup for oily skin
One of the major problems that women with oily skin face is that makeup doesn't stay put for long.
We can't even begin to tell how annoying it is when that expensive foundation will wear off in an hour or when your favorite lipstick stubbornly refuses to stay for more than a few minutes at a time!
We have a few suggestions and tricks up our sleeve that will help you get through the day with makeup intact on your oily skin.
7. Primer for oily skin
Makeup primer can change the makeup game completely for oily-skinned beauties.
It not only helps the makeup to stay on for longer but also creates a balance in complexion giving good product color pay off.
Primers fill in the pores and create a smooth canvas on the skin for makeup.
Find the best primer for oily skin which is oil-free and light and before applying the foundation, prime your skin with it.
Apply the primer for oily skin all over the face concentrating on area which produce more oil like T-zone and even eyelids. Then go on with your makeup regimen and see the difference.
8. Face powder for oily skin
If you have oily skin, you know face powders are your best friend. Use matte fixing or translucent powder which absorbs oil from the skin and cuts the shine, giving a matte finish.
Apply powder all over the face and later, if required, just on the areas that are extra oily and shiny.
Instead of compact, use translucent powder which is colorless and does not make your face look streaked or layered with makeup every time you dab it on.
9. Blotting sheets
You may start your day on a fresh note and wear the right kind of makeup for oily skin and even powder your nose, chances are the shine will be back before noon.
Enter- blotting sheets. Keep them handy to sop up the oil by dabbing your skin with a sheet or two.
The trick is to let the paper lift the oil without lifting the makeup. Just dab and press instead of rubbing the paper back and forth and into the skin.
10. Oil-free makeup
It's advisable for oily skinned people to buy makeup and skincare products which are oil-free and non-comedogenic in nature.
Non-comedogenic cosmetics are formulated so as not to cause blocked pores, and is thus recommended for all skin types.
It's extra good for greasy skin. Invest in oil-free and/or lightweight foundation and moisturizers.