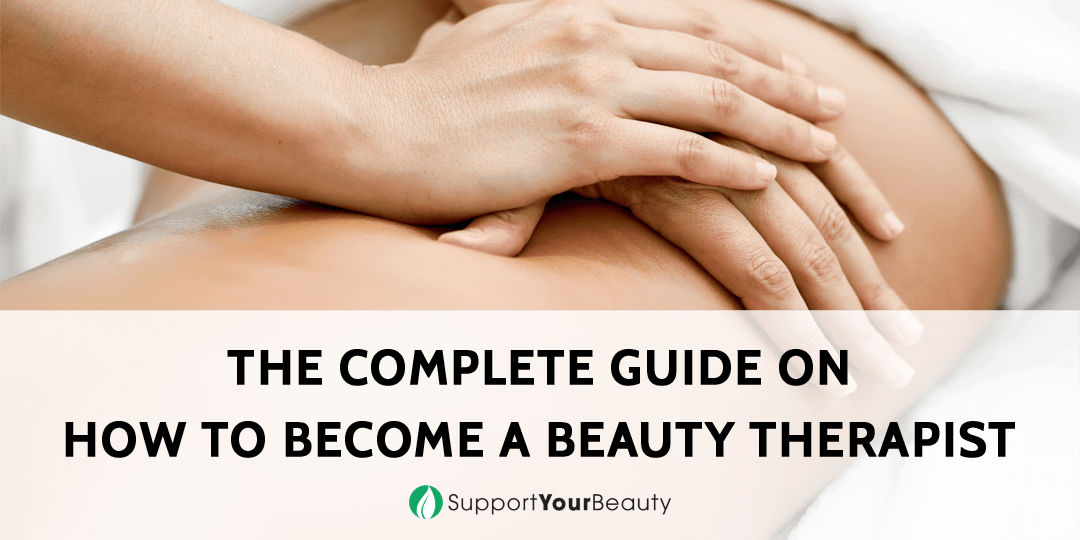 How to Become a Beauty Therapist
Maybe you have got a natural affinity for makeup and beauty.
Or maybe you're simply passionate about helping others to transform their look and receive in the best in hair and skin care.
No matter your reasons - becoming a Beauty Therapist is easier than you think.
Not only is the beauty industry booming – creating more job opportunities for you to explore – but the skills you'll acquire during your training can easily be used to help you become your own boss or launch a career as a mobile Beauty Therapist.
Your opportunities are endless…
What do Beauty Therapists do? The job description
The role of Beauty Therapists is heavily underestimated by the average person.
You see, alongside being able to offer both facial and body care treatments; most Beauty Therapists also have a keen knowledge of the human body (including key body systems, skin biology, anatomy and cosmetic chemistry).
This knowledge allows them to offer their clients a range of customised face, body and relaxation treatments, as well as after care advice.
Beauty Therapists are also trained to use various pieces of equipment and products.
Now, what they can use will vary depending on the training they have received or what they have choose to specialise in; however, the services they offer can range from any of the following:
Skin analysis and skin/body care treatments – these include: facials (skin cleanses, massages and toning customers skin); body hair removal and electrolysis/electro-therapy (to improve body tone and shape)
Microdermabrasion
Hot waxes
Massages (facial or full body)
Makeup – applying for clients (for special events e.g. weddings/photoshoots) or providing advice on different application techniques and tools
Nails – manicures, pedicures, nail extensions and nail art
Treatments – spa therapy, reflexology, hydrotherapy and aromatherapy
Lash and brow treatments – shaping and colouring/tinting eyelashes
Spray tanning and UV treatments
Admin tasks – including, booking appointments, answering the telephone, checking/ordering supplies, dealing with client records/medical history/treatment programmes, and performing transactions
Promoting/ selling skin care products
What qualifications will you need?
Given the demand for Beauty Therapists within spas, hair salons and hotels; the more qualifications you can add to your arsenal, the more job opportunities you will be able to take advantage of.
That is why you should approach your training in two stages. In the first stage you will need to attain the following qualifications:
Level 2 NVQ Diploma in Beauty Techniques
Level 2 NVQ Diploma in Beauty Therapy Services
Level 2 NVQ Diploma in Hair and Beauty Services
Level 2 NVQ Certificate in Beauty Salon Reception
Once you have earned all of these, you will then be able to progress towards your Level 2 NVQ Diploma in Beauty Therapy, followed by these three important qualifications:
Level 3 NVQ Diploma in Beauty Therapy – with this particular Diploma you can choose to study in makeup, nail art and spa treatments
Level 3 NVQ Diploma in Advanced Beauty Therapy – this qualification is particularly helpful if you plan to go self-employed/mobile
Level 3 Diploma in Beauty Therapy Treatments
All of these qualifications are accessible within most colleges (on a part time or full time basis) and at specialised Beauty Schools; however, if you are already working and cannot readily attend college on a daily basis, then it is still possible to gain these qualifications without ever having to enter a classroom e.g. through online beauty therapy courses.
With online courses, you can gain the same equivalent knowledge, training and experience as you would in college; the only difference is - with an online beauty therapy course you can complete it all from the comfort of your own home.
And this is ideal, if work, social or family obligations are preventing you from getting back into education, as you can easily mould these courses to work around you.
NOTE: most online beauty therapy courses will require some classroom time – approx. 3-8 days - where you will be allowed to explore the practical element of beauty therapy and put these new beauty theories into practice.
Alongside acquiring these NVQ's, it is also highly recommended that you gain some work experience e.g. as a salon assistant.
This time in a salon will allow you to put your theoretical studies into practice, whilst also making your job applications – once qualified – look much more appealing.
In fact, some salons are willing to take on junior trainees/apprenticeships (who have earned their NVQ Level 2) and will allow you work towards your Level 3 NVQ qualification, whilst training on the job.
It is important to bear in mind that this is not true of all salons, but it is worth investigating if you want to improve your employability chances.
What should you look for in a qualification?
Should you choose to study outside of college - either online or privately - then before you enrol you need to make sure that their qualifications is recognised by CIBTAC and CIDESCO.
Similarly, if you choose to specialise in hair care and opt to undergo private training, then it is essential that they can provide you with certificates that are recognised by the Hairdressing and Beauty Industry.
What do Beauty Therapy courses involve?
Whilst you might think this course is mostly practical; the truth is most beauty courses have a strong theoretical element.
This is because, to succeed as a Beauty Therapist you need to do more than make client's look and feel good. You also need to understand the full impact beauty treatments may have on their bodies.
To do this, you will need to learn all about the basics of the human body - including physiology and dermatology – so you can explain the purpose of these treatments to your clients and their intended outcome.
What salary can you expect?
When you first qualify, your starting wage will be roughly £15,000 a year; however, with time and experience this can raise to £17,000+ or even £20,000+ a year should you choose to rise up the ranks and become a salon manager.
The reality is though - much of your salary will depend on the breadth/diversity of your skills, and the amount of specialist training you can bring to the table.
The more knowledgeable you are in beauty therapy; the more of an asset you will be to your employers.
In turn, where you choose to work – salon, health spa, hotel or cruise ship - will influence your salary.
Most people tend to stick with working in salons and health spas; however, with time – and experience – it is possible to explore more lucrative job options, including working in fashion, the theatre or in the media.
Similarly, the fact that beauty therapy easily translates into a role where you can work from home – or within a mobile position - means that once you have gained some experience/have established a reputation/have got an impressive portfolio; you can easily become your own boss and manage your own income.
All you need to do, is first make sure you have got all the right training and qualifications in your repertoire. Achieve all of that and your opportunities will be endless!
So if you are interested in becoming a Beauty Therapist, then why not explore all of your options today?
Whether you are looking to switch careers or build a profession within an area that you love; becoming a Beauty Therapist has never been easier.