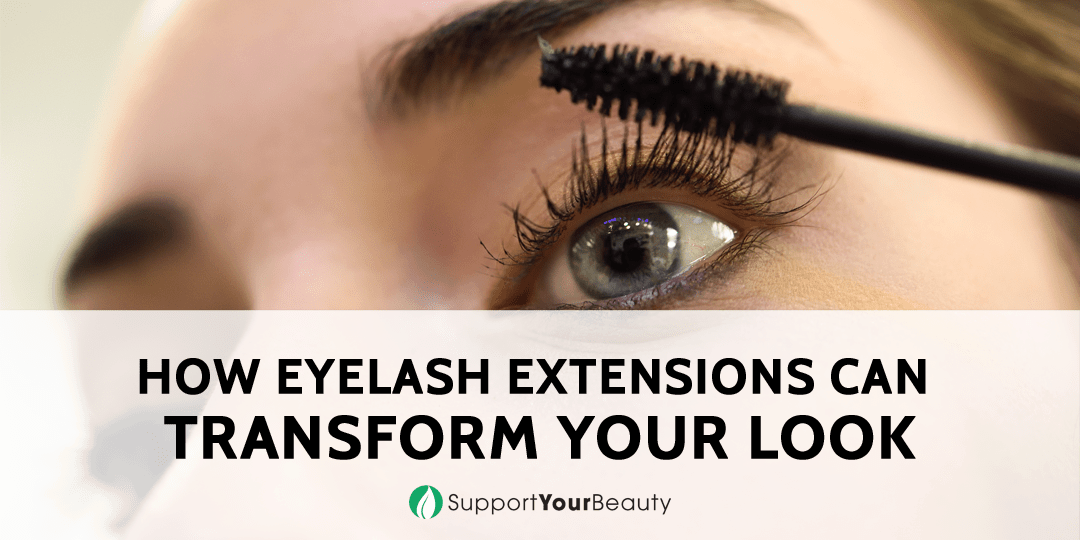 How Eyelash Extensions Can Transform Your Look
Melissa Bergen is an Australian based Lash Technician and owner of The La​​​​sh Spa was one of the first to offer eyelash extensions to the general public in Australia back in 2011. Since then she's carved out a reputation as one of the leading lash techs in the country.
Your eyes are the centrepiece of your face. They're what people look at while talking to you, and when you really look at them they're endlessly intricate and beautiful.
BUT they are for the most part unchangeable - other than coloured contacts, but who really wants to wear those?
And that's exactly why so much of makeup artistry is focused on the area around the eyes - yet theres something that can bring out the beauty of your eyes even more than makeup without the time involved each day.
They're often overlooked and quickly applied in the form of 'strip lashes', but proper natural looking eyelash extensions (the kind where one extension is applied to one natural lash) can totally transform any makeup look.
They're like a beautiful border around the eye that draw the attention in without ever being too bold or over-the-top…
That's why so many women are becoming regulars are good lash salons - even those who are averse to wearing much makeup.
It's just like taking any makeup look and adding an emphasis to your eyes which is exactly where you want the emphasis to be.
They create that "there's something different about you but I can't quite put my finger on it" comment because they look so natural yet they create such an impactful difference.
Here's a photo of a side by side before and after eyelash extensions where you can really see the difference.
Without the 'before' shot as a reference you'd think that she just had naturally long, thick lashes.
This is the difference between a good lash technician and any type of strip lashes.
Improving Your Canvas
If you're not familiar with lash extensions, they last around a month.
If they're applied properly then each extension will only fall out when the natural lash it's glued to reaches the end of its growth cycle and falls out.
That means you'll have beautiful lashes that draw attention to your eyes all the time.
Whether you're just waking up in the morning, or going for a swim, or working out at the gym. Your lashes will still be there.
Unlike makeup which is a daily routine where you apply it in the morning and remove it before bed at night, eyelash extensions take around an hour to apply and last around 4 weeks!
Minimizing Your Daily Routine
Now I can't speak for every woman, but there are days where I can't be bothered with a full makeup application, and a lot of the clients I see in my salon say the same thing…
Here's another before and after of a client without makeup. The lashes make such a difference that it actually looks like she's wearing eye makeup - but she isn't!
Over the course of the month while you've got lashes you might save 20 minutes per day doing your makeup, adding up to 10 hours in time savings! That's more than a whole days work 😐
Here are some scenario's to consider where eyelash extensions can save you a lot of time while making you more relaxed:
Going To Work
For most types of work, like office jobs it's not important to have a full face of makeup everyday, and the time we all have in the mornings is usually pretty limited.
Permanent lashes allow you to jump out of bed looking fresh and either apply the bare minimum or no makeup at all and still look great all day.
This 20 minute saving in the morning is an absolute lifesaver for busy women who want to get more out of their day!
Doing The Grocery Shopping
It must be some sort of law of life where when you're looking great with your hair and makeup done you see exactly zero people you know when you're out in public.
But when you decide to duck down to the local grocery store for a bottle of milk at midnight you're guaranteed to see either an ex-boyfriend with his new partner, or the equivalent in the category of "people I don't want to see".
Having lashes turns this inevitable encounter from a nightmare into a non-event.
You can confidently have a quick conversation knowing that you look great even though you literally just jumped out of bed.
Going To The Gym
If you're a serious gym-goer you've probably worried about your makeup when you get a sweat on at the gym because these days going to the gym can be somewhat of a fashion parade rather than a sweat factory…
Having lashes allows you to train (and sweat) like an animal, without wearing makeup BUT still look great as you walk down treadmill alley.
Staying With A New Partner
We've all been there. You've been with a new partner for a little while - been on half a dozen dates, give or take - but he's never seen you clean-skinned.
In our heads we build it up to be a bigger deal than it probably is, but there's that voice in the back of your head that tells you he's only interested in the 'made-up' version of you (which is actually never the case - but the thought still lingers!)…
Eyelash extensions allow you take remove your makeup at night and wake up without a trace of makeup yet still look put-together because the attention is being directed into your beautiful eyes.
In reality he likes you for far more than your appearance, but the added confidence boost of having lashes will make you more relaxed and easy-going in the morning.
Which Lashes Are Right For You?
Just as different makeup looks are suited to different skin tones, face shapes, personalities and event types, so too are eyelash extensions.
If you're going to an event like a wedding and really want your eyes to stand out from across the room then you'd choose something thicker and longer.
Whereas if you just want to minimize your daily 'get ready for work' routine, then a little extra length and volume is probably all you'll want.
And just like makeup, it's important to never got 'too-far' with your lashes.
We've all seen women with those overly thick, overly long extensions that look a little like the end of a broom.
A good lash technician will never go too far, and will be able to pair your eye shape with the right lash extension style to suit you perfectly.
For example in the before and after photo below you can see this client has the classic almond eye shape.
So we went with a lash style that focused on adding extra length and volume to the outer edges of the eye, creating a more elongated and elegant look while also making the eye appear larger and more open.
How To Make Sure Your Lash Tech Is A Star
So you're interested in lashes but you know you don't want what appear to be black caterpillars atop each eyelid…
You need to know how to find a salon that does great lashes, so here's my 3 tips:
1. Check The Reviews
Like any business, lash salons will build up a reputation as they get more clients - some clients will either be so happy they leave a glowing review, or so mad they leave a scathing one!
As long as they've got a bunch a great ones (that seem legit) you should be okay.
2. Do They Show Photos Of Their Work?
It doesn't matter what training or experience they say they've had - you need to see photos of their work!
This is the only way to know what they'll give you the style of lashes you want.
Some customers only want those insanely thick and bushy lashes, so some salons provide those to fit the clients requests…
If you check their photos then you'll know for sure what you're getting.
Oh, and make sure they're photos of their actual work and not stock images bought online.
It's pretty easy to tell because stock images look overly professional, airbrushed and models are generally the subject.
3. Check The Salon
Comfort is a big factor when getting lash extensions because a full set takes an hour or more.
In some salons you'll be in a room on one of 10 lash tables which can feel crowded and uncomfortable.
Choosing a home salon is where you'll often find some of the best lash tech's since they love the work they do, but it can also be less well-equipped than a big salon.
I've heard stories of people laying on the living room couch while the TV is on for background noise while their lashes are being done.
Try to find somewhere you'll be comfortable, with privacy to make sure getting your lashes done each month is a relaxing retreat rather than being akin to the experience of going to the dentist!
Now, have I convinced you to give eyelash extensions a try?
They can totally transform your makeup look, or simply save you time in your morning routine.
Either way it'll be a beauty routine that's easy to add in, but hard to give up 😉