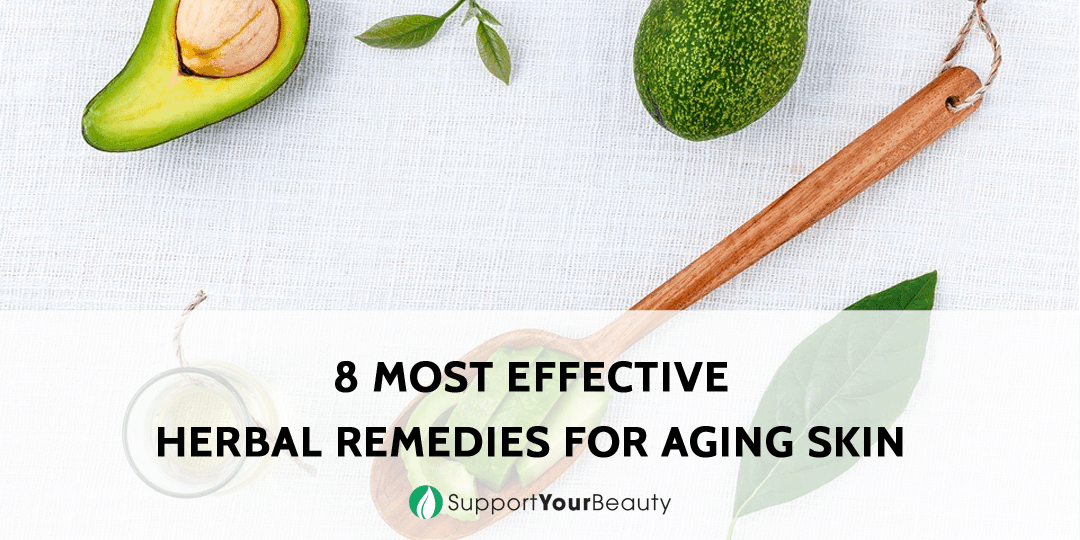 8 Most Effective Herbal Remedies for Aging Skin
If you've ever wandered down the anti-aging aisle of a drugstore, you've probably noticed how easy it is to spend a fortune of the latest and greatest lotions and serums that promise quick anti-aging results.
However, before you burn a huge hole through your wallet, we recommend opening your pantry and your refrigerator.
Chances are you have all the ingredients you'll need to create your own batch of anti-aging cream, mask and scrub.
Why choose fresh, edible ingredients?
Natural ingredients such as herbs, fruit, nuts, seeds and dairy are packed with skin-enhancing antioxidants, enzymes and acids.
Antioxidants lose their potency over time, therefore, chances are that most commercial products contain ingredients that are obsolete.
Fresh foods contain active enzymes that your skin can utilize immediately. Needless to say, they're incredibly cheap and easy to use as a natural skin treatment.
Just remember to treat the following recipes the same way you'd treat fresh food – store unused portions in airtight containers in your fridge and use within a week.
1. Rice Milk Cleanser
Rice is an important ingredient in traditional Japanese skincare because of its high concentration of moisturizing vitamin E and gentle exfoliating properties.
Rice milk also contains calcium and vitamin A, which helps build retinol in the skin.
Simply mix ¼ cup rice flour with 2-3 tablespoons of rice milk to form a smooth paste. You can make rice flour at home by grinding whole rice in a coffee grinder till you get a fine powder.
Massage the cleanser onto your skin in slow, circular motions. Rinse with lukewarm water and follow with a toner and moisturizer.
2. Papaya Mask
Papaya is rich in vitamin A, making it an excellent fruit for improving eye health. However, did you know papaya is equally powerful when applied to the skin?
Apart from its high concentration of carotenoids, papaya also contains the enzyme, papain.
When applied to the skin, the papain digests the dead skin cells on the surface of your skin, clearing your pores, and making your skin appear smoother, firmer and more elastic.
The antioxidants present in papaya also help brighten your skin and enhance your youthful glow.
To make a papaya mask, simply cut a few pieces of papaya and mash it with a fork to form a smooth paste.
Apply the paste to your face and allow it to sit for 15 minutes. Wash with tepid water and pat dry.
3. Aloe Vera Cucumber Cream
As we age, our skin gets duller and drier, unless we follow a proper skincare routine.
This heavenly cream is incredibly hydrating as it contains water-rich cucumber and aloe vera, along with brightening lemon juice. It also uses yogurt, which contains lactic acid that helps exfoliate the skin.
To prepare an aloe vera cucumber cream, you'll need ½ cup plain yogurt, ¼ cup fresh aloe vera, ¼ cup chopped and seeded cucumber and ½ lemon, juiced.
Puree ingredients in a food processor or blender and pour the mixture through a strainer lined with cheesecloth, into a glass container.
Cover the container and refrigerate the mixture for a few hours or overnight. Remove the excess water that has separated and apply the thick yogurt mixture to your skin.
4. Rosewater Toner
Not only does it smell amazing, rose water is an excellent toner that can help remove dirt and bacteria plugged in your skin pores.
It also has astringent properties, which means it can firm up your skin, reduce puffiness and increase your natural glow.
While you can use rosewater as it is using a cotton pad or as a toning mist, you can enhance its skin-boosting ability by fortifying it with lemon juice and glycerin.
Simply mix 2 tablespoons of rose water with half a teaspoon of lemon juice and 3-4 drops of vegetable glycerin.
The lemon juice adds to the astringent properties of rose water, whereas the glycerin makes the toner more moisturizing.
Apply this mixture all over your face using a cotton ball followed by your daily moisturizer.
5. Green tea mask
Green tea is packed with antioxidants, particularly an antioxidant called EGCG, which helps increase cell turnover and reduce wrinkles caused by oxidative stress.
Simply mix one bag or one teaspoon of green tea powder with two tablespoons of yogurt to create a face mask. Apply all over your face and neck and let the mask sit for 15 minutes before washing with tepid water.
This mask is designed to be nourishing, while utilizing the exfoliating and hydrating properties of yogurt and its lactic acid.
Both ingredients work together to plump your skin, reduce puffiness and load your skin with age-defying antioxidants.
6. Honey Ginger Pack
Inspired by the Indian ginger tea, this pack features two potent ingredients which offer a world of anti-aging benefits.
Honey has natural anti-bacterial properties and it helps reduce acne and inflammation. When used alone, it also acts as an instant skin brightening mask.
Ginger contains a unique antioxidant called gingerol, which helps protect your skin against collagen breakdown.
This ensures the structural integrity of your skin and helps prevent sagginess and wrinkles.
7. Sugar Scrub
Our hands are often the first to give our age away. A popular skincare technique in Mexico is creating a lemon and sugar scrub to exfoliate the hands.
Sugar acts as an effective exfoliant to slough away dulling, dead skin. Lemon juice contains alpha hydroxyl acid, which is an active ingredient several commercially sold anti-aging peels.
Alpha hydroxyl acid helps remove dead skin layers from the skin, thereby brightening it and preventing it from looking dull and saggy.
Moreover, it's important to note that moisturizers penetrate into the skin better following exfoliation.
As we age, we stop shedding our skin as effectively as our younger days so exfoliating your skin regularly can benefit your skin massively.
To make a lemon sugar scrub, mix 1 cup white or brown sugar with ¼ cup olive oil and the juice of one lemon.
Apply the mixture to hands and other areas of the body that may need a quick "pick me up" in circular motions.
8. Avocado and Wheat-grass Mask
We love avocado toast as much as the next person but what if we told you avocado can have a powerful impact on your skin as well?
Avocado is rich in oleic acid, making it incredibly moisturizing, especially for those with dull, dry skin.
It's also packed with vitamin E, which helps hydrate the skin, improve skin texture and fight oxidative damage that causes aging.
Wheatgrass juice is an anti-aging powerhouse because it full of vitamins A and E.
The recipe also calls for yogurt, which gently removes dead skin cells while giving you a brighter and fresher complexion.
To make this mask, all you'll need is ½ ripe avocado, 1 tablespoon of wheatgrass juice and 2 tablespoons of plain yogurt.
Puree the ingredients and apply a thick later to your face and neck. Allow to dry for 15-20 minutes and rinse with lukewarm water.