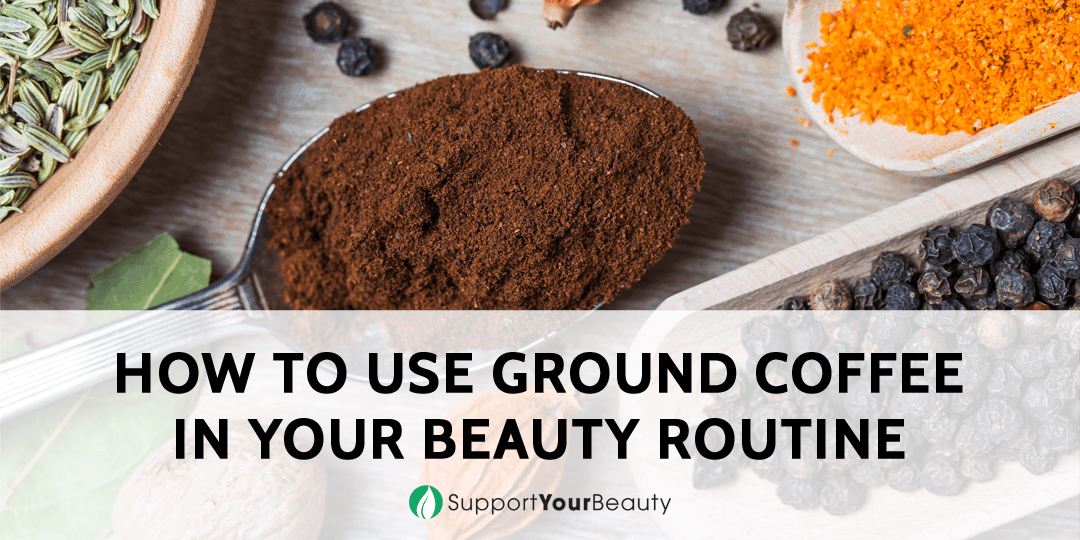 5 Awesome Ways to Use Ground Coffee in Your Beauty Routine
Alyssa Kaye is a professional beauty blogger and self-proclaimed hair removal expert. She explores the web every day to dig out new awesome beauty tips and hacks. For more of her stories, come take a look at HairFreeClub.com!
Honestly? I'm the sort of person who accidentally puts their car keys in the fridge while blindly fumbling around for the milk to put in my first cup of coffee in the morning.
(True story.)
So imagine how pleased I was when I first heard that ground coffee is an amazing fertilizer for houseplants! Level-up for my home grown basil.
Call me a greenie, but I'm always looking for interesting, natural substitutes for store bought products (bonus points if I can find a way to repurpose stuff that would normally end up in the bin).
And my latest obsession is finding ways to incorporate ground coffee in my beauty routine.
What a game changer!
Let me share with you a little of what I've been up to (including my winning recipes).
Using only natural items (most of which are probably in your kitchen already), I'll show you how to brighten the dull and soften the straw-like.
More...
But first, let me explain why coffee grounds are the way forward:
Why I'm Nuts About Coffee
Like I said, I'm all about upcycling, recycling, and repurposing- especially when it comes to my beauty routine.
So many of the skin care and hair care products that are on the market these days are packed full of chemicals- I mean really nasty chemicals that can end up doing serious harm to you and the environment.
Ever heard the saying "if it ain't broke, don't fix it"?
Well, products these days are designed to increase your dependency on them - even if you didn't really need them in the first place:
Alcohol based skin toners, chemical laden face masks, and shampoos that serve only to dry out your hair in the long run and damage its ability to regulate oils naturally.
It's a dog-eat-dog world in the cosmetics industry, which is why I am even more motivated to go 100% natural and make my own.
You'll Also Be Doing Your Part to Protect The Ocean
They may be marketed as 'kind', 'gentle', and 'natural' products, but many of the world's favorite lotions and potions are anything but.
Exfoliating scrubs and washes typically use plastic microbeads as a main ingredient, which -when washed off your body and down the drain- go through our waterways and pass through our filtration systems only to pour into the ocean (source).
Microbeads (which are by definition less than 1mm in diameter) are able to pass through most filtration systems because they're so miniscule.
But that doesn't stop them having an absolutely devastating effect on our oceans and the lives they support.
Not only do they attract and absorb toxic chemicals, they're also eaten by small marine animals- which is as dangerous to them as it is to us when seafood eventually ends up on a human dinner plate.
While several forward-thinking governments have already made to move to ban plastic microbeads in cosmetics, real change starts with you as a consumer.
Coffee grounds are one of the best natural replacements that you can choose to use instead.
And the best part?
You can actually end up saving 25-50% by skipping out on the store bought versions and making your own homemade, natural products just like the ones I'm about to share with you.
How do you like them apples??
Health Benefits of Using Coffee Grounds
Avoiding exposure to harmful chemicals is one thing, but using ground coffee actually has a whole bunch of amazing added benefits on top thanks to its super potent active ingredients.
Check them out:
I know, I know… I can't believe it's not butter! Without further ado, let's get to the good stuff:
5 Awesome Ways to Use Ground Coffee in Your Beauty Routine
1. Natural body scrub
When I'm making my own potions, I have a couple of very simple non-negotiables: the end product needs to be gentle enough that it won't irritate my skin (which tends to be quite sensitive).
It needs to leave my skin feeling moisturized, and it needs to smell nice (hey, smelling nice is important!).
This recipe for natural ground coffee body scrub is all of the above and so much more.
Make a big batch; if you're anything like me, it won't last long.
You'll need:
To make it, just mix together the oil and butter components (melt in the microwave or slowly heat up in a double boiler on the stove).
Once well combined add it to the coffee and mix together. Store in the airtight jar, and use as you'd normally use your favorite exfoliant.
I love this recipe because it always leaves my skin feeling supple from the shea butter and looking dewy thanks to the almond oil.
But that's not even the best part:
Using an exfoliant like this is key when it comes to prepping your skin for your usual hair removal routine.
And if you're waxing or epilating like I am- you'll find this scrub is an absolute lifesaver (more tips like this on hairfreeclub.com).
2. Cellulite buster
Thanks to its potent caffeine component, this ground coffee scrub is the ultimate cellulite buster.
Scrubbing the skin that's suffering from cellulite is an important stimulation technique.
But combine that with the caffeine kick and diuretic properties (which will encourage any excess water in the area to shift on outta there) you've got yourself a winning formula.
All you'll need is:
I adore using coconut oil in this scrub (I use a 100% natural unrefined oil which has such a delicious tropical smell).
It always leaves my skin feeling amazingly soft afterwards (and it's brilliant for reducing stretch marks too- another villain that often rears its ugly head in cellu-land).
3. Shiny hair treatment
Let me start by saying this treatment only works well for dark haired gals- blondes and redheads will likely find that the coffee will transfer a small amount of color and make their hair tone look darker/muted.
But chestnut browns and darker hair will be totally transformed by this super simple treatment, since coffee has a slight tinting quality to it which brings out the richness in your natural color.
I should know!
Coming from someone who spends loads of time at the beach (which means salty build up and sun damage) this mask will tame even the frizziest of manes.
Just add ½ a cup of ground coffee to your favorite conditioner, and massage it into your hair (and scalp- it's important to exfoliate here because it's often neglected!).
Put your hair up in a loose bun or wrap it up with cling-film (or scratch that- forget the plastic and go green by throwing a towel over your shoulders and leaving hair down) and leave in for 20 minutes. Then rinse!
Not only will your hair look way more supple and shiny, it'll also be free of any build up from products, oil, or in my case- salty seawater and sand!
4. DIY facial
This one is super easy: Only two ingredients!
I gave this recipe to my bestie's mom to try out; she now calls it her "mini face lift"!
All you'll need is a small handful of ground coffee mixed with the whites of one egg. Mix it together well, slap it on your face (make sure to tie up your hair so it doesn't get in the way) and leave it to dry.
Once it's dry, it'll be sort of flaky in texture; you can peel off the big bits and use lukewarm water to wash off the remainder.
Et voila!
Seriously smooth and super tight skin.
The egg whites work to tone and tighten the skin, while the coffee rejuvenates it and sloughs away dead skin cells.
That's not all:
This is where coffee's anti-inflammatory factors come into play; it's also a powerful puffy eye and dark circle reducer.
5. Deodorize
Ha! I had to include this one (even though it's less beauty 'routine' and more practical DIY trick) after last night's dinner- fresh tuna steaks broiled with baby shallots and garlic.
Super delish but man alive my fingers were stinky afterwards. Thankfully, I knew this literally foolproof trick to get rid of unwanted odors:
It's as simple as grabbing a small handful of ground coffee and rubbing it all over your hands like you normally would with soap.
The grounds soak up the odors in seconds- it's amazing!
The Bottom Line
Natural is always better in my books, and if that comes hand in hand with reducing waste then that's extra brownie points!
Incorporating ground coffee into your daily beauty routine is so much more than just an environmentally friendly choice though.
You might actually find that what you make works better than anything else you can buy.