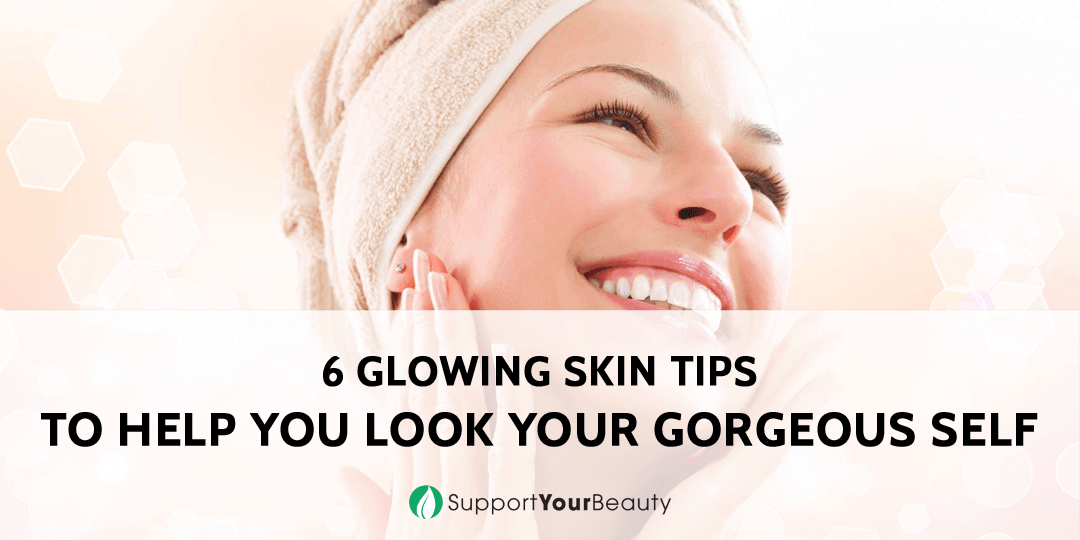 6 Glowing Skin Tips to Help You Look Your Gorgeous Self
Deblina Biswas is a professional content writer. She has done her masters in English and has done her graduation from Banaras Hindu University. She has a penchant for writing on health, beauty, and fashion.
Every woman wants to have a beautiful and glowing skin at all times. We are so crazy about it that there are almost all products under the sea that we might have tried out.
However, many at times we do not realize that glowing skin is a sign that our skin is healthy. It is the healthy skin that actually results in glowing skin for a long time.
There are numerous packaged products available out there but these are only beneficial for our external skin and the chemicals in them are surely not a good idea to experience glowing skin in a long term.
So try to go for herbal products because these are easy to make and apply as well. Here are some of the glowing skin tips that you can implement in your beauty regime:
More...
1. Search the Glowing Skin Remedies at Home
The ancient beauty secret was to nourish the skin better and help it breathe better. One of the best things is that you will find them right there in your kitchen. Here is a perfect beauty pack:
Sandalwood powder
2 tablespoons of chickpea flour
A pinch of camphor
Half teaspoon of turmeric powder
Milk rose water or plain water
Make a thick paste out of the above mentioned ingredients and apply it on your face. Leave it out there for around 20 minutes to dry and then wash it later.
In the meantime, you can also use two cotton swabs dipped in rose water and place it on the eyes to get the cooling effect.
At the end of it, it is a relaxed you and a glowing skin and you can find more information about glowing skin tips at The Fit Indian.
Why Not Try Sweating Out Your Skin?
As you apply the glowing skin tips you can also try an effective way of sweating your skin by jogging, running, and some fast paced push-ups will give the necessary blood circulation needed for the body.
The sweating opens up some skin pores and is definitely a good way of nourishing the skin. One good touch to it would be to wash your skin after the sweating session with gentle water which is neither too cold nor too hot.
2. Yoga for Glowing Face is Good as Well
Yoga is an age old practice continuing down to this day. This exercise helps to clean mind, soul and the body as well.
Do you recall the different yoga exercises that help you pay attention to your body with every breath that you exhale?
With every breath that goes out, you will feel the toxins going out of the body. The process of conscious breathing helps to accelerate cleaning of the body and will leave your skin refreshed and energized at the end of it.
Regular sessions of yoga will help you attain that much needed glow on your skin. However, it is important to get all the tricks and techniques right before you start, this is important especially if you are new to yoga.
3. What is Your Skin Type?
There are numerous glowing skin tips that you will come across and most of them work.
However, every skin type is different and so you need to first spend the time to understand the kind of skin type you have and the tips that will work for you.
We all have unique body construction and so the tips that work for someone else might not necessarily work for us. So spend time in finding out whether you have oily or dry skin type.
4. Follow a Proper Diet for Skin
We become the food that we eat and so obviously eating fresh food that is clean and healthy helps enlivens our skin as well.
You need to include a balanced diet that is full of necessary proteins and vitamins for the body. It is important to eat the right food and in a right quantity. So for getting a glowing skin, you need to follow a natural diet.
If you are not aware of what is a good and nourishing vegetable, fruits, or food items in the area that you live in, make sure to carry out a simple google search to get a clear idea about it.
5. Take Care of Your Skin Every Week
The face is like the lamp of our body, and a glowing skin on your face also defines the kind of internal health you have.
So make sure that you take regular care of your skin. Apart from the everyday care, you need to also spend dedicated time at least once in a week to apply a face pack and rejuvenate your skin.
This will help you fight impurities and constantly enjoy the wonderful gorgeous look of glowing skin.
6. Use Only Ingredients That Work
As you care for your skin you will notice that there are numerous benefits in the long run. You will also include exercise and good diet that will help you remain healthy.
As you notice the ingredients that work for your skin type to get glowing skin, make sure that you stick with them.
At times, you might be tempted to try out several things at one time but this will not be effective for your skin. So narrow down on your choice and consider using the approach as per the skin care regime you have set.
Yes, skin is one of the important aspects of our beauty. It is only if you care for your skin will you experience glowing skin for a long time.
Make sure that you follow all the above mentioned tips and enjoy the benefits for a long term. Look at the positives that this skincare regime will give you and never stop taking care.
Our skin is like a gentle plant and a gentle plant can only be healthy if proper care is taken and water is given regularly.
So you also have a proper attitude towards your skin and constantly take care so that you benefit in a long run.