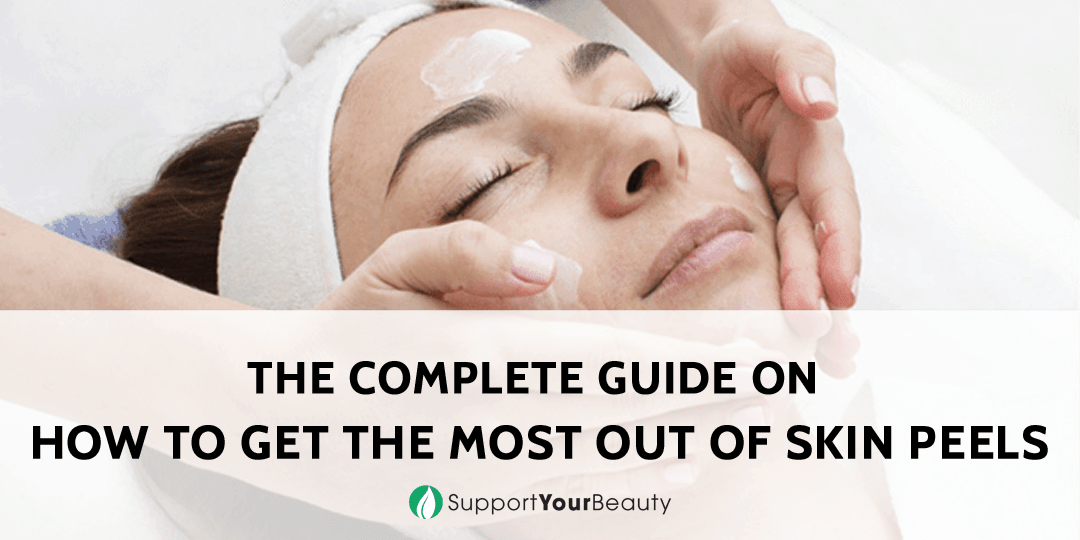 Before & After Tips to Get the Most out of Skin Peels
This is a guest post by Christina C., who is the lead esthetician at Silver Mirror Facial Bar on the Upper East Side of Manhattan, NYC. She has over 18 years of experience in the beauty and spa industries. Silver Mirror Facial Bar has been a natural step in Christina's journey as it encompasses results-driven facials and treatments in a dynamic and skincare-loving environment.
A skin peel is a wonderful way to address many of the most common facial problems.
Mild wrinkles, redness, breakouts and just a general lack of shine can all be treated with one application.
However, because peels work by removing an older layer of skin, you may not be able to enjoy them as often as you like.
There is a waiting period before you can have another skin peel safely, so you want to make sure you get the absolute most of each one you have.
If you want to keep the results of your peel for as long as possible, there are steps you can take both before and after the application.
We've created some handy checklists for you to follow along so that you can get the most value out of every skin peel.
Here's Your Pre-Skin Peel Checklist
Here are some steps you can follow to maximize your skin peel in the weeks leading up to the treatment. That's right!
There are some considerations you will need to make weeks in advance if you want to have the best peel possible.
Attention: First Timers
Our list is designed for people who have a trusted source for their skin peels. If you've never had the chance to try one before, there's only one step you need to complete before this checklist will help you.
Schedule some consultations at the top-rated skin clinics in your areas, and find a clinic and care team that you feel comfortable around.
Scout the clinic first. Any responsible clinic will ask that you meet them for a consultation before they allow you to choose the procedure.
This will give them the chance to examine your skin for any areas that may react badly to the active ingredients in skin peels.
Now, onto the list…
Two weeks out from the procedure
Fill any prescriptions recommended by your treatment professional: After your consultation, you may receive a list of temporary medications to take before your appointment. These often include low-intensity antibiotics to better protect the fresh layer of skin that will be revealed by the treatment. It is important that you follow the doctor's recommendations if you want the best skin peel possible.
Avoid foods associated with irritants: There are some foods that can irritate your skin even if you otherwise really enjoy them. Many spicy foods come with sauces that can sting the skin, and these are particularly painful to people who have just had a peel. The sauces can further irritate already sensitive skin.
Stop any home or professional facial treatments: If you are using any harsh treatments for your face, make sure you stop completely for at least two weeks in advance. Home peels, microdermabrasion and other chemical facial irritants should be avoided completely.
Begin a regimen with approved moisturizers: Soft skin creams and moisturizers are not only OK, but also recommended by many doctors who offer this treatment. Proper exfoliation and moisturization can make the skin peel far more effective because the active ingredients aren't hindered by tiny debris and oils that can gather in the top layer of skin.
Start limiting most sun exposure: Start limiting your sun exposure to as little as necessary. Wear sunglasses and hats when you go out of doors so that you won't expose your skin. While any sun damage can be a problem, sunburns are the worst. Most skin peels will not work at all over skin that is healing from a sunburn.
Stop smoking: If you can stand it, you'll get the best results from your skin peel if you stop smoking entirely in the weeks leading up to it. If you intend to have peels regularly, then you may want to consider quitting smoking altogether. After all, merely quitting for two weeks isn't going to change much about the way smoking affects your skin.
Compare your prescriptions list to those known to have conflicts: If you use any prescriptions, make sure that you compare them to your clinic's list of those known to have conflicts with the treatment. Many drugs that have photosensitive side effects (meaning they make you more vulnerable to the sun) are on this list, including some that are typically used for diabetes.
The day of the procedure
Clean well, but without chemicals: Make sure you wash your face gently but thoroughly with warm water before your appointment. Don't use any creams or moisturizers the day of the procedure, however. You want your skin as unadulterated as possible when you go in.
A Post-Skin Peel Checklist
Congratulations on your most recent skin peel. No doubt, you now have an idea for how the final results might look, even though it will be a few days before the healing process is finished and you have clean, young-looking skin.
If you want to make sure you have the best results possible, make sure that you can check off each one of these:
Use heavy sun protection for the first week: Your skin is in a state of rejuvenation and healing after the peel is done. Make sure that you take extra precaution with the sun, because that would add another irritant to skin that is already very sensitive. Always use sunscreen wherever you go until your skin is fully healed.
Keep touching to a minimum: It's going to be hard to stop yourself from touching the soft new skin, but you need to if you care about the results lasting. Avoid touching your face with your hands, and if you are applying any product or cream, apply it as gently as possible with a soft fabric.
Avoid touching wet skin: The new skin revealed by the chemical peel is at its absolutely most fragile when it's wet. That's why you should avoid touching your skin directly in the shower or shortly after you've left it. That means don't touch it at all if possible. Very soft facial cloths are safe for wet skin, but the skin should be gently dabbed, not wiped.
Moisturizing, now even more important: Moisturizing is now even more important than it was during the pre-peel period. Apply a moisturizer starting early in the morning, and if your regimen requires it, one in the evening before you go to bed.
Avoid too much exercise: Chemical peels rarely come with any real downtime, but they do require a little safety from the threat of sweat. Heaving sweating, such as the type caused by exercise, can wreak havoc on fresh skin. The heavy salt content of sweat can cause inflammation of the skin, which will ruin the results.
Enjoy Your Next, Best Skin Peel!
Skin peels are a great way to restore some of the youth you want to see in your face.
By following this checklist, you can make sure that your skin peels are in the right place to do what they do best: to reduce redness and sun damage, to relieve the appearance of wrinkles and to bring back a youthful glow.