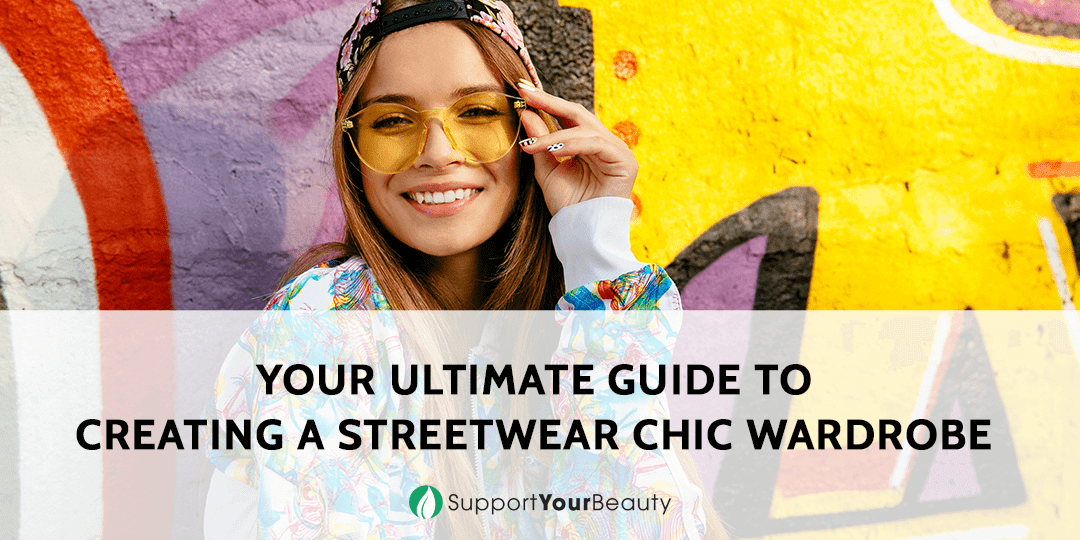 Your Ultimate Guide to Creating a Streetwear Chic Wardrobe in 2022
Curating your wardrobe is an ongoing process that should evolve alongside your style. For many individuals worldwide, the dream is to have a closet filled with comfortable but chic streetwear garments. After all, this is a style that keeps you looking and feeling calm, cool and collected.
Whether you are already a streetwear collector or are new to the world of graphic tees and hoodies, there are always ways to enhance your look.
From the history of the style to the ultimate sneakers, the prints you should include to the importance of high-quality materials, read on for everything you need to know to create a streetwear chic wardrobe in 2022.
1. Understand the characteristics of a streetwear wardrobe.
Before you can start creating the ultimate streetwear chic wardrobe, you first want to understand a bit of the fashion movement and characteristics of the style.
Taking inspiration from hip-hop culture and skater style, the streetwear style first became popular in the 1990s. Then, as sneaker culture grew in the 2000s, streetwear fashion gained even more popularity. By the 2010s, luxury streetwear had come to be an essential element of pop culture.
There are a few basic elements that are incorporated into streetwear style. First, this style prioritizes comfort, including casual clothing and athleisure staples such as sweatshirts and sweatpants.
Additionally, menswear styles play a prominent role in the look. So even when streetwear style is for all genders, traditionally masculine pieces (such as workwear and bomber jackets) are worn by all.
Other elements of streetwear style include scarcity, as limited-edition items are considered to be more desirable.
Streetwear designers often create limited-edition pieces, lines, and collaborations that streetwear enthusiasts look to collect. Similarly, contemporary art is often incorporated into streetwear graphics and logos.
2. Build a collection of graphic tees and sweatshirts.
The foundation of a chic streetwear wardrobe is undoubtedly an extensive collection of laid-back graphic tops and sweatshirts.
As the designer plays a vital role in the streetwear look, you may want to choose items from your favourite label, band, or brand. You can't go wrong when you opt to rock your favourite band's logo, a contemporary artist's graphic, or a funky vintage pattern.
Keep in mind that all of the famous streetwear brands (including Stussy, SSUR, and Obey got their start by making graphic printed tees). So, you can start by purchasing a couple of these classics before moving on to more niche or unique designs.
What's more, these graphic t-shirts are ideal for layering. Simply throw on your favourite bomber jacket or zip-up hoodie over the top, and you are well on your way to a chic streetwear outfit.
Not to mention, every wardrobe needs to have a classic white cotton tee that can be dressed up or down. Suppose you are going for a casual look; style the t-shirt with your black sweatpants and sneakers. Then, you can wear the t-shirt with a pair of jeans and an oversized blazer or work jacket in the evening.
3. Look after your feet.
There is no denying that shoes make any streetwear outfit, and sneakers are the ultimate choice. However, with so many different styles on the market, it can be overwhelming to know which to bring into your collection.
Generally, you can divide the essential sneakers into four key styles: high-tops, slip-ons, white sneakers, and sporty trainers.
High-tops (such as Jordans or Chucks) are a timeless style that you will wear over and over again until they fall apart and you can't wear them anymore. This sneaker style is ideal as your go-to shoe when you are just wearing a simple tee and jeans. Always comfortable, always cool, high-tops deserve a place in every wardrobe.
Next, you have slip-ons, which offer a more sophisticated silhouette. Choose a pair of black-and-white slip-ons for an option that will enhance even the most simple outfit. The right pair of slip-on sneakers can dress up other pieces in your closet while also being smart enough to wear to restaurants and the like.
No matter your style, everyone needs a pair of white sneakers in their wardrobe as these are the most versatile option. You can find white sneakers in a range of styles – from chunky to streamlined, with laces or slip-ons. For example, the Nike Air Force 1 Sage Low Sneakers are trendy due to their contemporary shape, while fashionistas love to wear the Veja V-10 Vegan White Sneakers.
Last but not least, sporty trainers have grown in popularity over the past couple of seasons, as shoes that don't solely need to be restricted to wearing at the gym. Whether you opt for a pair of athletic sneakers or something more akin to a "dad sneaker", you can be assured that this style will be the most supportive and functional option in your wardrobe.
4. Embrace colour and prints.
Unlike other popular fashion styles, streetwear chic doesn't shy away from colour and prints. In fact, colour and prints are a fundamental part of streetwear design. If you aren't used to wearing colour and prints, it can be challenging to know where to start and how to style the pieces.
The easiest way to start trying out new colours and prints is by incorporating them through your accessory choices. For example, you can opt for a bag or belt with a pop of colour or pattern. Additionally, you may want to choose jewellery or a nail polish colour that makes a statement.
Timeless prints are the way to go, as you can wear them season after season, year after year.
For example, Finchitua African tribal prints are gorgeous and can be integrated into your wardrobe to fit your own personal style.
Wearing a printed dress or jumpsuit with your favourite pair of sneakers is a fantastic way to style these pieces. Other classic prints include gingham, polka dots, stripes, and florals, all of which can be styled in various ways without you getting bored with them.
5. Curate a high-quality streetwear capsule collection.
In addition to your graphic tees and white sneakers, several other essential pieces need to be included in your streetwear wardrobe. When shopping for additional pieces, make sure you consider the material, the shape, and the style.
The material is incredibly important because you only want to be wearing high-quality pieces. After all, the central ethos of streetwear is comfort, which is determined by the material used to produce the piece. Therefore, aim to buy fewer pieces that are higher-quality as these garments will be the ones that only get better with time.
Similarly, the garment's shape is an essential consideration as you only want to have pieces in your wardrobe that complement your body. Just because you are wearing streetwear garments, doesn't mean they have to be overly baggy. In fact, this style of clothing provides you with plenty of options for playing around with proportions.
Finally, the style of the garment is also a factor that you should take into account. After all, some t-shirts have a more trendy style while others are more classic. Similarly, some printed jumpsuits are ideal for a vacation, while others are more suited for the office.
By taking into account the style of the piece and how it fits into your current wardrobe, you will be better positioned to curate your ideal high-quality streetwear capsule wardrobe.
6. Wear your clothes with confidence.
At the end of the day, it is not all about what you wear but how you wear it, and this is particularly true when it comes to the streetwear style.
These clothes represent your unique creativity which means that you should feel good while wearing them. In other words, the key to having the best streetwear chic style is ensuring that you feel confident in your clothes.
However, this can sometimes be easier said than done. So, if you need a little confidence boost, there are a few strategies you can take. First, make sure you are embracing your favourite features. Learning which areas you like to flaunt and which you feel more comfortable masking will aid you in feeling confident in the outfits you put together.
Similarly, you want to experiment with different colours to find out which shades you prefer to wear. While some individuals feel their best in muted, neutral colours, other people come alive when they are wearing bright hues. The only way to find out what you feel most confident in is by experimenting!
Whenever you are getting dressed, keep in mind that comfort is a core feature of streetwear style, so you don't want to leave the house wearing an outfit that has you feeling uncomfortable. After all, your outfit is how you present yourself to the world, so you want to feel as comfortable and confident as possible.
What do you think are the most critical elements of building a chic streetwear wardrobe? Which pieces of clothing do you think are essential? How do you like to wear this style?
Let us know your thoughts and any further tips and tricks in the comments below!